Everything You Need to Know About Stadium Blackjack
Stadium gambling is now a thing in Las Vegas casinos, and we figured it was time to check out Stadium Blackjack at Venetian.
In Stadium Blackjack, up to 44 players compete with one of two live dealers in, wait for it, stadium-style seating.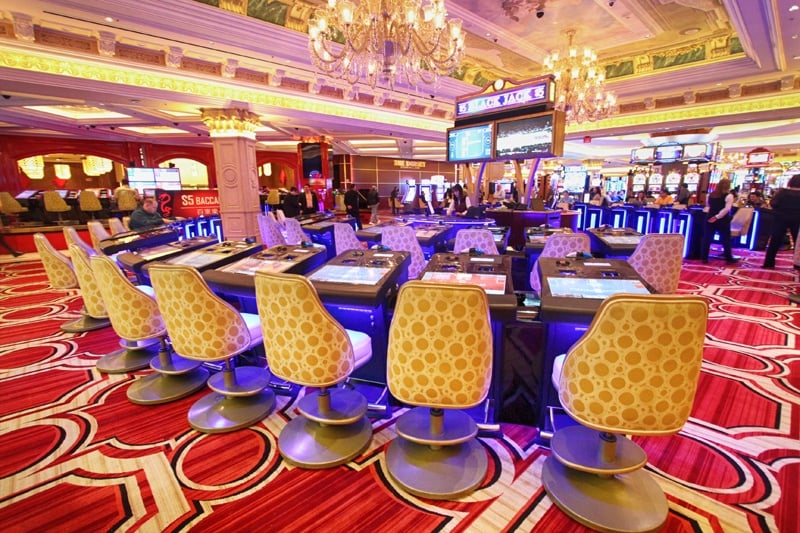 As with most games in a casino, Stadium Blackjack accomplishes a couple of key goals for The Man.
Casinos make more money when labor costs are lowered, and when there are more hands dealt. Since casino games have a built-in advantage for the house, more hands means more profit.
Here's how Stadium Blackjack works at Venetian Las Vegas.
There are 44 seats for players. Each player has their own terminal, and selects which of the two dealers they want to play against, blue or red.
Once a dealer is selected, the player has 30 seconds between hands to place a bet. A big benefit of Stadium Blackjack is the $5 minimum. Most standard games at Venetian have $15 minimums.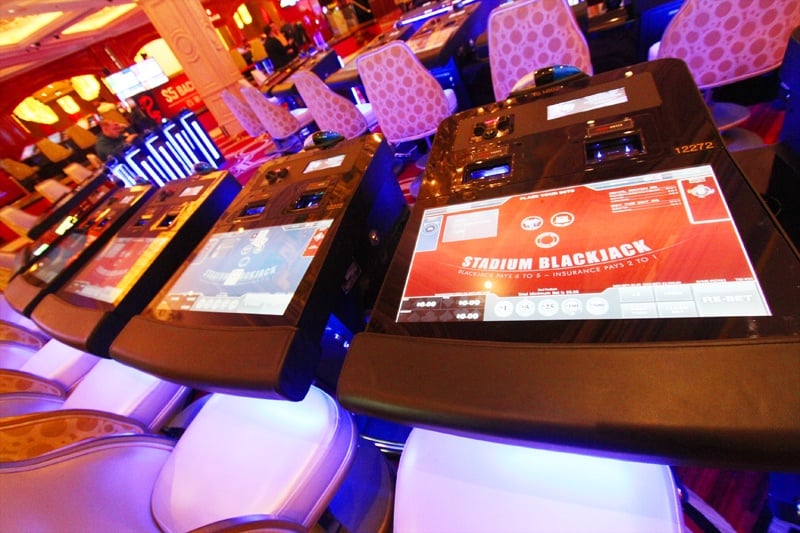 Once bets are made, each screen reads "No More Bets."
Then, three cards are dealt from a six-deck, continuous "smart shuffle" machine.
Two cards go to the players, one to the dealer. One of the intriguing aspects of Stadium Blackjack is all the players get the same two cards. (That is, all the players who chose the red dealer get the same two cards. All those who chose the blue dealer get different cards.)
Now, each player makes their own decision about what to do next. Players can hit, stand, double down or split.
Here's where the game veers into new territory. Since everyone has the same two cards, and can make their own decisions about what happens next, additional "Community" cards are needed. Community cards go to players until all the players have chosen to stand (or have been eliminated because they busted). After all the players' hands are locked, additional community cards go to the dealer until the hand has a result.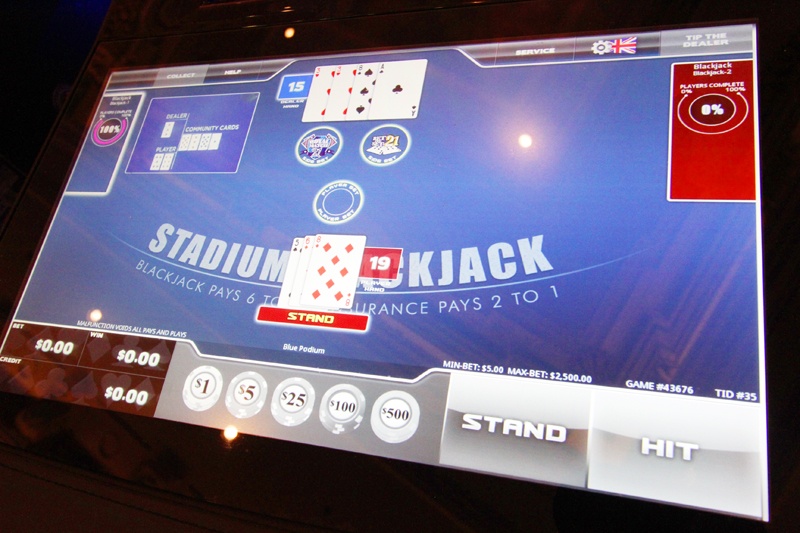 Example time!
Say the first cards are dealt and all the players get a queen and a king, the dealer gets a five. That's 20 for the players, so everyone's going to stand. (Feel free to split them, though, that's part of what makes Stadium Blackjack so fun, no peer pressure.) The dealer takes additional cards and busts. Everyone wins, cheering ensues, annoying all the players in the nearby poker room in the best possible way.
Here's a more complicated example.
Players get a king and six, dealer gets a queen. Some players stand on 16, some hit, right? (You're supposed to hit.) The players who choose "Hit" on their display get another card (a "Community" card). Again, those who "Stand" don't get another card. Each player is doing their own thing. Say, that next player card is a two. Everybody stands with 18. But the fun part is you don't have to! You can "Hit" again. Only after all the players have finished does the dealer then complete their hand and a result is shown.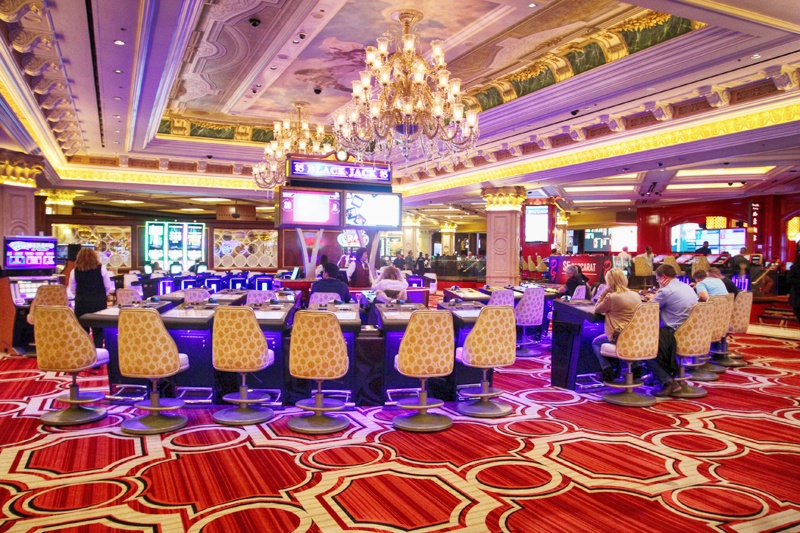 A lot of this happens on the dealer's display. Players just see their own hand and how it's stacking up against the dealer.
Once the hand is done, all the cards go back into the shuffler and the fun begins again.
So, that's a long-winded way of saying, "It's just like regular blackjack." The fact others have the same two opening cards, or how dealers decide which cards are communal, is rather irrelevant. It's you against the dealer.
Let's get into what's really important about Stadium Blackjack, the pros and cons.
First, the pros. Stadium Blackjack is great for groups and couples! Where else in Las Vegas can you and 43 friends all play blackjack at once? During our visit, the majority of players were couples.
Again, low table minimums. That $5 minimum is tempting and it never gets raised, even if the game is busy.
Also, no glares from other players if you do something stupid. Stadium Blackjack is anonymous, and players make their own decisions.
Another pro for us is the machine adds up your cards. We hate math, so this is a great aspect of the game.
We also like that you can take a break between hands, sitting out then jumping back in at any time.
There are some drawbacks to Stadium Blackjack, but opinions vary about how important these cons are.
The rate of play, if you play every hand, is fast. After you get your cards, you have 10 seconds to decide whether you'd like to hit or stand. That's a lot of pressure! If you do nothing, the machine automatically stands. It won't hit or double or split for you, though. More hands means you can lose more quickly, but it also means you'll win more quickly when you're on a lucky streak.
It's interesting to note that while the game is called "Stadium Blackjack" on the player terminals, it's called "Rapid Blackjack" on the dealer's screen.
Another potential downside is Stadium Blackjack pays 6-to-5, rather than 3-to-2. Then again, that's true of the majority of blackjack games on the Las Vegas Strip.
Also, serious blackjack players dislike six deck, continuous shuffling machines. Card counting is impossible with such machines.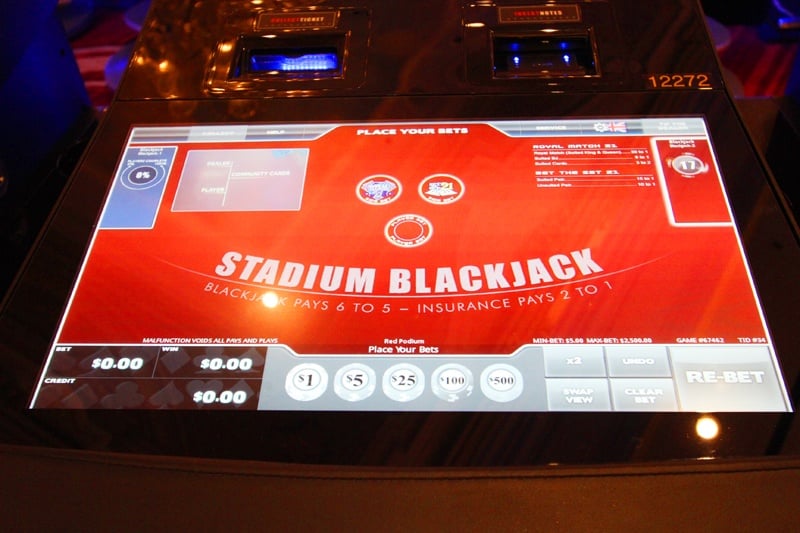 That's about it. Each display has a bunch of other buttons, but probably the most important for first-time players is "Help." Beyond the two people dealing the cards, there's another dealer that roams the floor and helps players with questions.
There's a button for dealer tips, another to call for service, one to "Re-Bet" and others. There's also a button so players can see the game in Chinese.
There are a couple of side bets as well, Royal Match 21 and Bet the Set 21. Blackjack side bets tend to be sucker bets, but only if they don't hit!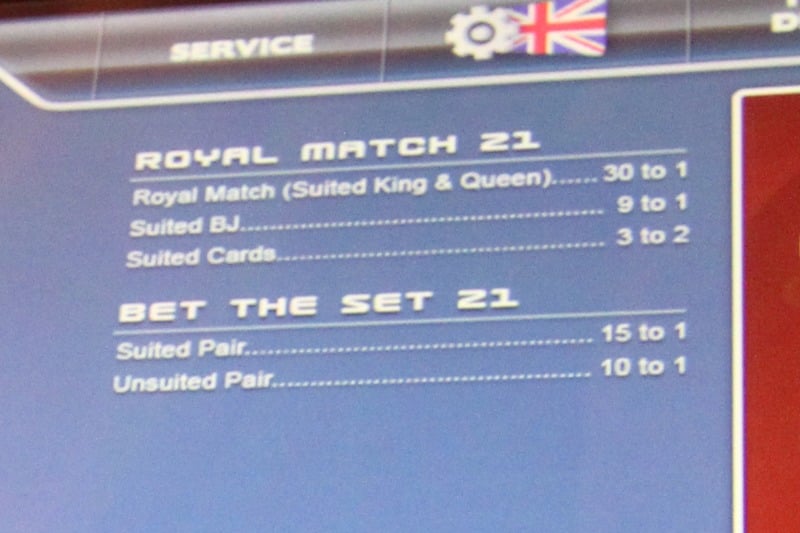 Overall, Stadium Blackjack is a fun new twist on blackjack, and its social component could make it a draw for groups seeking to gamble together.
If you'd like to know more about Stadium Blackjack, check out these stories from VegasFanboy.com and our bud Marc Meltzer. We also talked about Stadium Blackjack on the Vital Vegas Podcast, if you're into that kind of thing.
Our first story about stadium gambling (at Palazzo) was way back in 2013, and we didn't have the best time. While we didn't win playing Stadium Blackjack, it wasn't a bad experience.
Let us know what you think of Stadium Blackjack. Some believe it's the future of casino gambling. For us, interacting with the dealer is often half the fun of playing, so unless we were with a group of friends, we'd probably bite the bullet and find a traditional, higher limit table.
Got questions? Ask away!