High Roller's Tantrum Sparks Bizarre Nightlife Drama Between Resorts World and Wynn
A big-spending, high-maintenance nightclub patron's tantrum has resulted in a larger-than-life nightlife scandal on the Las Vegas Strip.
The still-unfolding saga involves Resorts World, Wynn Las Vegas, their respective nightlife venues and a cavalcade of ugliness, hilarity and WTF.
We've got all the exclusive details, of course. Our sources have asked to remain anonymous.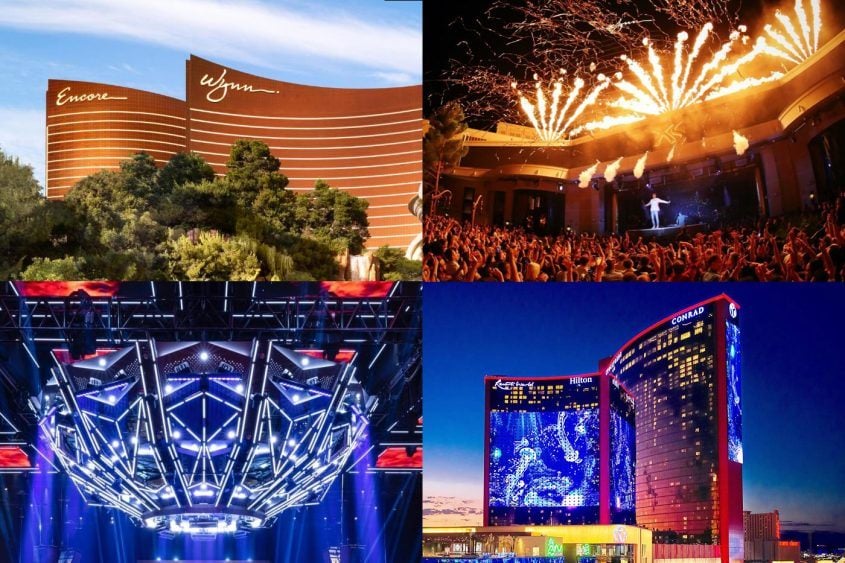 The series of events started at Wynn Las Vegas on Saturday, August 5, 2023, where a known whale (described to us as a "trust fund baby" from Australia), Ben Ralph, was partying at Encore Beach Club.
As day transitioned into night, it seems Ralph turned his attention to Wynn's XS Nightclub, which hadn't opened yet. We're told the guest demanded the club open an hour earlier than usual, just for him.
This, obviously, was a no-go for XS, for myriad reasons. The news his request couldn't be accommodated was delivered by the manager of XS, Niko Samarxhiu.
Apparently, the interaction got heated, and Ralph proceeded to threaten Samarxhiu and his family.
Ralph was barred from Wynn Las Vegas, and law enforcement was contacted.
A verbally abusive guest being kicked out of a nightclub or resort isn't uncommon, but what happened next certainly is.
Ralph proceeded to post a profanity-laced series of angry and xenophobic messages on his Instagram account, specifically calling out the manager of XS, including one referring to Samarxhiu as a "broke ass immigrant."

It gets worse.
As Ralph was raging on Instagram, he made his way to Resorts World's nightclub, Zouk.
He is rumored to have spent more than $200,000 at the nightclub, and as part of the table packages at Zouk, guests can request messages appear on the massive video screen on the side of Resorts World.
The first message displayed was "Ben's House."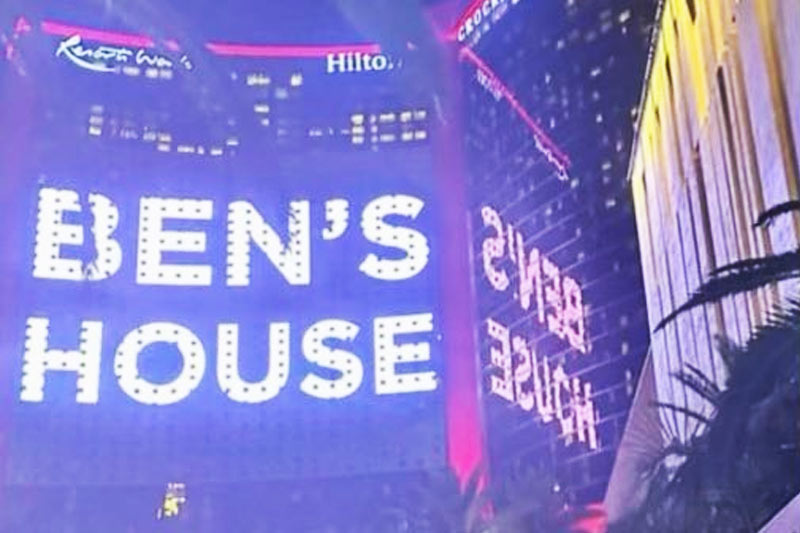 This first volley was seen as a swipe at Wynn Las Vegas, as this "baller" had moved to a competing venue to spend his money.
With no context, it was an amusing move, akin to the biggest negative Yelp review, ever. Yes, things can be funny and terrible at the same time.
The next message was far more concerning.
The video screen also had "Food stamps for Niko" on it. No, this isn't Photoshopped.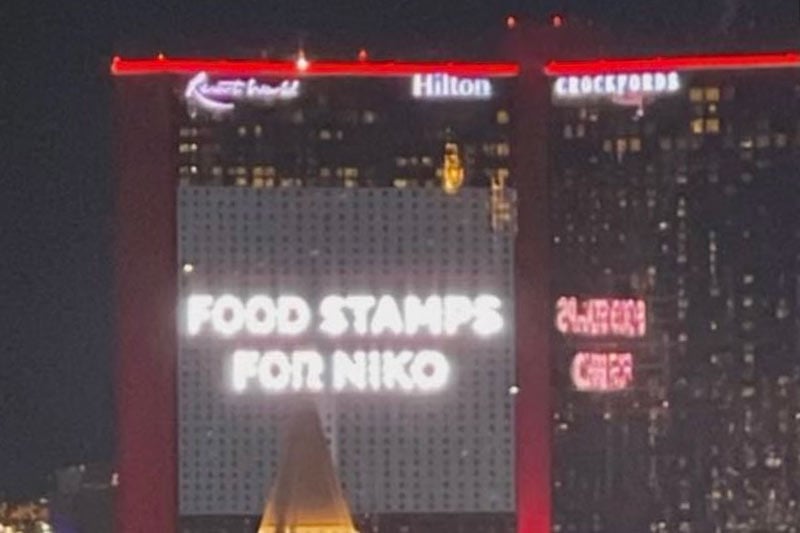 There's a lot of WTF to unpack here.
We get that the guest was spending a lot of money. We get that he was upset and made the request for this message to appear, but the fact a Zouk executive approved it is beyond comprehension.
Attacking an employee of a competing venue, by name, is unforgivable. Beyond that, using a politically-charged phrase like "food stamps" on a casino's video screen is fraught with peril, even if it was intended as a joke.
So, how did a message like that get approved?
Since the incident, we've learned more about the process at Resorts World and Zouk, and we suspect the "process" is getting a major overhaul as we write this.
It seems there's a way for Zouk Nightclub personnel to post content directly to the side of Resorts World (because of the aforementioned "perk" included with their VIP packages).
We're told the head of nightlife at Resorts World, CMO Ron Nicolli, wasn't aware of these specific messages being approved for the digital sign. Same for the resort's president, Scott Sibella.
This embarrassing episode at Resorts World is the last thing they need given other recent events. Sibella has been in the headlines related to a federal investigation alleging casino employees may have paid off illegal gambling debts with casino assets. It's complicated, but messy.
Don't be surprised if there are some personnel changes at Resorts World resulting from the nightlife fiasco. It would appear Resorts World will be forced to do some sort of public apology.
Wynn Resorts has been fairly tight-lipped about the series of incidents, but did share a glorious statement with us: "We will not dignify the behavior of the guest toward our employee nor Resort's World's actions with a comment."
See, mean and classy aren't mutually exclusive. Take note, Ben.
My man loves to party and champagne 🍾 pic.twitter.com/4Ehwj5Mil2

— Brex (@rubberginza) August 7, 2023
Wynn Resorts has a contentious relationship with Resorts World, at one point suing the resort for copying its exterior design.
This entire baffling "only in Vegas" episode qualifies as a candidate for "Strangest Las Vegas Story of the Year." We thought a Circa cage manager hand-delivering a million in cash to criminals would clinch this distinction, but maybe not.
Our sources say Ben Ralph's money may not be welcome at other nightlife venues, as it's believed he's now banned from Zouk, along with Tao Group clubs like Omnia and Hakkasan.
This blow-up is a glimpse into a world most of us will never see, where resorts bend over backward for high rollers spending unfathomable amounts of money, providing guests a "celebrity" experience where pretty much anything goes. The competition for whales can go to extreme lengths, and there's fallout for having the audacity to say "no."
The typical nightclub fracas would fly under the radar, but it was a little tough to hide this one given it transpired on one of the biggest video screens in the world.
There's a lot of public interest, as our Tweets about the altercation have garnered more than 1.5 million impressions. We aren't sure what Tweets are called now, but you know what we mean.
We'll keep our eyes and ears open for what's next in this ongoing brouhaha, including any arrest reports, more eighty-sixing, brilliant ways of saying "no comment" or more rigorous approval procedures for messages appearing on a digital screen so big it can be seen from the surface of the Moon.
Update (8/7/23): Following the publication of our story, Jon Opas, Executive Director of Lifestyle Marketing for Resorts World, reached out to say the operational team at Zouk was not aware of the events earlier in the day prior to the posting of the messaging on the digital screen. After the incident, Opas went to XS to personally apologize to Niko Samarxhiu.
Update (8/8/23): Our source says Jon Opas has been suspended as this incident is investigated. This is not yet been confirmed by Resorts World.
Update (8/8/23): Our story was picked up by Channel 3 here in Las Vegas, and the station got a statement from Resorts World: "The LED sign on the West Tower was activated on Saturday night with a graphic requested by a nightlife patron. The team members who approved it were not aware of the background behind the request. Regardless, this was a mistake, and the messaging displayed does not reflect Resorts World Las Vegas's values, and we regret that our LED screen was misused in this manner. Our leadership is handling this internally to ensure the assets displayed on the LED screens are in full alignment with the brand and our values."
Update (8/15/23): A source says Jon Opas is no longer with Resorts World. We're told the issue was not just related to the questionable on-screen messaging, but also involved extending a reported $250,000 in credit to the guest without a credit card on file or signed bill. There were apparently concerns the guest would leave without paying his bill, and ultimately a friend paid it on the guest's behalf. We were also told a point of contention was the fact Opas reached out to us to comment on our story, despite being instructed to not comment or make any statement about the story to any media outlet. These details have not been confirmed to-date by Opas or any Zouk or Resorts World representatives.
Want to explore more stories? Read about US gambling here:
You can also learn about online gambling in Canada here: