Hell-Ton of Resorts World Scoop, A Peek Inside and Opening Date Rumors
Resorts World is giving Las Vegas (and the world) something to look forward to in 2021, and we've got tons of exclusive scoop, including a peek inside this impressive new megaresort.
There's a lot of buzz about a potential opening date for Resorts World. We should know, we started it.
An inside source at Resorts World says the resort is scheduled to open May 14, 2021.
Here's an exclusive look inside our shiny new toy on The Strip.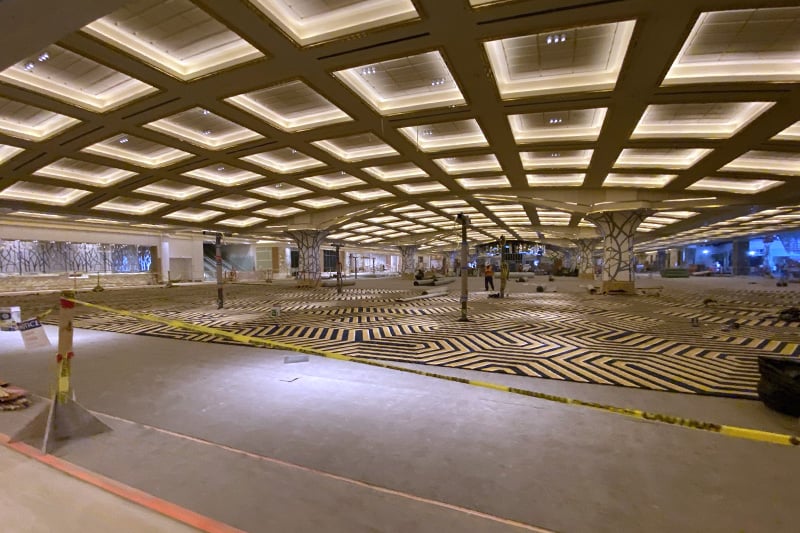 We reached out to Resorts World about the rumored opening date, but haven't heard back yet.
From what we've heard from those with inside knowledge of the project, there's no way the entire resort opens fully in May. Buzzkill.
That doesn't mean Resorts World couldn't do a partial, or phased, opening on May 14. Circa Las Vegas, for example, had a split opening. The casino opened Oct. 2020 while the hotel opened in Dec. 2020.
Expect work on Resorts World to continue through the summer.
That means if Resorts World opens on May 14, it's likely just the casino (the most important part of a casino resort) and a few other amenities will be available at launch, with others to follow.
Here's another photo inside the under-construction Resorts World.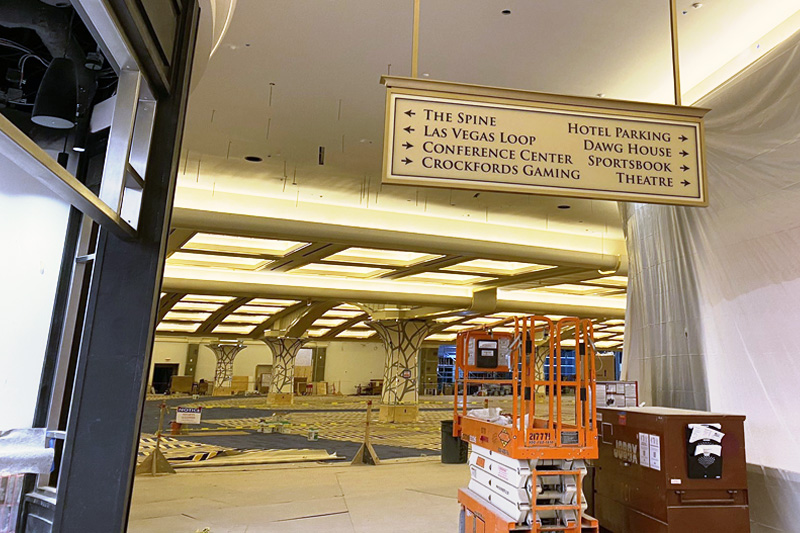 This sign has sparked some great conversation on the Twitters!
Of course, Vegas fans immediately mentioned the font used on the sign is very familiar.
Fans of other Strip casinos mentioned they were reminded of signage from Wynn, Venetian and Bellagio.
The items on the sign warrant a deeper dive, including some new details we've ferreted out.
Nothing's been officially confirmed by Resorts World, but our sources are pretty confident.
Let's work our way through the sign, shan't we?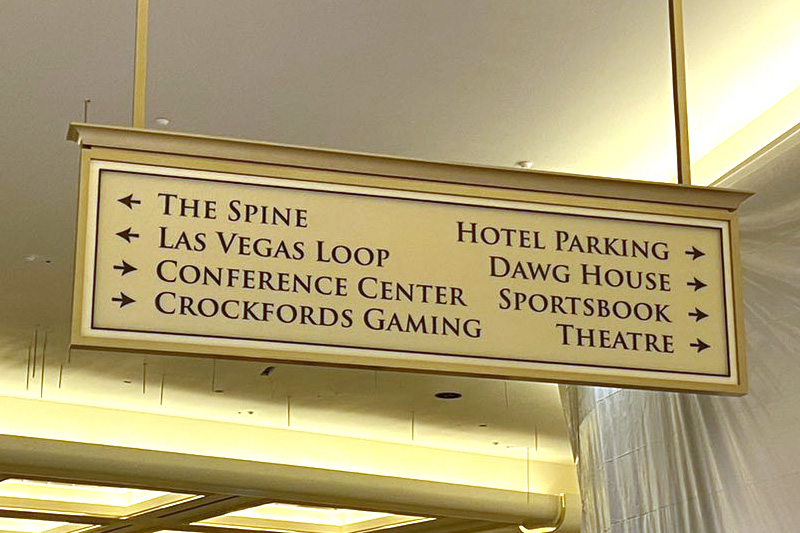 So, what's The Spine?
Well, we understand that's the name of the retail shopping area of the resort. It's the part that extends from the main structure toward Las Vegas Blvd. At the end of The Spine is the nightclub, Zouk.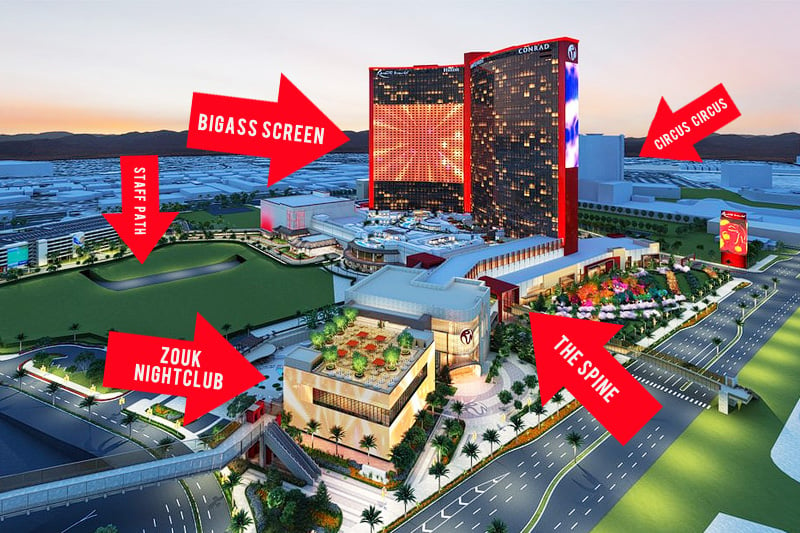 At first, we thought The Spine might be a lounge, then we could've lobbied to have the name changed to LumBar.
Because our marketing genius knows no bounds, that's why.
Resorts World is being tight-lipped about its retail offerings, but give us a minute.
Working our way down the sign, there's the Las Vegas Loop. That's the resort's station for the underground transportation system from Elon Musk. Here's a look at the proposed station at Resorts World.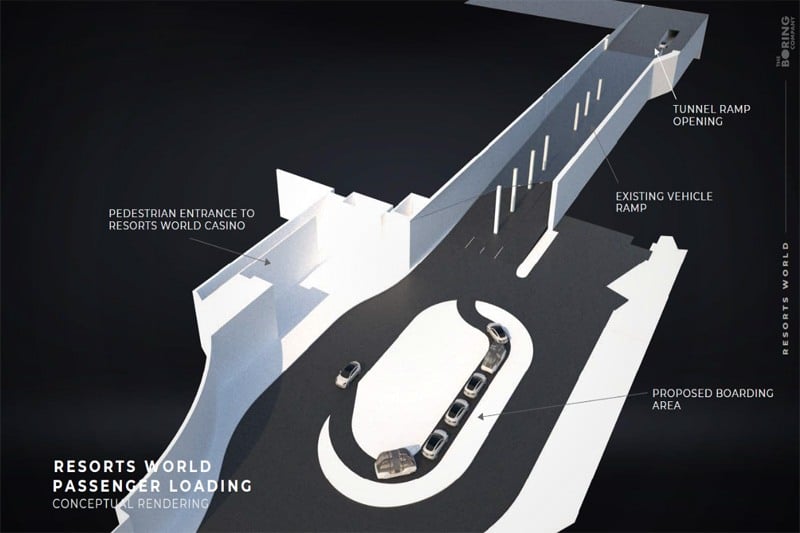 The sign's reference to "Crockfords Gaming" is the casino's high limit area, with tables and slot machines, according to our source.
Crockfords is just one of the hotel brands under Resorts World's roof. (It's sort of like Four Seasons at Mandalay Bay or Nobu at Caesars Palace.)
Resorts World will also boast Hilton and Conrad. Yes, all within the same resort. There will be a quiz.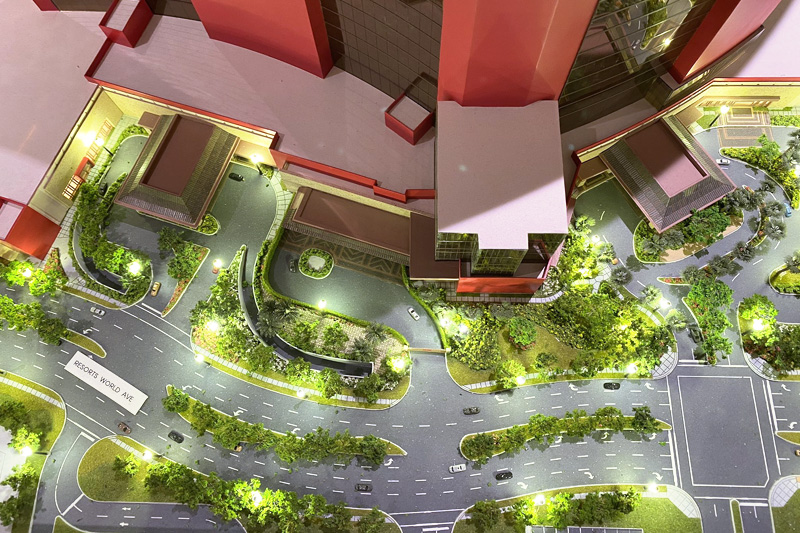 Next up, Dawg House. We're pretty sure this venue hasn't been announced yet. Oopsie.
We hear this is going to be like Nashville Live, which we've never heard of, but it's a venue that will have live music, food and drink. Think Gilley's.
Dawg House comes from Steve Ford, one of the partners in Loser's bar. Vegas fans know that name as it has a location at MGM Grand.
Bonus scoop: Dawg House will be home to the resort's sports book. That's probably why the sign says the sports book is in the same direction as Dawg House.
There's some question as to who will run the sports book. We hear it was supposed to be Draft Kings, but there was some drama, so they're probably not going to be it.
The final item on the sign is the Theatre. Very fancy spelling!
The only scoop we have about the "theatre" is Celine might have a residency there. Also unconfirmed.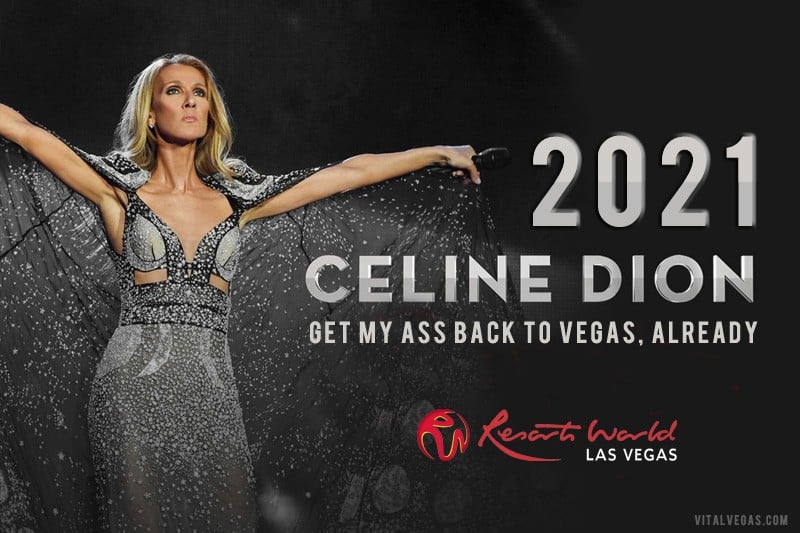 That's it for the sign, but that doesn't mean we're done with the scoop. Do you know this blog at all?
Apparently, Resorts World has been holding out on us, as we absolutely love the name of a new restaurant planned for the resort: "Sun's Out! Buns Out!"
Absolute gold, and confirmation Las Vegas is healing.
It sounds like "Sun's Out! Buns Out!" will be visually similar to Eggslut at Cosmopolitan, except unlike Eggslut, it will actually be good.
We've also heard the resort's $4.2 million Japanese restaurant, Umi Umi, is getting a name change.
There is also expected to be a five-star Chinese restaurant, Silk, and an associated lounge, Silk Road. Fun fact: Another Silk Road restaurant closed at Vdara in 2011.
Also expect there to be a lounge from Clique Hospitality in the mix. Clique runs a number of venues in Las Vegas, including Clique Lounge at Cosmopolitan and Tailgate Social at Palace Station.
There's already buzz about Resorts World's center bar, with stalactite-like protrusions and other eye-popping features.
Still to be announced is a quick-serve deli just off the resort's poker room.
Guests at Resorts World can also look forward to an Asian-themed food court (we doubt they'll call it a food court, internally it's referred to as an "Urban Food Street") that will run along the majority (roughly 80%) of the south side of the hotel's casino floor.
The food court will reportedly be managed by Lim Keong Hui, son of Genting Group Chairman Lim Kok Thay. Genting, based in Malaysia, owns Resorts World. Lim Keong Hui will also run the resort's nightclub, the aforementioned Zouk.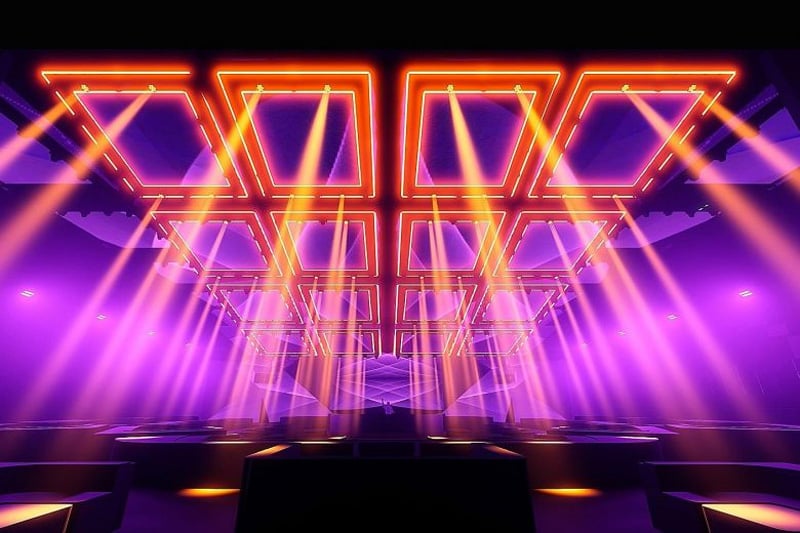 The massive food court is inspired by a Hong Kong urban street market with a variety of carts and kiosks. (Try not to think about Lucky Dragon or Kind Heaven or F.A.M.E., thanks.)
There will apparently be a speakeasy, along with a 10-foot-tall lucky cat at the center of the space. Resorts World, we don't ask for much, but please throw us the lucky cat rendering. There used to be a lucky cat at Cosmopolitan and it was adorable.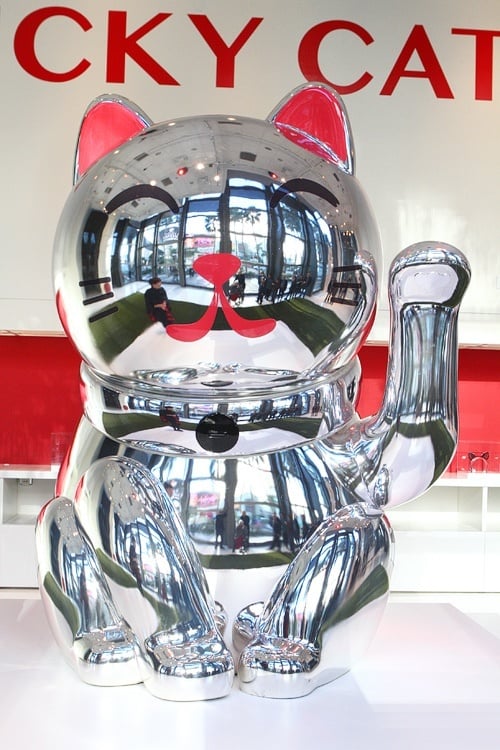 That's about all the scoop we've got bandwidth for today, but you can bet we'll be keeping an eye on Resorts World as the opening approaches this summer.
It's going to be sensory overload, and it's a great time for Las Vegas to deliver its trademark over-the-top OMFG again.
No pressure, Resorts World.
Update (2/19/21): Let's add this juicy item to our list of scoop. We've heard Resorts World has signed residency deals with Tiesto and Zedd for its Zouk nightclub. A Resorts World rep says, "No residents have been confirmed for Zouk at this time."
Update (2/22/21): We heard back from a Resorts World rep, who said, "No new news on an opening date. We're still on track for this summer, but have not selected an official opening date at this time as we're watching the market closely." So you're telling us there's a chance.
Update (3/7/21): Naturally, Resorts World confirmed our scoop about Clique. The lounge will be called Gatsby's Cocktail Lounge.