Tailgate Social is a Winner at Palace Station, Social Part Pending
Palace Station recently opened a sports-friendly new restaurant and bar, Tailgate Social, and based upon our visits, it's a winner.
We were going to go for "touchdown," but this blog has a fairly strict "No Sports Cliches" policy.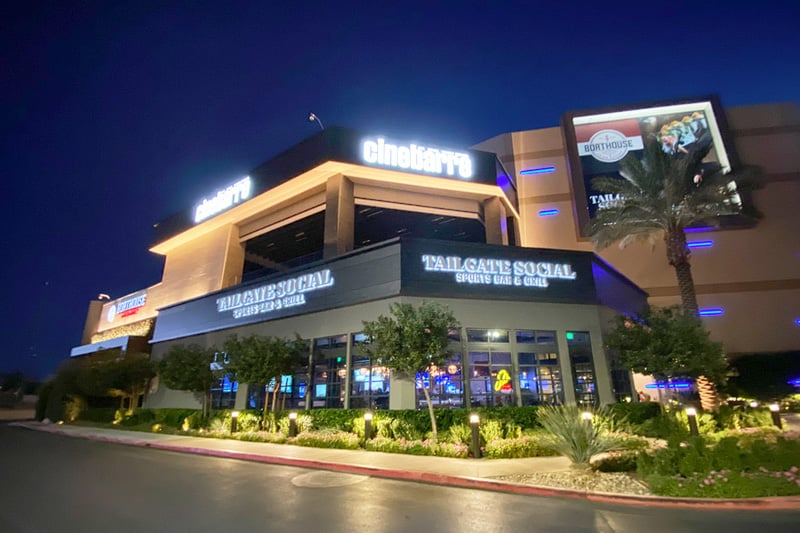 Tailgate Social is from Clique Hospitality, the folks behind Clique Lounge at Cosmopolitan.
Clique has a long history of collaborations with Station Casinos, with varying degrees of success. Salute and Libre Mexican Cantina at Red Rock are among the previous efforts. Hearthstone still operates at Red Rock, as well as Green St. at Palms, plus Borracha and Bottiglia at Green Valley Ranch.
Tailgate Social seems a great fit for Palace Station following the closure of B.B.D.'s (Beers, Burger, Desserts) which previously occupied this space. All those things, and more, are back at Tailgate Social.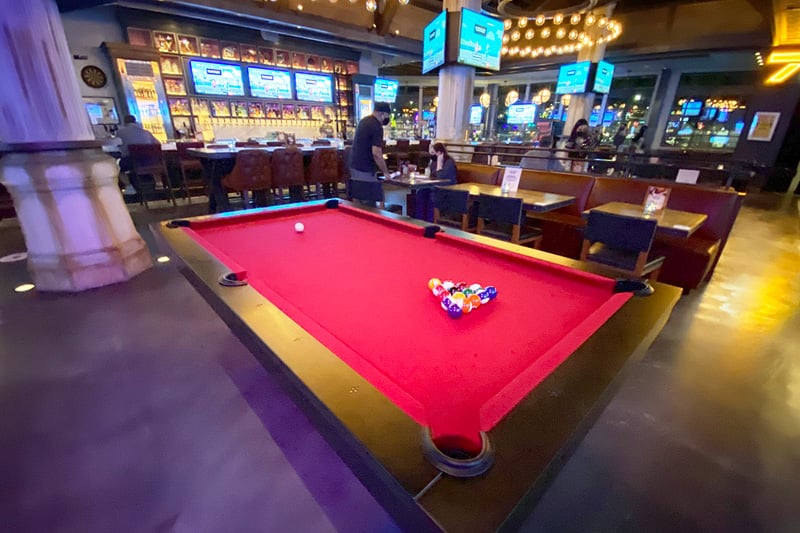 Tailgate Social has a sports bar feel, but the sports aren't intrusive (despite 30 TVs). The same goes for the "social" aspect.
It's tough opening a venue with a social skew during a pandemic, but the social part can wait.
Games like billiards, foosball and shuffleboard are available, but guests aren't hit over the head with them. The social element doesn't feel forced.
It's just a cool, casual hang.
The prices are refreshingly reasonable (expected in a locals casino, but not always a given), and the food is quite good, with ample portions.
The fare is familiar, mostly takes on bar food. The menu runs the gamut from nachos to burgers, tacos to pizza, wings to pretzels and more.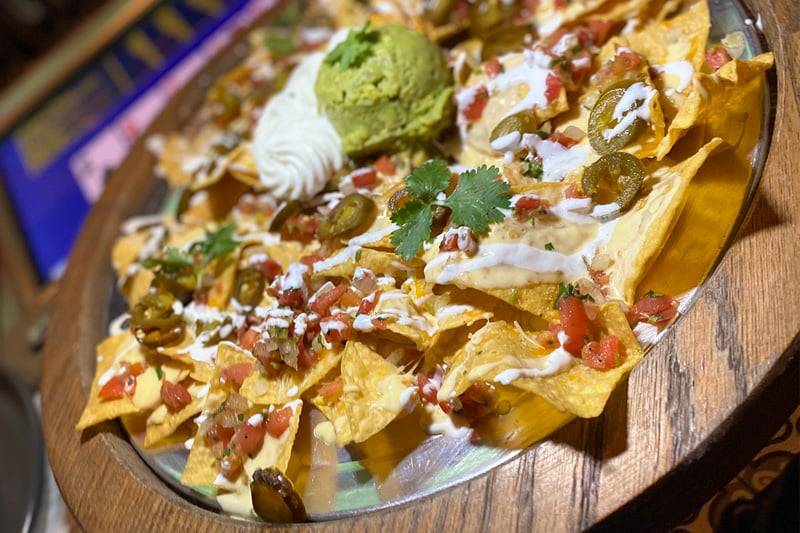 There are also salads, in case you lose a bet.
One tempting item we plan to try sometime is the "Holey Moley Big Ass Four Foot Stromboli." First, we can't recall ever seeing a menu with the term "big ass" on it. Second, we suspect the $55 price tag is worth it. Did we mention it's four feet long?
Take a look at the full menu, thanks in large part to the discovery of the Internet, the best and worst thing that ever happened to Humankind.
We liked the BBQ Chicken Quesadilla a lot, along with the nachos, wings and burger.
Take note of the Happy Hour from 5:00 p.m. to 7:00 p.m. each day, with some of the tastiest items (including the Chili Cheese Tater Tots and aforementioned quesadilla) for $5.
In a charming twist, guests have the option of ordering food from the back of a Volkswagon bus.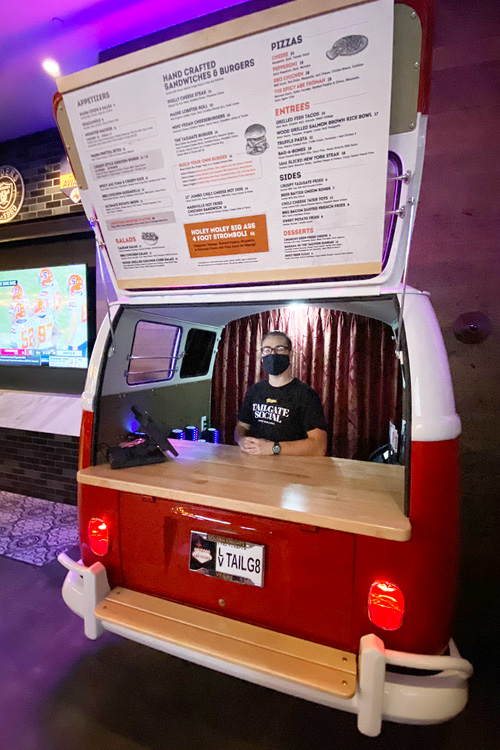 Tailgate Social also checks the box for video poker fans, and drinks are comped liberally at the bar.
During our first visit, we went the video poker bar route and it was awesome, despite the Plexiglas dividers, common in many Las Vegas bars now.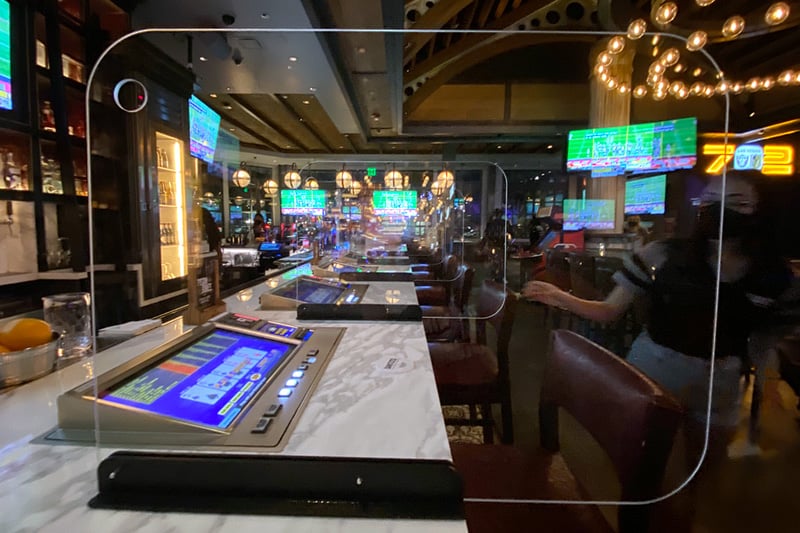 Beyond the eats, there are a ton of cocktails to test your liver's mettle. Most are in the $9 range.
The place gets points for cocktail naming: Thirst & Goal, Blurred Limes, Buzzer Beater, Unnecessary Roughness, Knight Cap and Brouwerij Bosteels Tripel Karmeliet, among others.
That last one was an ale, not a cocktail, but we just like saying Brouwerij Bosteels Tripel Karmeliet. It's the "foosball" of ales.
Table service during our second visit was a little spotty, all due respect to attractive young women in shorts.
Tailgate Social isn't perfect, but we're still a fan.
Find out more at the official Tailgate Social Web site. Fair warning: No actual customer at Tailgate Social actually looks like the people on the official Web site. Then again, do they ever?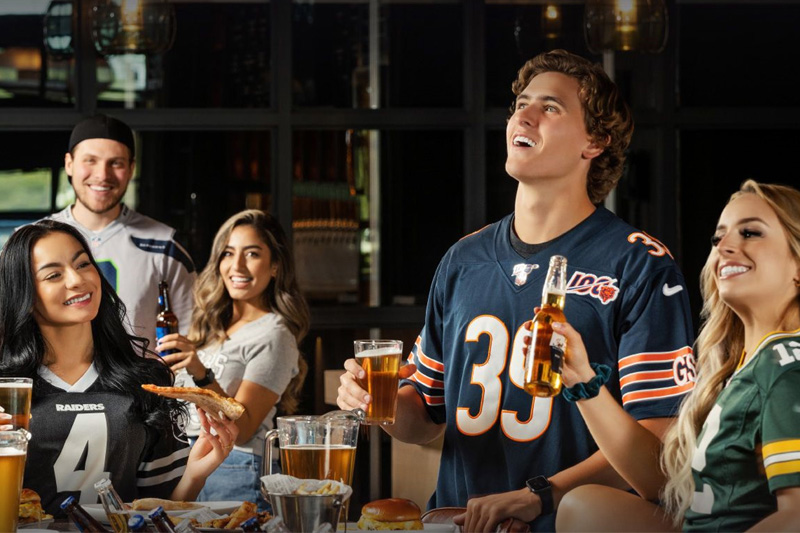 Please help yourself to a few more pics from Tailgate Social at Palace
Station, about three minutes west of the Las Vegas Strip.