Lucky Cat Exhibit at Cosmopolitan Las Vegas is Both Art and Commerce
The Cosmopolitan's pop-up space has housed a furniture store called Droog, a wedding chapel and a Liberace exhibit. Now, it's home to a nine-foot, chrome-finished maneki-neko ("beckoning cat"), the Japanese symbol said to bring good fortune and often seen at the entrance to business establishments like Asian restaurants.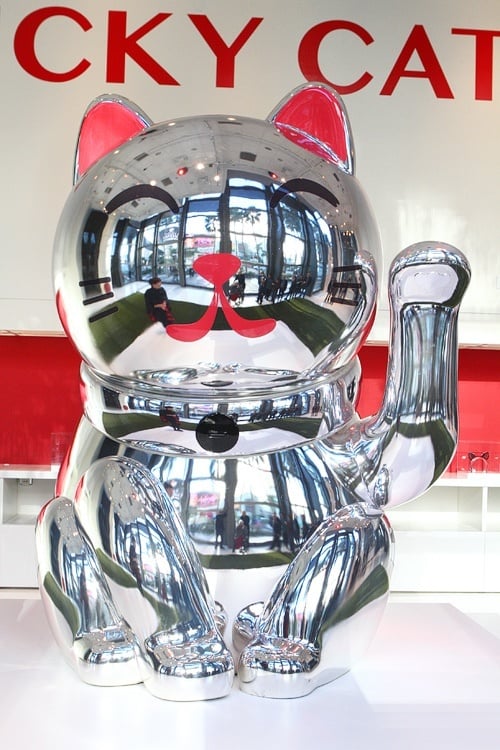 The entire 2,500-square-foot space, prime Strip-accessible real estate, is devoted to the display, so it's not surprising the lucky cat is doing double duty as a casino promotion, much like the free spin slot machines outside some Las Vegas casinos.
Guests 21 and older can touch the lucky cat's paw to receive a Cosmopolitan freebie, or at least a fortune.
The fortunes won't necessarily rock your world, but it's a fun way to spend a few (free) minutes on The Strip, and during our visit there was a constant line for a photo op with the kitty, so it's clearly winning over Las Vegas visitors.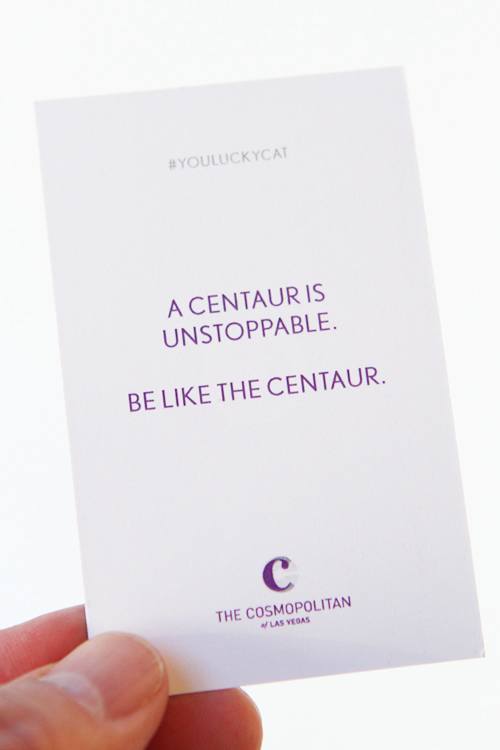 Among the fortune cards there are some pretty sweet casino giveaways, too.
Guests can win any of the following: Free one-night stay at Cosmo, free slot play ($10 or $25), two tickets to a Cosmo concert, 2-for-1 at Wicked Spoon buffet, free cocktail at Jaleo, free cocktail at China Poblano, free cocktail in the casino, free glass of champagne at Comme Ça, free cocktail at Rose.Rabbit.Lie., free coffee at Va Bene, free admission and skate rental at the Cosmo's seasonal ice rink, free entry for two to Marquee Nightclub, free VIP bottle service at Marquee Nightclub, Marquee Nightclub gift bag, free foot massage at the Sahra Spa & Hammam, whatever that might actually be.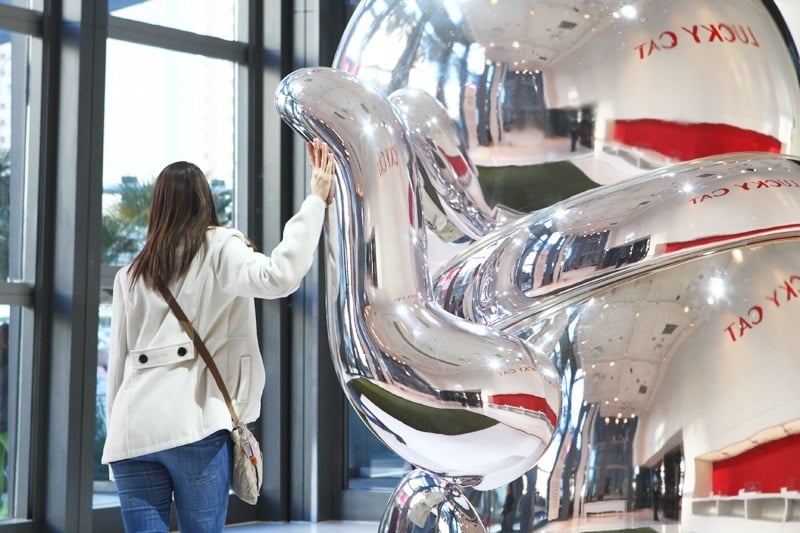 Oh, and our two favorite prizes? Guests might also win a "social media shout-out" or their name in lights on the ticker outside the Cosmo.
Here's a link to all the small print of Cosmo's lucky cat giveaway. Below is some of the large print.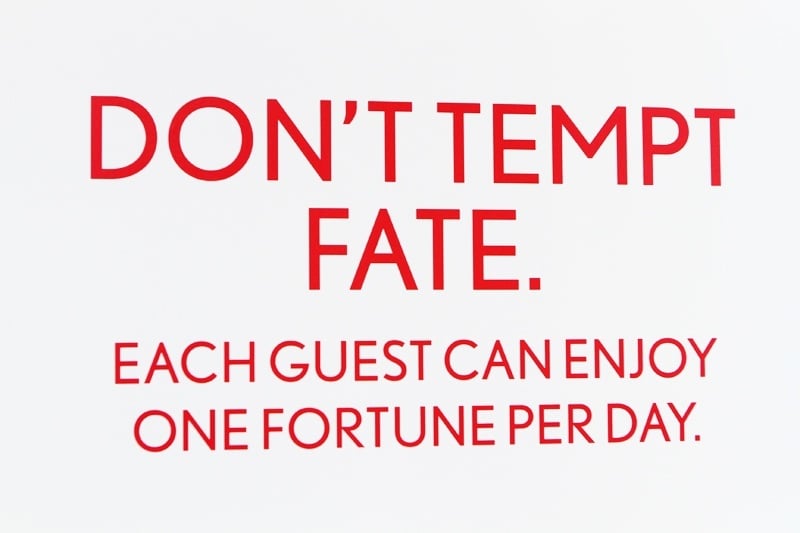 As a Las Vegas blog, we're always fascinated by lucky talismans. Or possibly talismen. Or talispersons. Whatever. The lucky cat at Cosmo gives us an opportunity to delve further into the world of the maneki-neko, and here's what we turned up.
The maneki-neko dates back to the 1870s, during the Meiji era in Japan.
In English, maneki-neko is also known as welcoming cat, money cat, happy cat or fortune cat.
Many people mistakenly believe the lucky cat is of Chinese origin, but as we've said, it's Japanese. The cat depicted in maneki-neko figurines is a calico Japanese Bobtail.
While the Cosmo's fiberglass lucky cat is chrome-finished, they most often come in white, black, gold and red. Black cats, by the way, are traditionally considered lucky in Japan, said to ward off evil or cure illness in children. You can just imagine how confusing this is for people who think children are evil.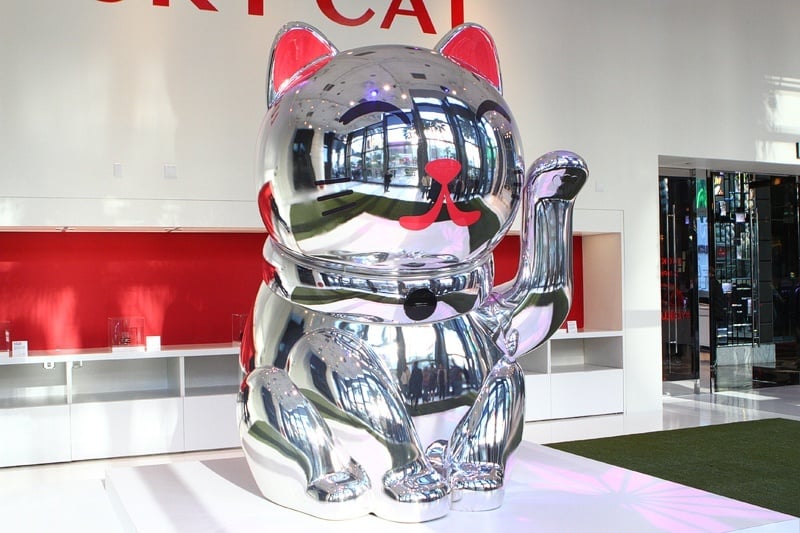 Lucky cats are often seen waving (as below). Westerners sometimes incorrectly think the lucky cat is waving goodbye, when actually it's beckoning. That's due to the differences in body language between Westerners and the Japanese. The Japanese beckon by holding up the hand, palm out, then repeatedly fold their fingers down and back up.
The maneki-neko made for export to America and other countries beckons by showing the back of its hand. Cats made for Japanese consumption beckon by showing the palm, as is customary among the Japanese.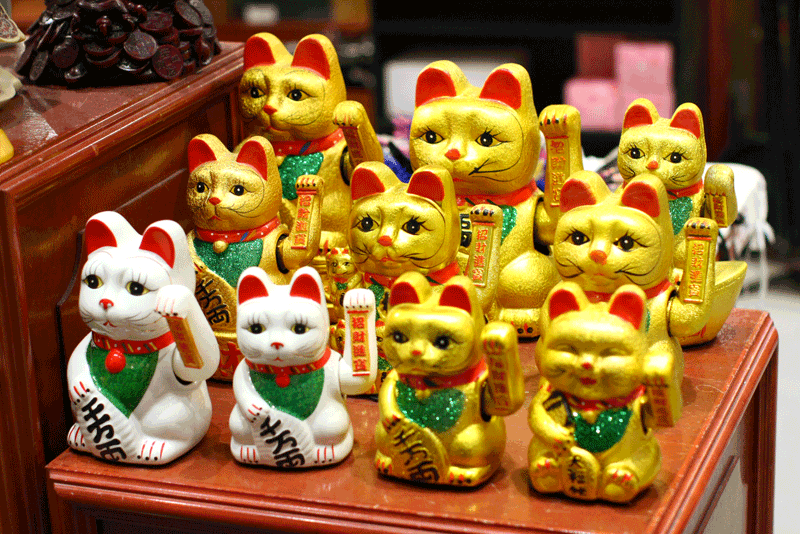 About 70% of lucky cats sold have both paws raised (representing good fortune and money), 20% have the right paw raised (good fortune) and 10% have the left paw raised (money).
The lucky cat at Cosmopolitan Las Vegas is pretty streamlined, but the ones you see in businesses and homes often carry "koban," or gold coins.
Some lucky cats wear a collar with a bell, inspired by the custom of affluent Japanese women adorning their cats with red collars made of hichirimen, a red flower. Small bells were attached to the collar to help the owners keep track of their pets.
Lucky cats sometimes have characters on their legs, often a Chinese phrase that translates as "the source of money spreads widely." One of the most common symbols is the Japanese "fuku" character, which means "good fortune" or "happiness."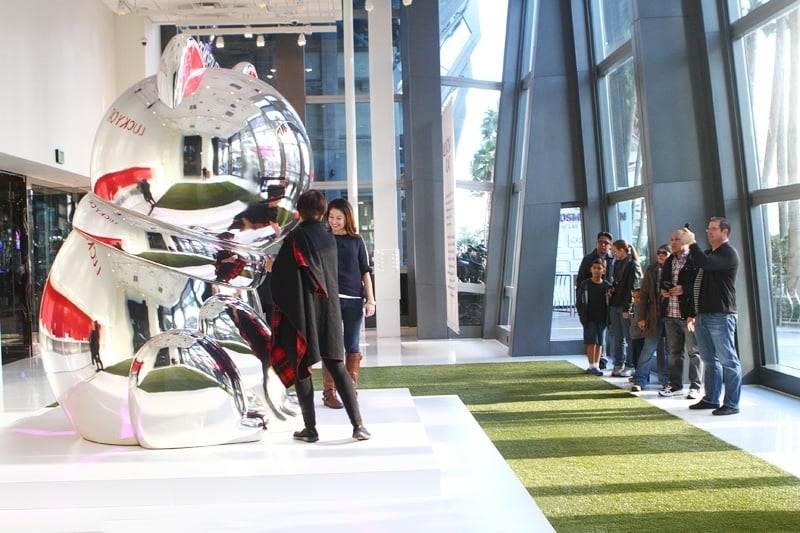 There's a whole realm of lucky cat lore and superstitions, especially related to the origin of the maneki-neko. One is a Japanese superstition that says when a cat washes its face and paws, company's coming.
Many think the custom of the lucky cat got its start from a Chinese proverb, "If a cat washes its face, it will rain."
There's a sexy reason the lucky cat is so popular, according to some sources. During the Meiji Period in Japan, brothels had a "good-luck shelf" where lucky charms were displayed in the shape of the male sexual organ. In 1872, the Meiji government was trying to clean up its image, so the phallic charms were banned. Maneki-neko statues filled the void, and some claim the cats represent women of ill repute beckoning to potential customers. Read more.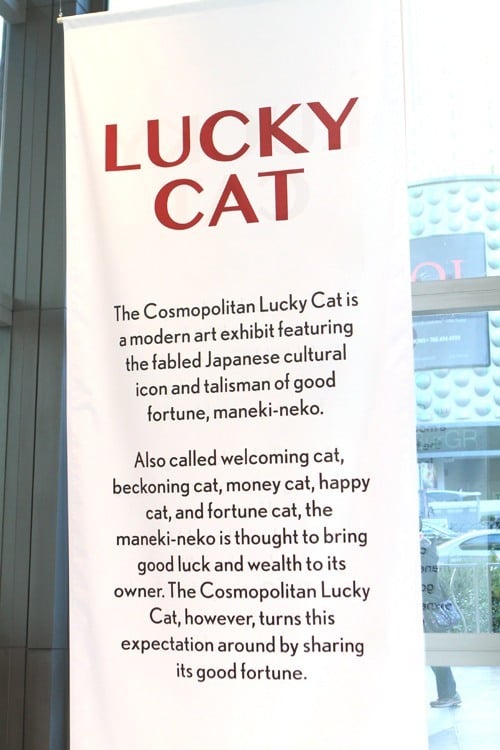 So, now you know!
The lucky cat exhibit at Cosmopolitan Las Vegas is free and open to the public, 2:00 p.m. to 10:00 p.m. Find out more on the official Cosmopolitan site.
Always interesting to see what the Cosmo might be up to next.