Hard Rock International Shares New Mirage Plans
Hard Rock International went before the Nevada Gaming Control Board on Dec. 7, 2022, to share details of plans for the Mirage.
Hard Rock purchased the operations of Mirage in 2021 for $1 billion in cash.
Hard Rock will use the Mirage name until the overhaul of the resort—including building a super sexy all-suites, guitar-shaped hotel tower—is completed in 2025.
Hard Rock expects to operate Mirage as-is for 18 months.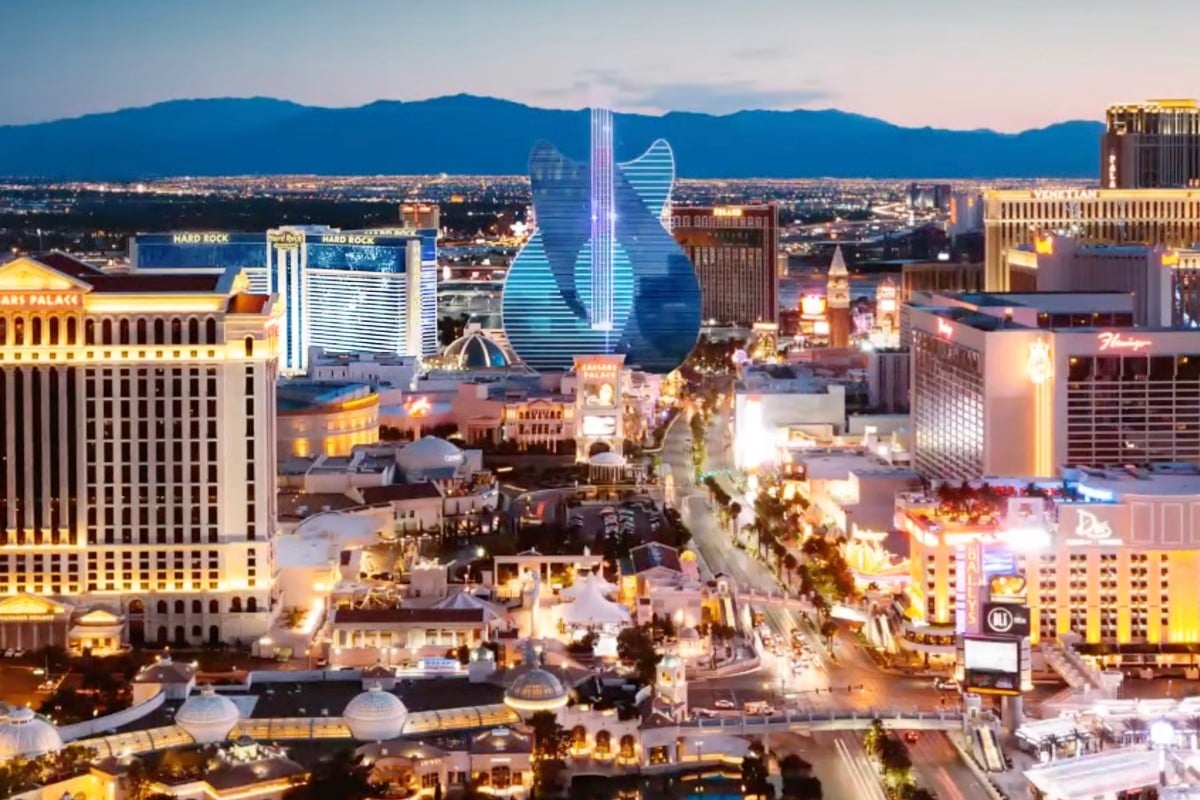 Not to spark a kerfuffle or anything, but compare the new rendering (above) to the original rendering Hard Rock shared in Dec. 2021 (below). Also, less interestingly, the guitar tower is growing. Or, in the words of Twitter follower Nick F., "One's a Gibson, the other one's a Gretsch."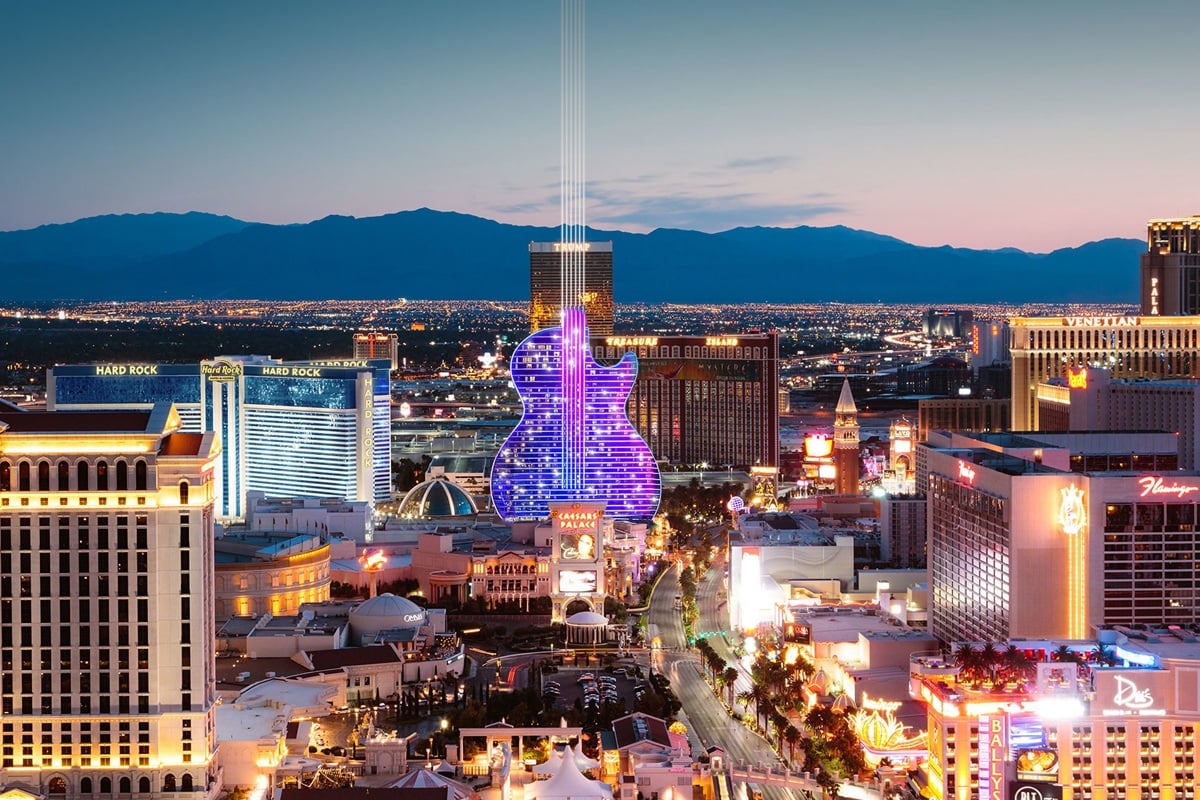 Vici Properties, a REIT, owns the "physical assets" (the land and buildings) of the Mirage, and that will continue. Read more.
Hard Rock confirmed its loyalty club program, Unity by Hard Rock, will be rolled out at Hard Rock Las Vegas. The program was launched this year. This is a big deal to "drive loyalty and increase cross-property visitation," per Hard Rock.
Hard Rock didn't specify when the new loyalty club will kick in at Mirage.

Internally, the changeover to Hard Rock is expected to happen Dec. 19, 2022. Insiders anticipate the switch could be what's described as "a shitshow." Sorry about the technical jargon.
Basically, there are a lot of moving parts, so gird your loins.
Hard Rock's plan should be approved on Dec. 16, Hard Rock says it should be ready to take over in 48 hours, so that's the Dec. 19 date.
Here's the slide talking about all the things likely to be FUBAR during the hand-over from MGM Resorts to Mirage.

Hard Rock, of course, would like the transition to be smooth, and says it has a checklist of 10,000 items reflecting "all the mistakes" of the past 30-40 years of doing such transactions, including casino openings.
Here's an overview of some of the plans for Mirage as it transitions to Hard Rock Las Vegas.

During the presentation, Hard Rock mentioned the low ceilings in Mirage's casino. They're low to cover up the old-timey security catwalks. The plan is to gut the casino and completely rebuild it.
The same goes for the hotel itself (everything is out, including the windows, bathrooms, everything), all the restaurant spaces and anything public-facing.
Mirage will basically be a "concrete shell" and Hard Rock will rebuild everything from the bones of the Mirage.
As we've reported previously, Siegfried & Roy's Secret Garden & Dolphin Habitat has closed permanently, and will be leveled to build a new Hard Rock pool experience covering five acres.
Hard Rock is cooperating with MGM Resorts to find new homes for the big cats and dolphins. They'll be relocated in the next six months to a year.

Hard Rock shared a handy chart of the enhancements coming to Hard Rock Las Vegas.

The number of rooms will increase by 596 to 3,640.
Hard Rock will have many more slots and table games, and there will be at least three new restaurants added to Mirage's line-up. Hard Rock says that number could increase further. We trust one of the new additions will be a Hard Rock Cafe.
As mentioned in a photo caption you breezed right by, plans include building a new Hard Rock Live entertainment venue.
As for existing entertainment, "Love" has been extended into 2024, per Hard Rock.
The Mirage's fancy villas will remain, but will be upgraded.
Out front, between Mirage and TI, Hard Rock will build a "tourism destination" featuring a music museum. Details are light.
Here's one more rendering of a sweet new addition to the Las Vegas Strip. The new guitar hotel tower will feature a light show, replete with high-tech spectacle.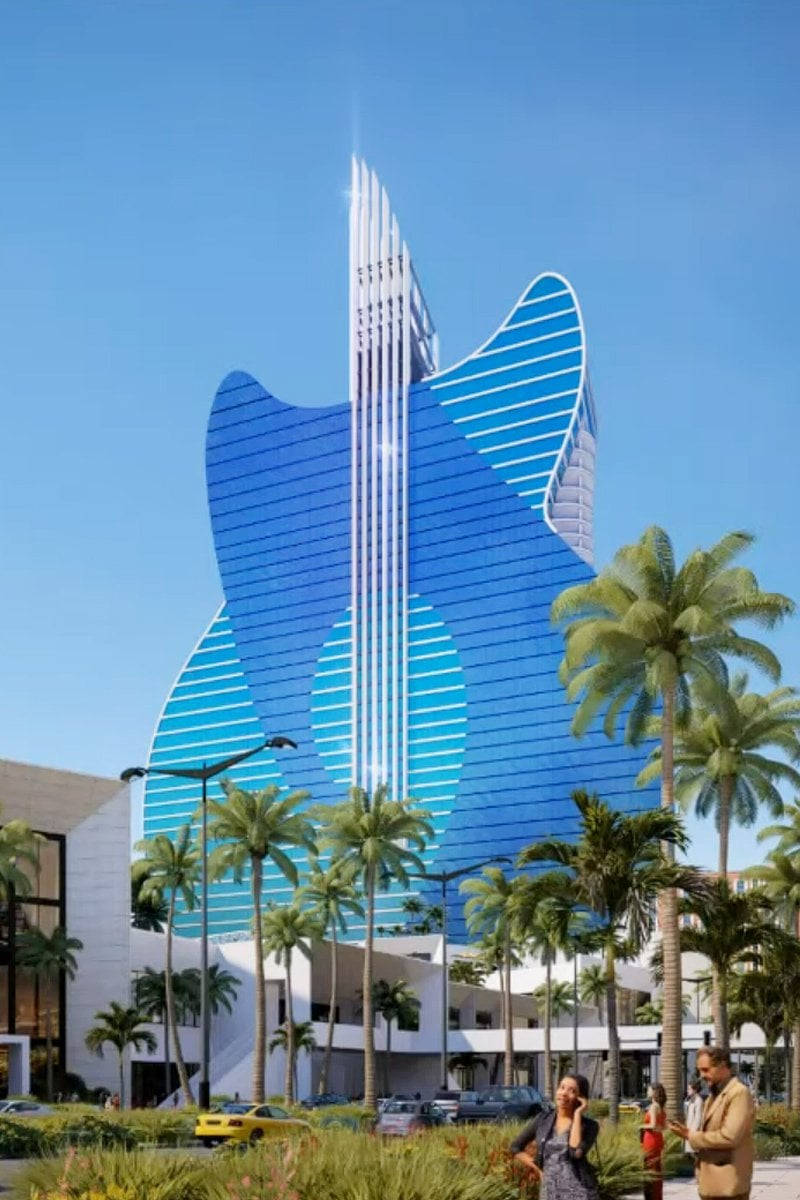 If you'd like to watch video of the enthralling Nevada Gaming Control Board meeting, see it through the technological miracle that is the Internet.
Lots of exciting news on the Hard Rock Las Vegas front, and we look forward to the transformation of Mirage into what's next.
Update (12/8/22): Joe Lupo, President of Hard Rock Las Vegas, distributed a memo clarification about erroneous media reports Mirage will close.