Hard Rock Confirms It Will Acquire Mirage, Build Guitar-Shaped Hotel
After months of rumors (mostly ours), Hard Rock International (the Seminole Tribe of Florida) has confirmed it will acquire The Mirage from MGM Resorts.
Hard Rock will purchase Mirage for $1.075 billion in cash. Our over/under was $900 million, so anyone who wagered on the "over" can cash their tickets.
In the words of Credit Suisse, this "implies a strong 17x opco multiple," whatever the hell that means.
Hard Rock says it plans to build a guitar-shaped hotel on the Mirage site. (The Mirage hotel tower isn't going anywhere. The guitar tower is in addition.) The Seminoles already have a guitar-shaped hotel in Florida. Ours will be better. It's Las Vegas.
So much boom for one announcement. We're going to need a minute.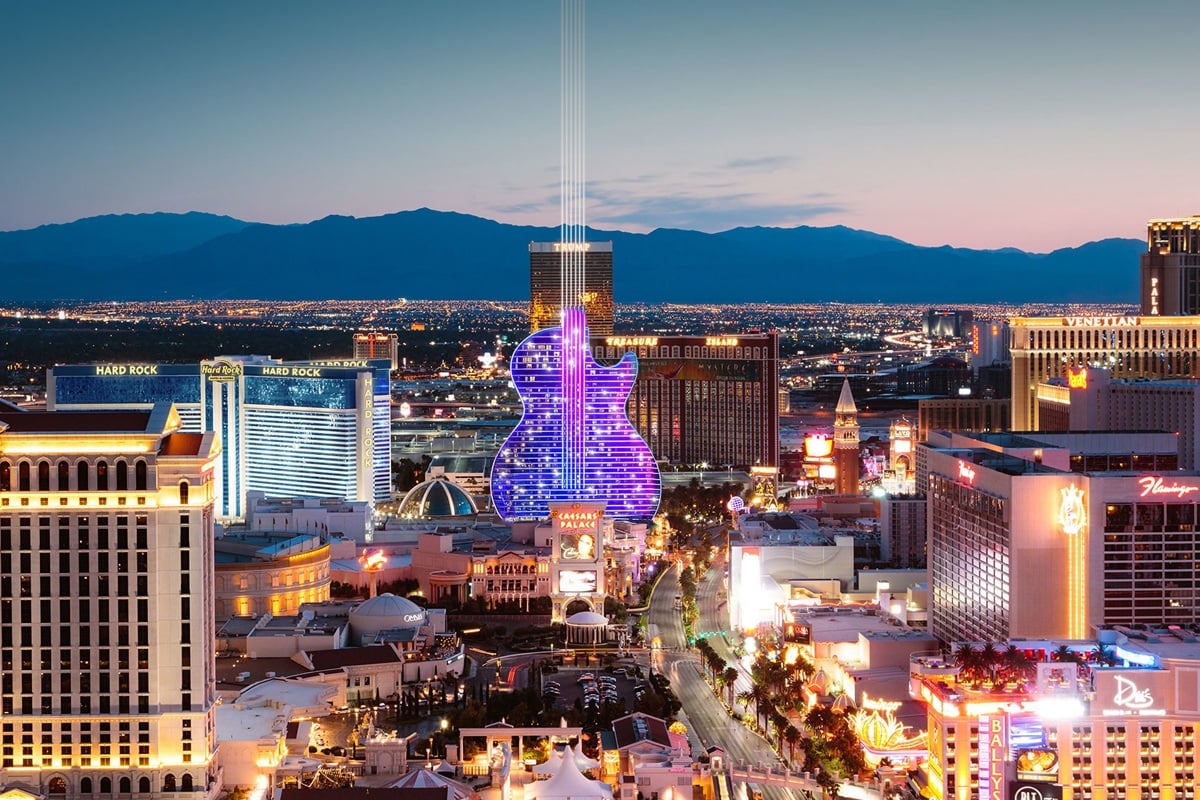 Our sources nailed the Seminoles as the buyer awhile back, shortly after MGM Resorts confirmed it would sell the operations of Mirage.
Vici Properties, a real estate investment trust, will still own the land under Mirage. Sorry, Hard Rock Las Vegas. We need to get used to that all over again!
Vegas watchers will note there was a previous Hard Rock resort in Las Vegas, but Hard Rock International wasn't involved. It's complicated.
The former Hard Rock is now Virgin Las Vegas.
If you haven't seen what a guitar hotel looks like in action, take a look.
In the official announcement of the Mirage sale, Hard Rock didn't get into too many details, but Jim Allen, Chairman of Hard Rock International, said Hard Rock Las Vegas will be "a fully integrated resort welcoming meetings, groups, tourists and casino guests from around the world to its nearly 80 acre center-Strip location."
Wow.
While we knew this was in the works, we weren't really emotionally prepared for the news.
Mirage is about as iconic as resorts get in Las Vegas, and it's hard to envision a Las Vegas Strip without it.

Hard Rock International has been kicking tires all across Las Vegas for some time now, with several deals reportedly quite far down the road to completion, but never getting done.
Hard Rock reportedly pursued Bally's and Planet Hollywood, among other possible acquisitions.
Now that Bally's doesn't appear to be a purchase target, it seems rumored plans to rebrand Bally's to Horseshoe could move forward.
The Mirage sale to the Seminoles also seems to mean the field of potential buyers of Planet Hollywood is wide open (your move, Choctaw Nation).
Caesars Entertainment has said it plans to sell at least one Strip resort in the coming year.
Employees of Mirage can take some solace following the announcement of the acquisition, as the CEO stated, "We are honored to welcome the Mirage's 3,500 team members to the Hard Rock family."
The Seminoles purchase of Mirage follows on the heels of another Native American tribe buying a Las Vegas casino. San Manuel purchased Palms, and will reopen the shuttered casino in early 2022.
The sale of Mirage to Hard Rock International is expected to close in the second half of 2022.

Our sources say the sale was important, not just for some cash, but also because MGM Resorts is ramping up to buy the operations of Cosmopolitan, and this should smooth the way with anyone concerned about the concentration of casino ownership on The Strip.
We still have some time to gird our loins for the transition from Mirage to Hard Rock Las Vegas. Hard Rock will lease the Mirage name for up to three years (royalty-free).
Per our sources, prior to the Mirage becoming Hard Rock Las Vegas, anticipated the name will be: The Mirage, a Seminole Hard Rock Casino.
It's probably a good time to visit the Mirage's volcano attraction. Hard Rock's CEO has confirmed the volcano will go away.
It's fitting the Hard Rock brand is all about music, as the musical chairs of Las Vegas acquisitions and mergers continues at a prestissimo pace.