Manneken Pis Returns to The D Following Repairs
A beloved downtown statue has been returned to his rightful perch after being damaged by revelers, or what's commonly referred to as "boneheads."
Manneken Pis, a replica of the original in Brussels, was toppled on Sep. 20, 2021 and had to undergo weeks of repairs.
Manneken Pis got his groove back on Dec. 2, 2021.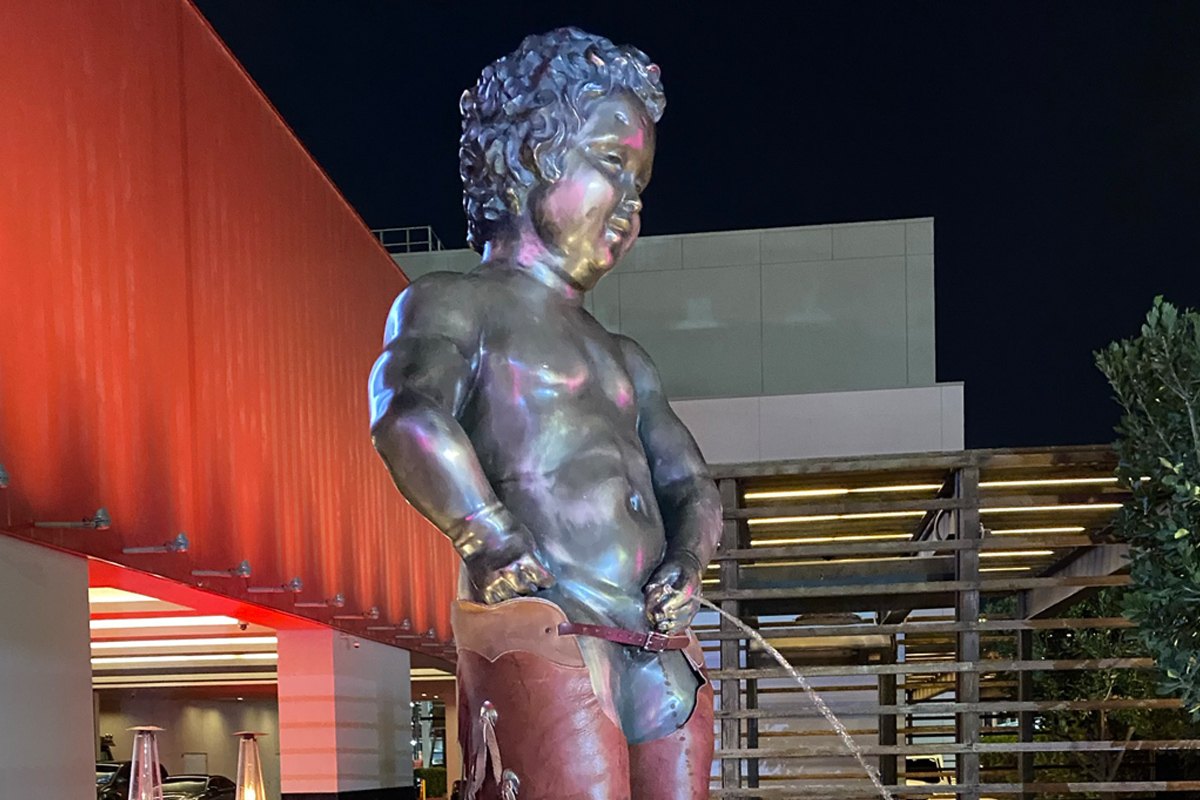 While The D's owner, Derek Stevens, was noticeably irked at news the photogenic statue had been damaged, but the time Manneken Pis was returned to the fountain near the casino's valet entrance, he was in much better spirits.
"About 10 weeks ago, on the Sunday night of Life is Beautiful [music festival], there were some revelers who came in and started dancing with him. It got a little crazy and he went down," says Stevens.
Stevens continues, tongue firmly planted in cheek, "There was a traumatic amputation of two toes, plus multiple fractures and fissures. But as they say, time and welding heals all wounds. We really missed this guy."
Or possibly "Wee missed this guy," our interview was a little garbled.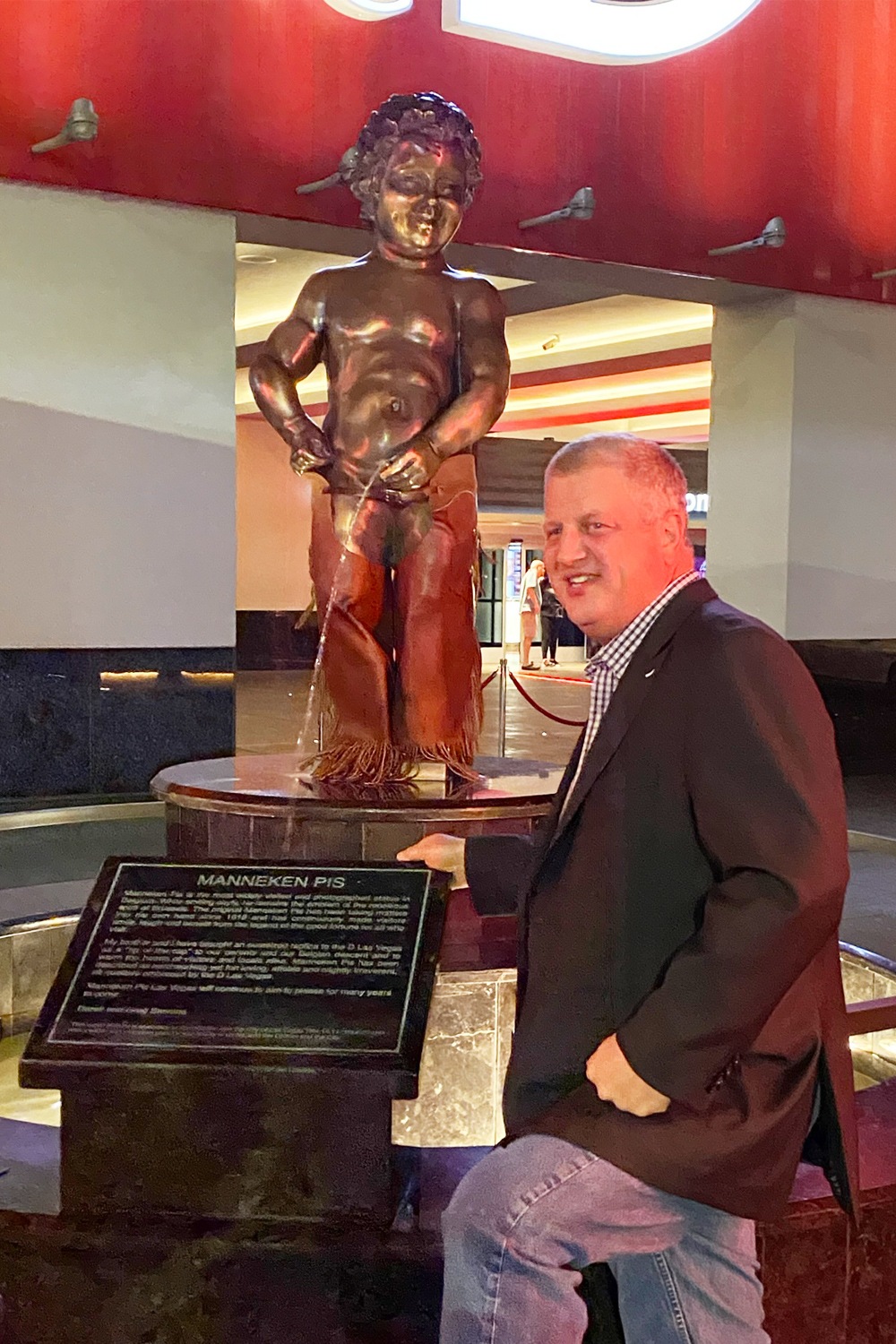 Beyond the damage to the statue, there was also extensive damage to the fountain where Manneken Pis is displayed.
The original estimate of costs to repair the statue was $200,000. Stevens declined to provide an update on the final repair cost. We'll keep pestering him, though.
"As far as the cost, I'm not going to think about that anymore, I'm just so overjoyed he's in place and aiming to please, I'm moving on," says Stevens, who also owns Circa Las Vegas and Golden Gate.
Stevens says when Manneken Pis was initially taken to a metallurgist, it was unclear if the statue would return. Given supply chain disruptions and shortages, had the damage been more extensive, repairs could've taken nine months or more, or not be possible at all.
The base of the statue has been reinforced, so we trust Manneken Pis more secure and no such similar incidents will transpire in the future. Looking at you, music festival youths.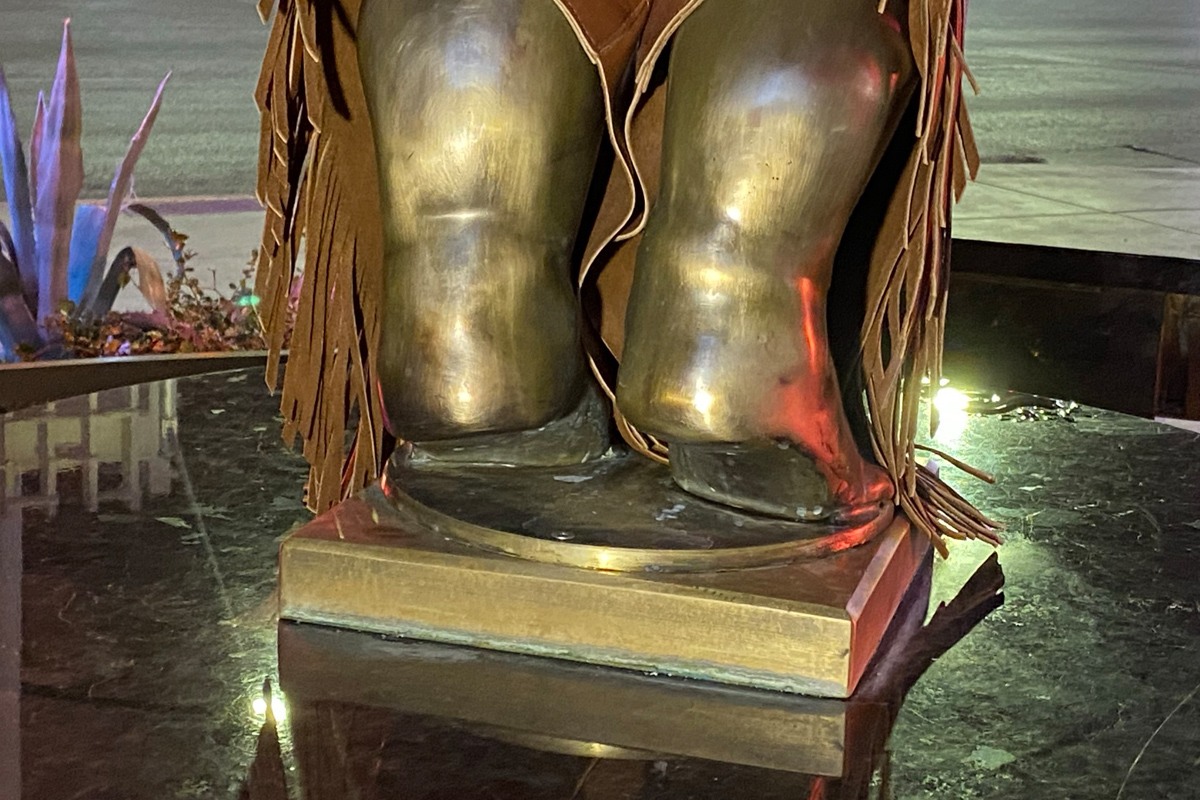 The timing of the return of Manneken Pis coincided with NFR (National Finals Rodeo), so he was decked out in chaps.
We are typically against clothing on statues, but in this case, it was charming, so The D gets a pass.
Fun fact: We were the first one to throw a coin in the Manneken Pis fountain when it was unveiled in 2015, which guaranteed our good luck on the slot machines at The D a solid 10-15% of our visits. The second person to toss a coin was Las Vegas Mayor Carolyn Goodman.
Manneken Pis sort of encapsulates the spirit of The D, as he's playful and irreverent.
We were going to write a stream of urination jokes, but we're far too mature for that. Rest assured, we'll be leaking more stories like this in the future.
Welcome back, Manneken Pis. Downtown wasn't downtown without you.