A First Look at Cosmopolitan's New Party Pit at Bond Lounge
Big changes are afoot at The Cosmopolitan, including an expansion of one of its many charming lounges, Bond.
Bond is the first lounge you encounter when you enter the hotel from Las Vegas Boulevard. It's got some serious bling, and gets you into the mood for the Cosmo experience.

A construction wall now extends from the back of Bond into what was an underwhelming section of the casino, previously full of slot machines.
Given the revamp in the works, prepare to be whelmed.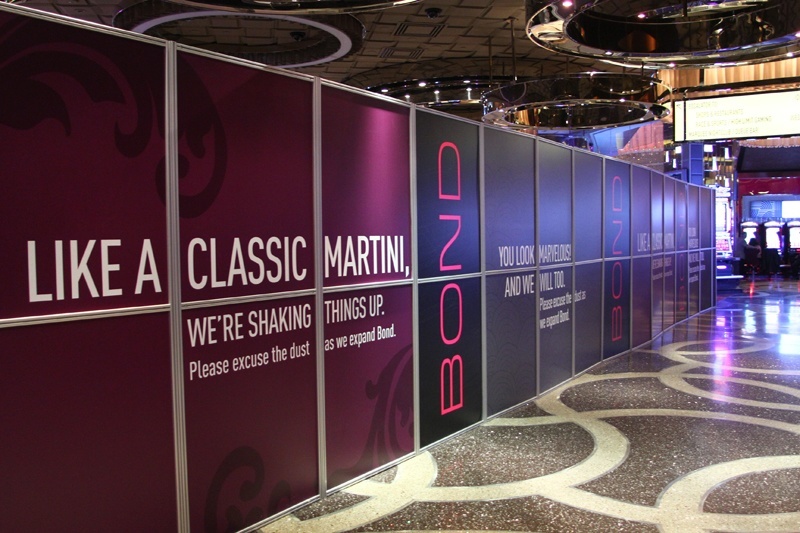 We've got a first look beyond the construction wall, into what will be a new party pit at Bond. The party pit will feature 16 new gaming tables, as well as performers atop a "ballet bar." We don't know what that is, but we believe it involves both a bar and, quite possibly, ballet.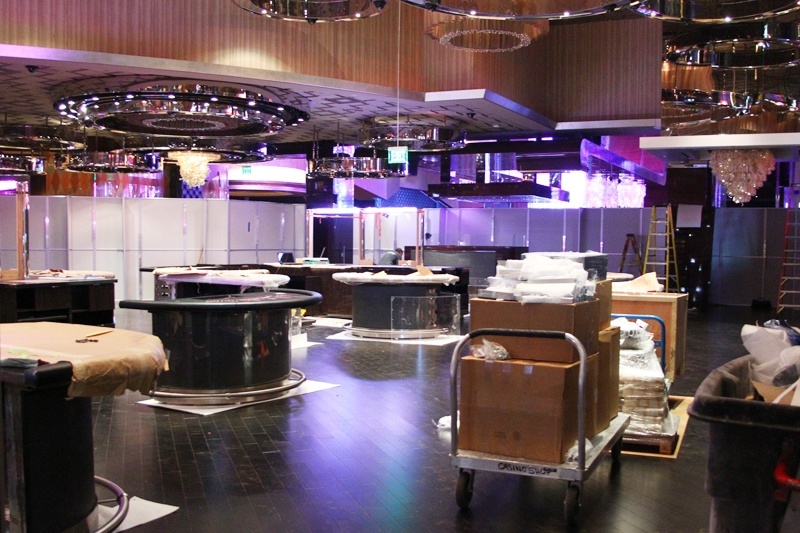 It appears the Cosmopolitan is getting serious about attracting gamblers into its hotel along with the foodies and club-goers. Pedestrians along Las Vegas Boulevard should be able to see the Cosmo's new party pit at Bond, and performances by nubile young women tends to be a draw in Las Vegas casinos. (Just ask The D and Golden Gate, downtown.)
Rumor has it the newly-expanded Bond will have lower table limits, too. Uncomfortably high table limits are pretty much the only thing that's been keeping this blog from spending its retirement fund at the Cosmo's craps tables.
While the Bond party pit expansion is taking place, the Bond bar remains open. We took advantage, playing some video poker and sampling something from Bond's extensive cocktail menu.
We're glad we did, because we loved our drink, called "It Takes Two to Mango."

The "It Takes Two to Mango" cocktail has Smirnoff Mango vodka, mango puree, apricot simple syrup, lime and La Spinetti Moscato, a fruity white wine.
There's also a leaf of some kind floating in the drink, so technically, you're also getting roughage, which is extremely healthy. Not to mention mangoes are rich in pre-biotic dietary fiber, vitamins, minerals and poly-phenolic flavonoid antioxidant compounds, which we knew off the top of our head, thanks.
This signature cocktail is not only scrumptious, it's free when you're playing video poker at the bar. The machines are a tad tight, but after a couple of these mango beauties, you'll barely notice.
The Bond expansion seems to be in the home stretch, so we look forward to visiting again when we don't have to breach security to get a better look. The things we do for you.
By the way, today (Dec. 15, 2013) is the third anniversary of The Cosmopolitan opening on the Las Vegas Strip. Happy birthday, Cosmo, and please accept that cash we fed into the video poker machine as our birthday gift!