Circus Circus Gets Gussied Up for Its Date With F1
Circus Circus was looking a little haggard, but every resort in Las Vegas is applying its lipstick for a date with F1 in November, this beloved (and maligned) resort included.
Circus Circus shared some photos of its recently-completed exterior refresh.
A little love can make a big difference.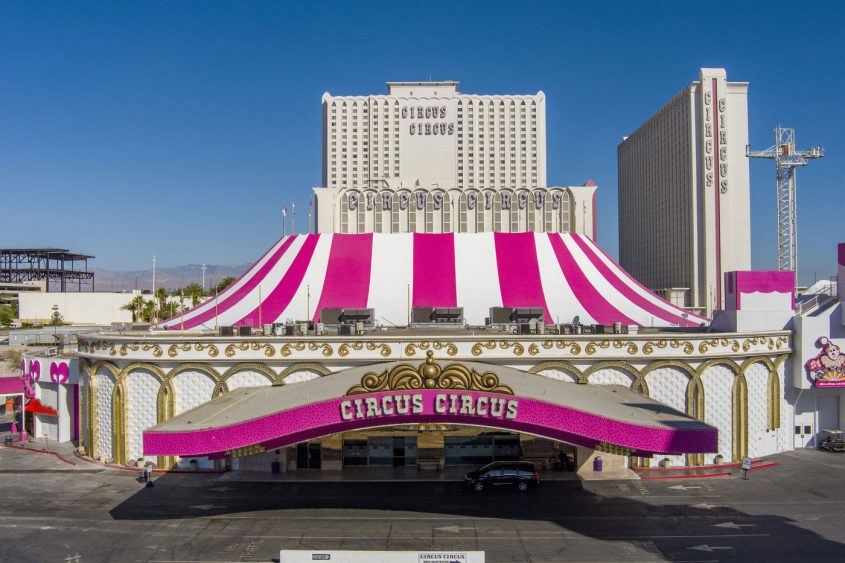 Circus Circus opened in 1968. It's unclear if the casino had been repainted before now.
We tease because we love!
No, really, we love Circus Circus. It's the only Strip casino that still has coin slot machines! And we love what they've done with the place.
Circus Circus was very excited to share all the companies involved with the roof refresh.
The project was completed by Commercial Roofers, "the women-owned, largest roofing contractor in the Las Vegas valley, using products from GAF, North America's largest roofing and waterproofing manufacturer."
There's even a name for the color used to paint Circus Circus: "Utilizing GAF's coating products to create custom colors to match the original vivid hues such as Exuberant Pink, Commercial Roofers was able to deliver on a new roof to revitalize the circus exterior."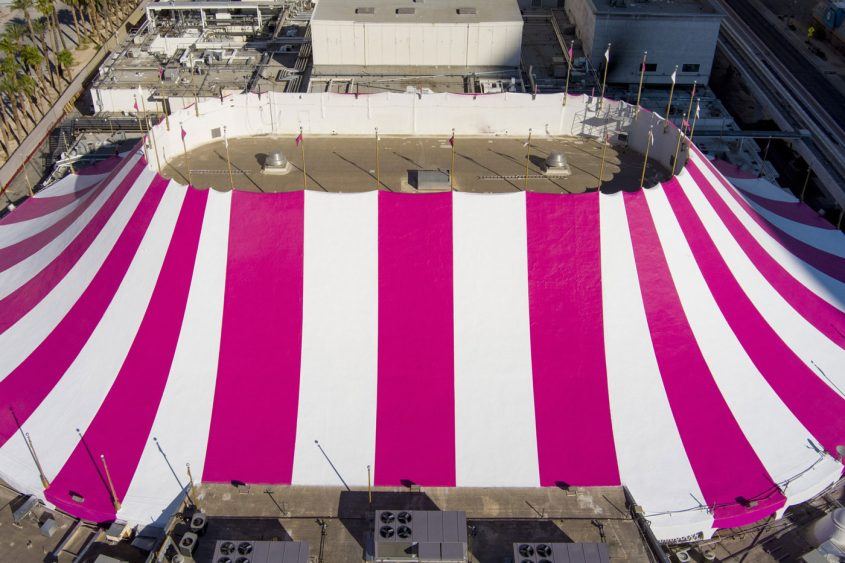 As it's obvious you're a paint nerd at this point, here's more: "GAF products applied include GAF Barrier Guard, GAF Unibase Primer, GAF High-Tensile Acrylic Topcoat and finally, the GAF Kymax Coatings in exuberant pink and white to match the Circus Circus signature colors. These products ensured a long-lasting, fade-resistant, robust coating that withstand extreme heat, wind, and weather conditions—all scenarios that Circus Circus' roof must endure in their location."
Dibs on all these band names! Barrier Guard, Unibase Primer, Acrylic Topcoat, Kymax Coatings.
More fun facts that could win you a bar bet someday: "The 43,500 square-foot roof consisted of 41,300 square-feet on the tent proper and 2,200 square-feet on the flat, which presented technical challenges due to its steep 12/12 pitch in a 90-degree angle at the top."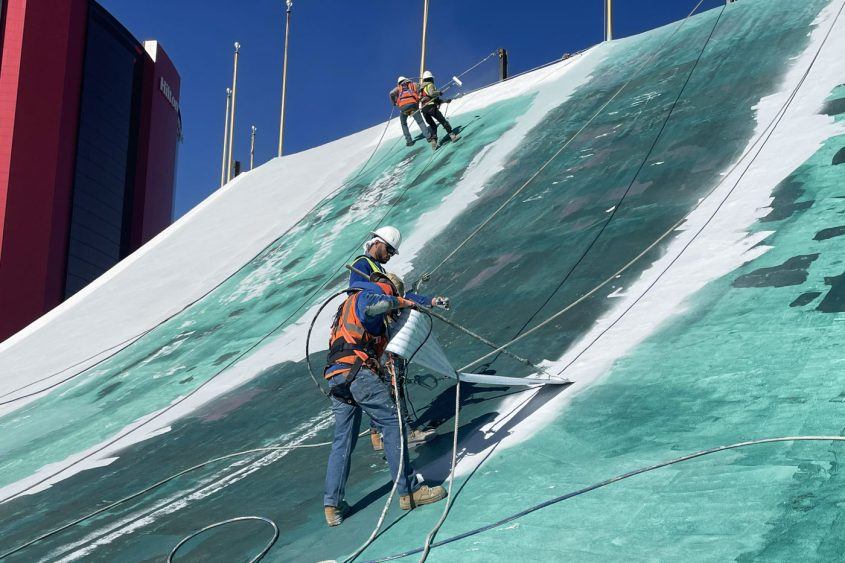 Whatever the logistics involved, Circus Circus is looking great, and just in time for F1, as well as the opening of Fontainebleau, its fancy neighbor just across the street.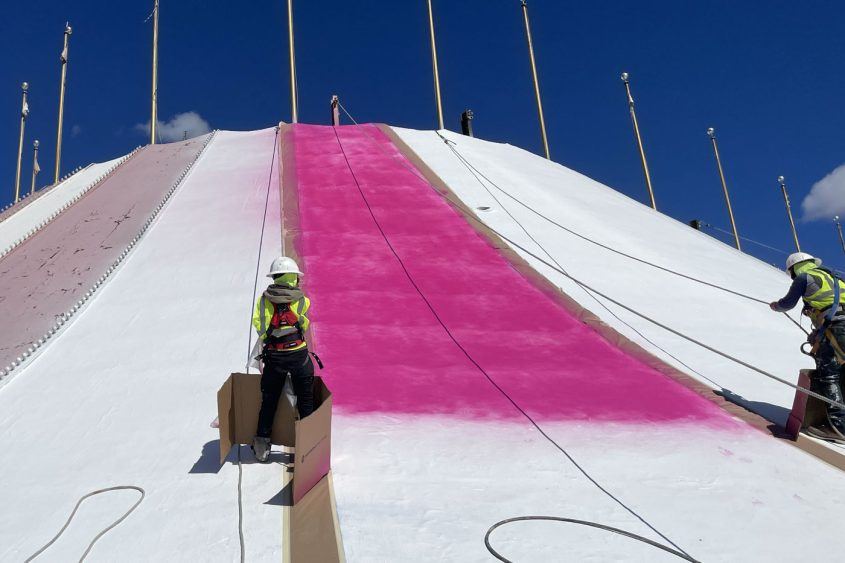 The owner of Circus Circus, Phil Ruffin, also owns TI. He's known for being a little fiscally conservative when it comes to capital investments (a fancy way of saying "cheap"), but it's been reported a $30 million renovation is currently underway at the resort's Adventuredome, in addition to the exterior overhaul project.
There have also been promises of improvements to Slots-A-Fun at Circus Circus, but we have seen little evidence that's happening.
Slots A Sadness at Circus Circus. pic.twitter.com/4mbXyJKdsp

— Vital Vegas (@VitalVegas) May 19, 2023
Still, the beautification of the Circus Circus tent is a great step in the right direction for the old girl.
Here's a mind-bending fun fact.
The original cost to build Circus Circus was $15 million. The creator of Circus Circus also built Caesars Palace, owned by Caesars Entertainment. Caesars Entertainment just paid hackers a ransom to avoid disruption of their business. The ransom? It was $15 million. Boom.
See you at the Circus Circus midway! And by that we mean The Steakhouse.