Caesars Palace Plays Red Light, Green Light for Comped Drinks at Sports Book Bar
On the heels of Mirage rolling out a voucher system to regulate how comped drinks are earned by video poker players, Caesars Palace has implemented a new system of its own.
It's a little like Red Light, Green Light, but it's no game, and it could signal another unfortunate penny-pinching trend by Las Vegas casinos.
The Red Light, Green Light comp drink system is currently at one bar, the Race and Sports Book Bar at Caesars Palace.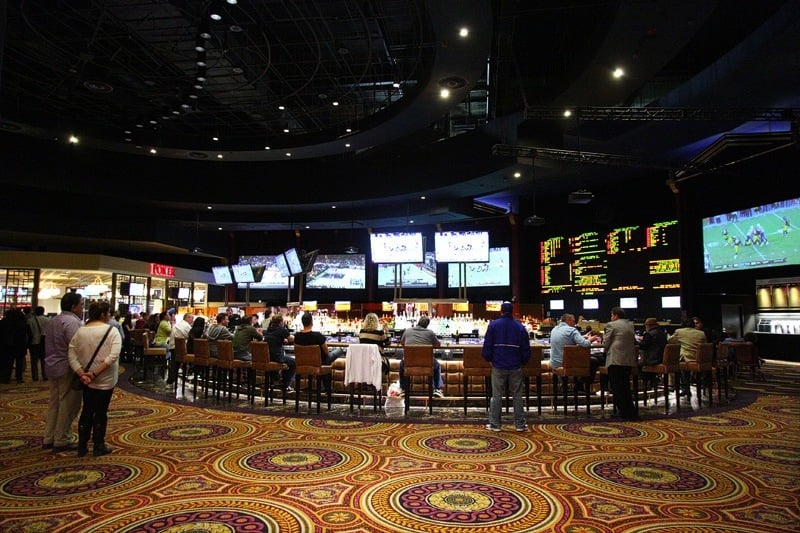 The casino has installed three small lights on the back of each video poker machine at the bar.
One light is green, another is red, and a third is blue.
Most customers would probably never even notice the lights, but they're used by bartenders to determine if players are worthy of comped cocktails while sitting at the bar.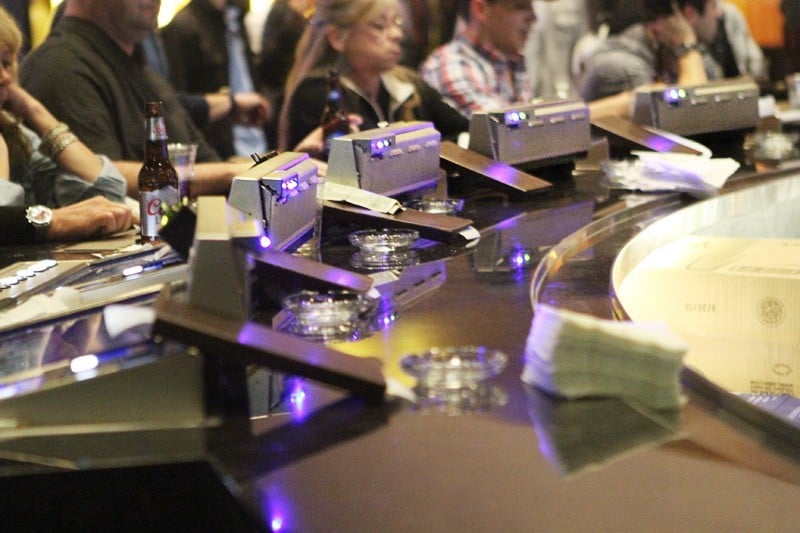 Here's how it works.
First, the blue light turns on if the customer at the bar has inserted $20 into the machine. It serves as a baseline to differentiate between customers drinking and enjoying sports on the nearby screens and those playing video poker.
Typically, a bartender can comp a first drink if a player puts money into a machine, but that doesn't appear to be the case with the Red Light, Green Light system.
Only after a player has qualified with their play do they get the green light for a comped cocktail.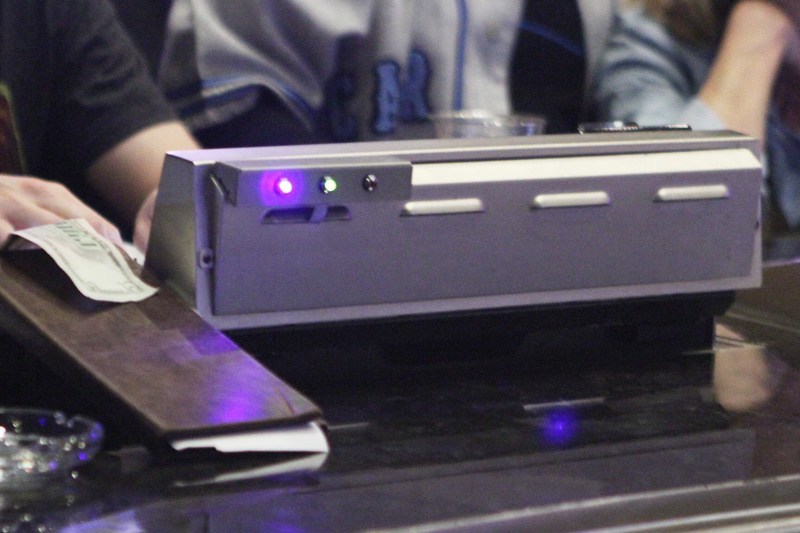 Red light, no comped drink for you.
There's no publicly available formula for how much play is required to get a comped drink under this new system. One player we spoke said he had $40 in the machine and hadn't yet been approved by the machine for a comped drink.
There are likely a number of variables, as is the case with the Mirage voucher system.
You certainly need to be playing "max coin," and duration of play is likely to figure into the formula created by bean counters to ensure you're not getting something for nothing.
As with the Mirage voucher system, its bartenders who are between a rock and a WTF place with customers accustomed to getting comped drinks more frequently and without having to get the approval of a robotic overlord.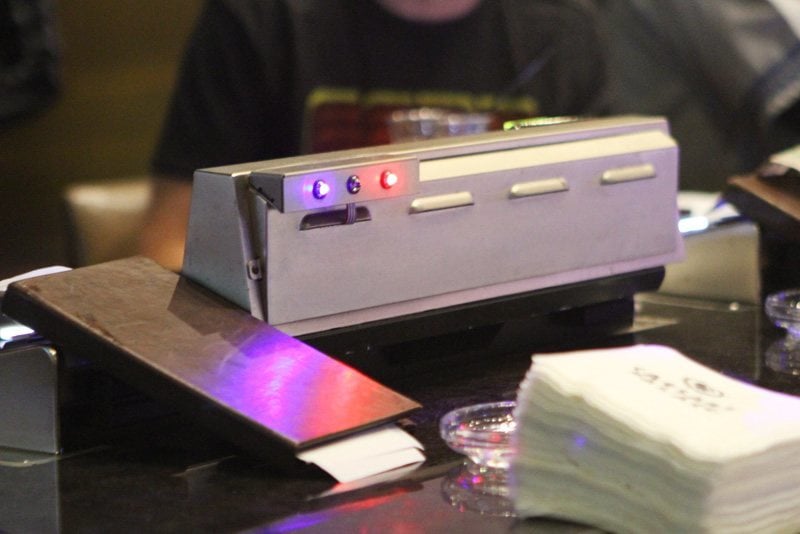 When you ask bartenders at these bars what they think of the new systems, they are diplomatic, but it's obvious such practices are hurting not only their tips but the image of the companies implementing them.
These automated systems for approving comped cocktails are the latest among a series of moves by Las Vegas casinos to evaluate every aspect of their business to find ways of cutting costs and create new sources of revenue from perks long given to guests for "free."
Of course, nothing's ever really been "free," but casinos have a long tradition of using things like comped drinks and free parking as loss-leaders, then making their money back in the casino. Those days are at an end, for better or worse.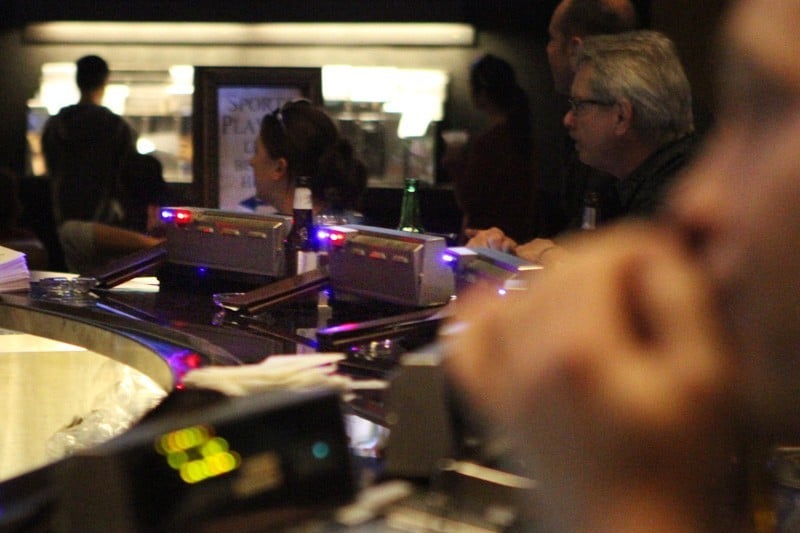 We've railed endlessly about the casino practice of casinos swapping name brand liquors for generic ones on comped drinks, and ranted frequently about CNF charges at Vegas restaurants, and while the "RLGL" system isn't as insidious, it certainly doesn't enhance the guest experience.
On the bright side, it's just the one bar. Two, if you include Mirage's lobby bar. All right, three, since it's rumored Bond bar at Cosmopolitan is using a ticket system, too. Sensing a pattern here?
Let us know what you think about this new practice, and don't be shy about sharing your thoughts with the casinos directly.
Ultimately, we get to vote with our business, and only a hit to the bottom line can stem the tide of a Vegas where robots decide how blitzed we get to be when we play.
Update (9/25/16): In a somewhat shocking development, the "Red Light, Green Light" comp drink monitoring system has been rolled out to every Caesars Entertainment casino in Las Vegas. The comp light system can be found at every sports book and casino bar in nine Caesars Entertainment resorts. Read more.