Mirage Las Vegas Tests Comped Drink Voucher System and Everything is Ruined
Seriously, Mirage, are you trying to make this blog's head explode?
We recently sidled up to the Mirage's Lobby Bar (yes, we've been known to sidle) and slipped $20 into a video poker machine. A very friendly bartender immediately took our order and comped our Captain and diet. (Yes, Captain Morgan from a bottle, not a gun. Long story.)

Here's where things went exponentially south.
See, the Mirage is testing a new system for monitoring and dispensing comped drinks. Free drinks, of course, are one of the most hallowed of all Las Vegas casino traditions, despite recent trends where casinos swap out liquor brands without informing customers, but that's a rant for a different time.
As with most casino bars, you're comped your first drink at Mirage's Lobby Bar, as long as you put at least $20 in the machine. After that, however, you have to earn your drinks, and the decision as to whether you've played enough to earn a comp is no longer in the hands of your bartender.
That's right, your video poker machine decides when you deserve another drink. Not a person. Mirage now employs cocktail-deciding robots from Hell.
How often you earn a comp depends upon several factors. The denomination you're playing is a key factor. We played quarters, but a higher denomination game spits out drink vouchers more frequently, allegedly.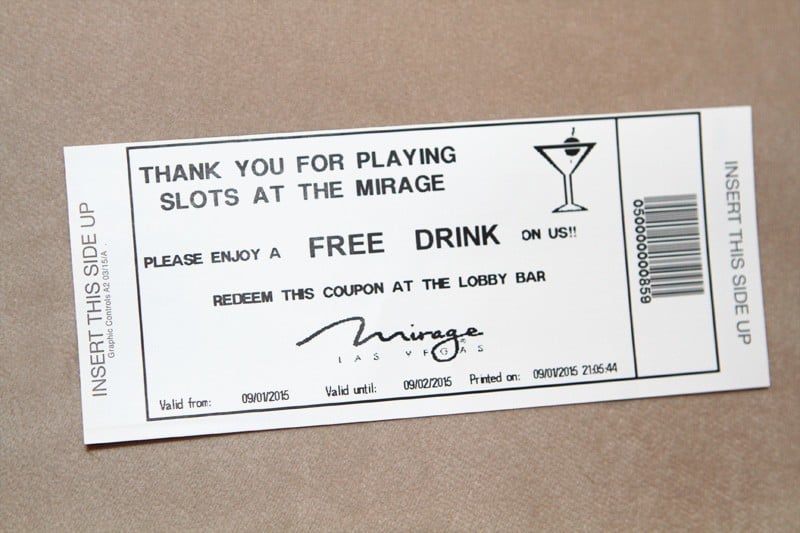 Also, your length of play is part of the comped drink calculation. Take any kind of break while you're playing (to Tweet or converse with a friend) and your comp is delayed further.
Brace yourself.
After our first free drink, we played more than an hour (one hour and five minutes, to be exact, with a couple of five minute breaks in play) before we got a voucher for another comped drink. In other words, an eternity in drinking years.
Yes, this happened in Las Vegas. The one in America.
It's worth noting your drink voucher is valid for 24 hours from the time it's issued. Big, meet whoop.
Not surprisingly, this new system is universally loathed, not just by customers, but also by bartenders.
Imagine being a Vegas bartender faced with customers who are gambling (holding up their end of the player-casino bargain), and you can't serve a drink because a machine hasn't deemed your customer worthy of one. Let the disgruntlement begin, assuming that's an actual word.
Now, granted, most casinos have standing policies about how much you need to play to get comped drinks.
Bartenders know how much you're playing, and they have some discretion as to when your next comped drink is allowed. Not at the Lobby Bar at Mirage. And it's just a matter of time before this virus infects other casino bars, mark our words.
The drink voucher system at Mirage, if allowed to expand to other Mirage casino bars, or other resorts in the MGM Resorts family, is the beginning of the end of comped cocktails in Las Vegas as we know them.
Now, the good news! The video poker machines at the Mirage Lobby Bar are flipping loose. While waiting the hour for our second cocktail, we nailed two four-of-a-kinds and won more than $200. Suck it, The Man.

This comped drink voucher system has flown under the radar in Las Vegas, and we can only hope it goes the way of other short-lived, ill-considered penny-pinching strategies.
As with any misguided Las Vegas experiments, the best way to make sure it dies is to vote with your dollars. Ask your bartender if they're on the voucher system, and if so, take your business somewhere else. You deserve better for your gambling spend.
Update (1/25/16): If you loathe the voucher system at Mirage, your brain's going to explode when you see the Red Light, Green Light comp drink system at Caesars Palace.