The Las Vegas Place You Shouldn't Go on National Margarita Day, Thanks to the Insidious CNF Charge
It's that time again! National Margarita Day! It's that time when visitors from around the world enjoy margaritas at their favorite Las Vegas bars and restaurants.
But here's our tip for enjoying this most epic of made-up national holidays: Don't go to Cabo Wabo Cantina at Planet Hollywood, or any Las Vegas bar or restaurant with the dreaded CNF charge.
Yep, just three simple letters: CNF, or the "Concession & Franchise Fee."
Vegas visitors have long bemoaned the fact hotels charge resort fees, but Cabo Wabo Cantina and a few other Strip restaurants charge this concession fee, and it's far worse than a resort fee because you get nothing whatsoever for it. It's just a fee tacked onto your bill.
The CNF charge is, in fact, worse than a resort fee, because guests typically don't learn about the gratuitous fee until their bill arrives, when it's too late to choose another restaurant.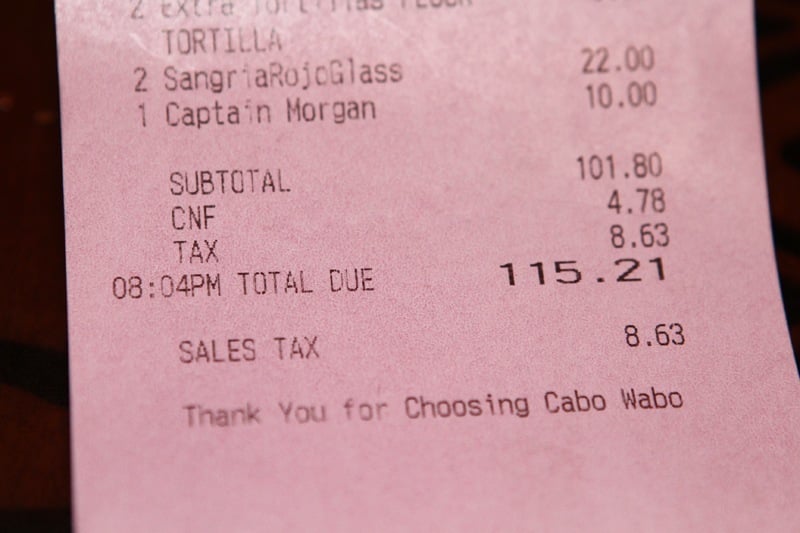 Adding to the outrage of the CNF charge is the fact it's added to your bill before the sales tax is calculated, so you're paying tax on a tax.
Restaurants like Cabo Wabo Cantina should provide pitchforks along with their tortilla chips.
The ridiculous, annoying and should-be-banned "Concession & Franchise Fee" runs from 3-5%, and is presumably related to fees charged to venues by the casinos they're attached to, sort of a surcharge for a restaurant having a great location. Yes, all kinds of WTF.
Honestly, who knows and who cares why it's charged? It's a disgusting, shameless money grab, and we haven't been back to Cabo Wabo Cantina since the last time we were dinged by this CNF charge.
If this charge is necessary, why doesn't every casino restaurant include it? And why is it a separate charge, as opposed to being folded into the overall costs of food and drinks, as other operating costs are?
The sad part here is Cabo Wabo Cantina is otherwise a perfectly fine place to drink and dine, emphasis on the drink, of course. But we get prickly when establishments try such repugnant methods of extracting money from our wallet, for no additional value whatsoever. At least with hotel resort fees you get a free local phone calls. (Don't get us started.)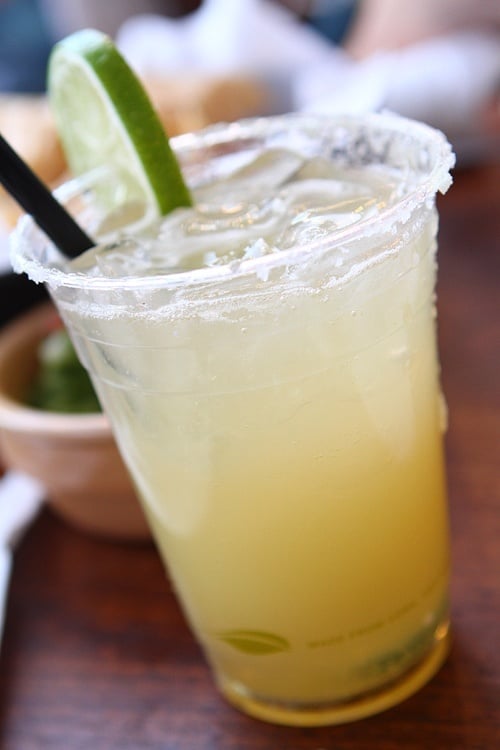 Cabo Wabo Cantina isn't the only CNF culprit.
Other restaurants with CNF charges include Rhumbar at Mirage, as well as Hexx and Beer Park at Paris Las Vegas. For shame. Read more.
Here's a list of restaurants and bars that have a CNF (concession fee) in Las Vegas:
Cabo Wabo Cantina at Planet Hollywood
Hexx at Paris Las Vegas
Beer Park at Paris Las Vegas
Alexxa's Bar at Paris Las Vegas
Chayo Mexican Kitchen and Tequila Bar at Linq Promenade
Want to avoid the concession fee? Ask if the restaurant charges it before you ever sit down. If you love the place, a few extra bucks might not matter. But maybe it should. If we pay this fee, we'll be seeing more restaurants charging it, you can bet on that.
Like most things in Las Vegas, we get to vote with our dollars. So, we vote for celebrating National Margarita Day somewhere else, thanks.
Update (2/28/18): We're pleased to report Señor Frog's at TI has discontinued its CNF charge. It does add an entertainment tax charge when it has live music.
Update (3/14/18): Alexxa's Bar at Paris Las Vegas can be added to the list of venues that charge a 4.7% concession fee.
Update (6/28/19): Rhumbar at Mirage was on our CNF charge list for a long time, but we hear management has been taken over by MGM Resorts, and customers no longer get the CNF charge.