Yahoo Poker Coming Off US Market Amid Classic Game Elimination
Posted on: December 2, 2014, 06:51h.
Last updated on: December 2, 2014, 06:55h.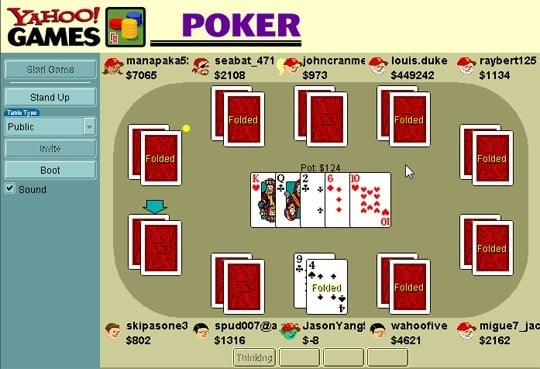 Yahoo Poker will be taken off the market at the end of the year, as Yahoo has announced that they will be eliminating a number of their older games at that time. The move comes not long after a strong marketing push for the game, one that prompted speculation that the Internet company might be looking to enter the world of real money online gambling.
"As of December 31st, 2014, Yahoo Games will no longer offer the Yahoo Classic Games including Yahoo Poker, Yahoo Pool and Yahoo Bingo on web or mobile devices," read a statement on the main Yahoo Poker page. The information also reappeared in a pop-up message for players when the game loaded.
Marketing Push Suggested Big Plans for Poker
Yahoo Poker has been around in various forms for many years, dating back to at least the late 1990s. However, the site only recently began getting a noticeable marketing push that made some wonder if the company had bigger plans for its Texas Hold'em game. In November, ads for the game started showing up on Yahoo's fantasy football web pages, which is some of the company's most valuable ad space for attracting young male consumers, the same demographic often targeted for online poker.
This version of Yahoo Poker shared much more in common with a social game than any real money poker site, however. Players could purchase additional chips and a handful of other perks in the game, but there were no prizes and no games were actually played for cash. But at least one analyst saw the advertising push as a sign that Yahoo might be looking to do more in the poker world.
"The new Yahoo Texas Hold'em portal could be easily monetized if the legal environment were to become more favorable," wrote Marc Edelman, an Associate Professor of Law at the City University of New York's Baruch College, in a piece for Forbes. "It seems for now that Yahoo is certainly preparing in advance for the potential day of widespread, legal online poker."
That analysis may have been a bit optimistic, as Yahoo has made no indication that they are moving towards offering real money online poker or gambling anywhere in the world. But it launched speculation throughout the poker community, with some players saying they would welcome a new heavyweight in the world of Internet gambling.
Yahoo Poker Could Return in New Form
The announced shutdown, however, should put an end to such speculation, at least for now. According to Yahoo, the move was made because many of their classic games are now outdated. Because the company's sites now have higher security requirements and use new supporting technologies, these games are now "incompatible, insecure and no longer functioning correctly."
Forbes also quoted an email by Yahoo Games PR Manager Sean Hamel, which said that the main reason the games were being dropped was "to streamline our product offerings and focus our energy and resources on developing for Yahoo's core experiences."
For those who will miss Yahoo's poker game, there could be hope in the future. While no details are yet available, Yahoo has said that new games will be launched that might better meet their software and security requirements. It's likely that these games will mostly take on the modern "free-to-play" format that allows players to buy in-game perks for real money, a model known well to players of games like Farmville and Candy Crush.
Most Read