World Series of Poker to Feature Big Names, Big Money
Posted on: May 13, 2014, 05:30h.
Last updated on: May 13, 2014, 03:01h.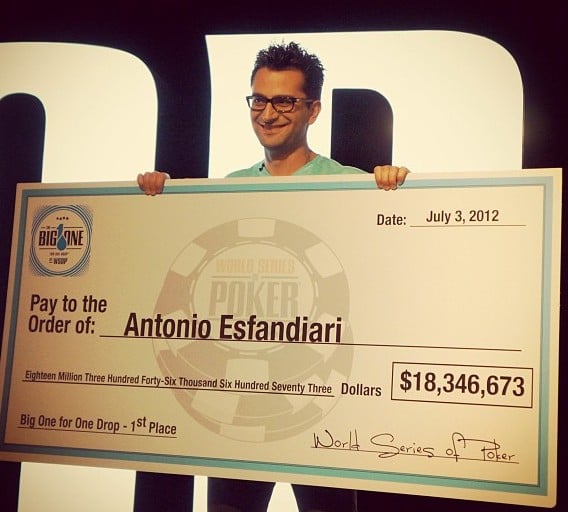 It's almost time again for the greatest poker show on Earth. That's right: on May 27, the 2014 World Series of Poker will kick off at the Rio All-Suite Hotel & Casino in Las Vegas, starting the first of 65 events that will take place over the course of more than a month. It's always a huge attraction for the entire poker world, and this year's festival promises more action – and more cash – than ever before.
While the Main Event (which begins on Saturday, July 5) will eventually become the biggest story of the poker year, we've still got quite a while before we get there. And at the moment, a tournament that is much smaller – and yet, so much bigger – is grabbing all of the headlines.
The Big One Gets Even Bigger
That's because The Big One for One Drop is back again, and will almost certainly offer the largest prize in the history of tournament poker. This year's version of the $1 million buy-in tournament begins on July 15 and has expanded the player cap to 56 in order to potentially offer $20 million to the eventual winner.
Of course, the big winner in this tournament is always the One Drop charity, which gets $111,111 of each entry to put towards providing access to clean water around the world. But for fans and players alike, the real question is who will walk away with the enormous first prize.
So far, 29 players have signed up, and at least three satellite seats will be awarded, bringing the current player count to 32. Among the notables that were part of the initial signup group were 2012 Big One for One Drop winner Antonio Esfandiari and many of the world's top poker pros, including Phil Ivey, Jason Mercier, Erik Seidel and Sam Trickett, who finished second to Esfandiari last time this event was held.
But the tournament is known for featuring a nearly even mix of wealthy amateurs and seasoned pros, and this second edition looks to be continuing that tradition. Among the notable names involved, hedge fund manager David Einhorn is back after finishing third and winning more than $4.3 million in the first One Drop tournament.
A more recent group of signups was headlined by top tournament pro Vanessa Selbst, who expressed her excitement at participating in the event for the first time.
"I'm so excited to be taking part in The Big One for One Drop this year," Selbst said. "I didn't get to play in 2012, but after seeing how much fun everyone had with the event as well as how profound an impact it had on One Drop, I knew I had to be a part of it this time around."
Other players in the latest round of registrations include Jean-Robert Bellande and everyone's favorite amateur player, Anonymous Asian Businessman (one of four participating businessmen choosing to remain anonymous for the time being).
Main Event Odds Posted
But no matter how big the One Drop tournament gets, it will never have the prestige of the WSOP Main Event. And while the tournament is still nearly two months away, bookmakers have already been setting lines for the bigger live poker event on the planet.
Some bookmakers have posted odds on individual players to win the tournament – but unlike most sports, even the best players face overwhelming odds. Phil Ivey is listed as the favorite at one sportsbook, but still offers 150-1 odds to anyone willing to put money on him. With well over 6,000 players likely to participate, those odds may seem a little short even for the supremely talented Ivey. Many other top players are listed at 200-1 or 250-1.
But there are also prop bets that may give bettors a more realistic shot at winning. For instance, Bovada is offering 9-1 odds on a woman making the final table, something that hasn't happened since 1995. Gamblers can also take 6-1 on a former champion making the final table, or bet on the nationality of the winner: 4-7 that it'll be an American, or 27-20 on the rest of the world. You can even bet on the final winning hand, with two pair or better being a slight favorite over one pair or worse.
The 2013 WSOP Main Event drew 6,352 entrants. Ultimately, Ryan Riess won the tournament and the top prize of $8,359,531.