World Series of Poker Main Event Players Clash Over Texting, Earning Both Suspensions
Posted on: July 12, 2017, 03:00h.
Last updated on: July 12, 2017, 03:19h.
The fireworks at the 2017 World Series of Poker (WSOP) Main Event were still going on Sunday, July 8th, even with Independence Day well past, when two of the more than 7,200 ultimate players to enter went at it with a verbal joust that landed them both some time outs.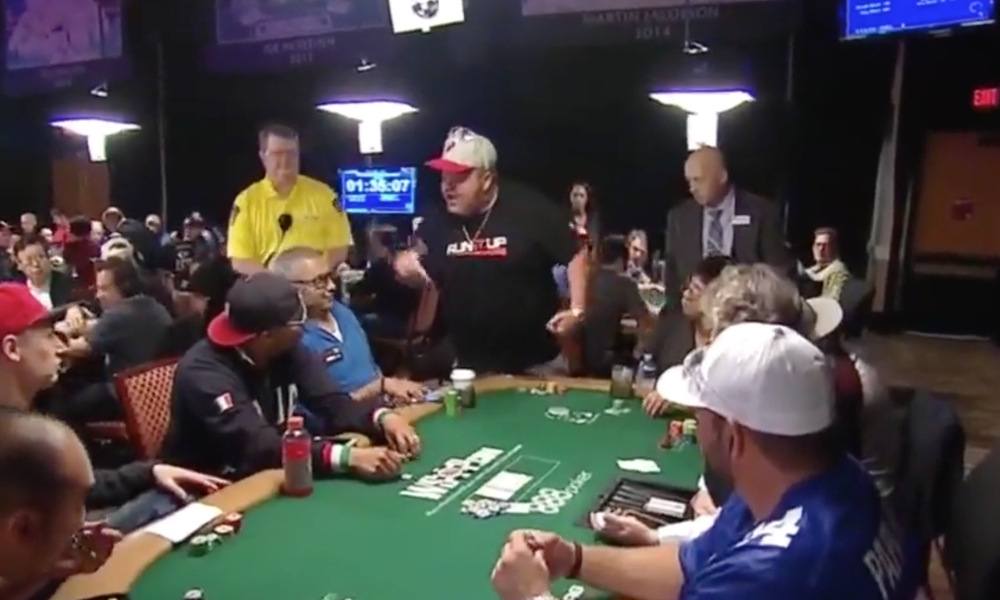 Players Tony Bracy and Lazaro Hernandez were in Sunday's WSOP 1B flight when they got into a heated exchange.
Hernandez was texting on his phone, something that is not allowed when a player is in a hand. Bracy, annoyed, told the dealer to "control the game." This sent Hernandez into a profanity-laced tirade, with Bracy accusing him of using a racial slur.
"He said, 'Talk to me like a man.' He doesn't know what the hell … the next thing we know, he says 'let's go outside,'" Bracy said.
The faceoff soon escalated and a tournament director and security officer were at the table soon after Hernandez stood up to yell at Bracy.
"I called him fat, and  [said go] eat a Twinkie," Bracy said. "Of course I ain't going to keep my mouth shut." Apparently to Bracy, who took 38th in last year's Main Event for almost $175K, while racial slurs are offensive, fat-shaming is not.
Suspended First, Then Ousted
Hernandez, who appears to be a neophyte player with no Hendon Mob performance tracker activity, was escorted out of the playing area and informed by a WSOP official that he was receiving a three-round suspension for his outburst. He was also warned that any similar actions would see him disqualified.
Bracy didn't get off unscathed, however. He, too, got a one-round suspension.
When they were both allowed back at the table, they sat two seats away from one another and with security officers close by keeping tabs on the pair. They would clash again, but this time, it would be with cards. The two were involved in a hand where Bracy showed a straight, while his new nemesis had two pair. The former collected his chips with no words spoken between them.
Bracy got the better of Hernandez on both that round, and at the tournament overall. He advanced to Day 2 with 106,000 chips, while the WSOP rookie was sent to the rail after the first day.
ESPN commentator Norman Chad made his first faux pas of the tournament when he criticized Bracy for showing disrespect to a player who was a "Las Vegas legend." The only problem was Chad thought that Bracy had argued with veteran and WSOP bracelet winner John Esposito. He later went online and on air to apologize for his gaffe.
Skirmishes Common
With a $10,000 buy-in and a first-place check of more than $8 million, the pressure at the tables is palpable, but usually the confrontations come later in the rounds, when players are closer to the money.
Last year, noted British antagonist Will Kassouf  got into it with Griffin Benger in a spat that was captured as the two tried to make the final table. With 17 players remaining, they butted heads, as Kassouf started an annoying monologue on the Canadian's play. Benger shot back with a diatribe, calling the Englishman a bully, and saying that Kassouf was "verbally abusing" him.
"You want to gamble, I'm all in," was Kassouf's next taunt, to which Benger snap-called and showed his aces to his challenger's kings. It is 8:45 of riveting video that has been watched more than 1.4 million times. And, oh yes, the aces held up, to the delight of the crowd, who had rallied around Benger.