World Series of Poker 2016 Main Event Sees Qui Nguyen Sweep Top Prize
Posted on: November 2, 2016, 09:01h.
Last updated on: November 2, 2016, 03:30h.
Las Vegas resident Qui Nguyen won the World Series of Poker Main Event at the Rio in Las Vegas in the early hours of Wednesday morning, following a grueling eight-hour heads-up battle against Gordon Vayo.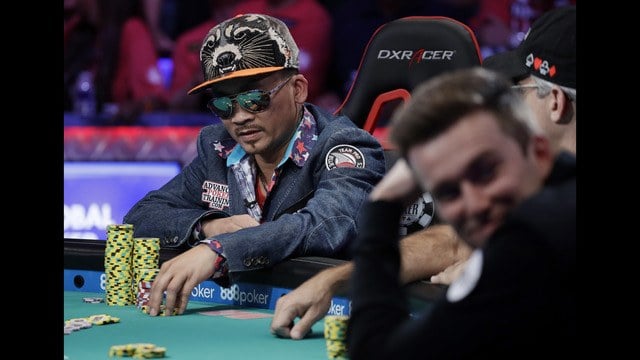 Nguyen proved himself to be a gutsy passionate player, whose flamboyant dress sense is reminiscent of that other Vietnamese-American poker world champion, Scotty Nguyen. But in contrast to his famous namesake, Qui Nguyen was a relative unknown before his triumph at the Penn and Teller Theater this morning.
A former nail salon owner turned professional baccarat player, he has only one previous cash in a World Series event, in 2009, for just over $9,000. Prior to the $ 8,005,310 he won this morning, it was also his biggest cash.
Josephy's Rollercoaster
Three players returned from Monday to play Tuesday evening's final, with Nguyen holding the chip lead and Cliff Josephy, the most experienced of the three, nursing the short-stack. The fireworks started early when Josephy doubled through Nyguen to leapfrog Vayo into second place.
But just four hands later, Josephy ran his lower set into Vayo's top set (deuces vs threes), a brutal cooler that crippled his stack. Two double-ups later, and Josephy was miraculously again in contention, before losing a chunk of chips to Nguyen. Vayo quickly finished him off.
Play had lasted barely an hour and it had been a rollercoaster ride for Josephy, but if anyone thought it was an indication that this would be a quick final, they were wrong.
Lengthy Poker Duel
When Nguyen and Vayo squared off for heads up, Vayo had the slight chip lead, with around 60 percent of the chips, but there was still a lot of play in those stacks, as we were to discover. The action was cagey, a war of attrition, and Vayo, in particular, played with a cautiousness that befitted his sensible haircut.
"I was just telling myself, 'Don't give up. Don't give up.' I was so tired, you know?" said an emotional Nguyen afterwards. "But I was saying don't give up. For my family . . . for my wife, my dad, my sister, everybody who supported me . . .Don't make a misstep. When you misstep, you're done. I just wanted to do the best I can for the show . . . I wasn't thinking about win or lose, I was just, in my mind, thinking no misstep."
Nguyen's adrenaline-addled exhaustion was evident as he struggled to find the right words in his heavily accented and broken English.
"New Age of Poker"
Hours later, on the 364th hand of the final table, Vayo shoved his short-stack over Nguyen's button raise holding J♠T♠, and his opponent, holding K♣T♣, made the call. A flop of K-8-7 gave Vayo's dominated hand a double gutshot's hope, but two turn and river blanks later, the house erupted.
A representative for the exhausted Nguyen said that a portion of the winnings would be donated to the Wounded Warrior Project for veteran servicemen and women, as a thank you for those who protect him and his adopted country.
"He wants to represent poker to take poker to another level, kind of like the Moneymaker Effect," said the representative. "We believe it's time for the new age of poker."