Why Elton John Can't Get Enough of this Las Vegas Record Store
Posted on: October 31, 2022, 12:04h.
Last updated on: November 2, 2022, 09:57h.
The Elton John memorabilia at one Las Vegas record store, at times, includes the artist himself. Vinyl collectors make the pilgrimage to Wax Trax Records from around the world whenever they're in Las Vegas. Usually, they're in search of a rare favorite record from their childhood while in town on business or vacation.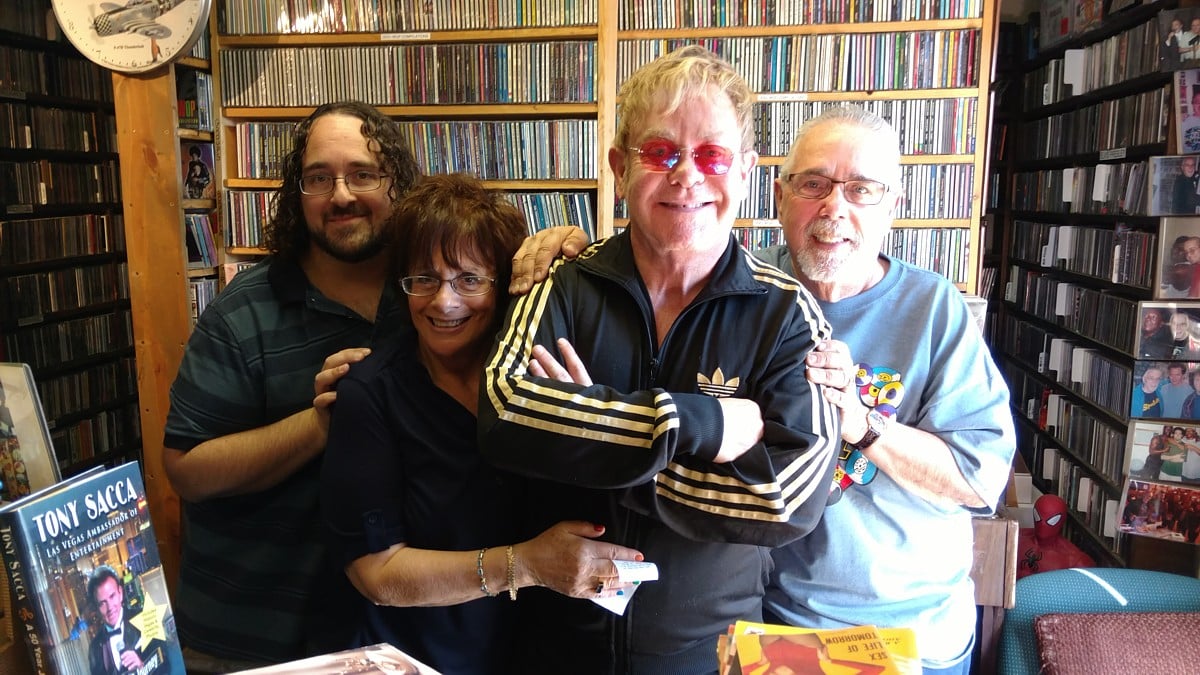 Once or twice a year since 2015, these collectors include Captain Fantastic. The rock superstar sold his collection of more than 50K records in 1991 to fund his AIDS foundation. He enlisted the help of Wax Trax to try and get them back. So far, he's up to about 12K.
We give him boxes and boxes to go through, and he makes piles of the stuff he wants," said Sunny Rosen, who coowns Wax Trax with her husband, Rich. "He's so knowledgeable. He and Richie talk for hours about the stuff."
John goes through old, ultra-rare Ornette Coleman, John Lee Hooker, and Johnny Burnette LPs while seated on a chair in a corner of the store – the one usually occupied by the Rosens' dog, a Shih Tzu named Charley. He'll spend tens of thousands per visit.
Last of the Great Mom & Pop Shops
Wax Trax is one of the last great mom & pop record stores in America. It's a converted 1,500-square-foot, surf-green stucco house on suburban Decatur Boulevard that literally bursts with vintage vinyl and CDs.
Shelves filled with music occupy every wall, top to bottom, on three floors – even in the bathroom. All told, there are a half-million pieces. It's more like an eccentric interstate museum of yarn or bugs than any retail store you've ever visited.
"You know who that singer is on the left?" Sunny Rosen asked while granting Casino.org a tour, pointing to a 1956 album called Joyride that hangs near the front of the store. "It's Frankie Valli in his pre-Four Seasons band, the Four Lovers," she explained.
Brooklyn Hospitality
Rich and Sunny are octogenarians who met in temple back home in Brooklyn in 1971. When you walk into their store, they're as likely to be yelling at one another as they are to greet you.
"I don't yell because I'm always right," Sunny said.  "Believe me, you don't know the half of it!" (Rich hears this and waves his hand in mock disgust.)
Record chains such as Tower Records and Sam Goody – where Rich once worked, learning the trade – began putting the mom & pops permanently out of business in the 1980s. Three decades later, the chains were slowly killed off by Amazon and iTunes.
Wax Trax avoided the cut-out bin by specializing in collectible vinyl. Not that there weren't rough patches. For the first five years after relocating from Pennsylvania in 1998, Wax Trax grossed only a few hundred dollars in a good week.
"Sunny said to me a few times, 'Maybe we should shut the store and just do mail order,'" Rich recalled. "That's how bad it was."
Then the collectors started finding the store via ads Rich placed in the local newspaper and national magazines. "Now, vinyl's a thing again," Rich said. "There are so many companies that are making it once again, it'll never go back out."
Last week, John emailed Rich that he has no time to drop by before his gig at Allegiant Stadium on November 1, part of his "Final Tour" campaign. But he sent Rich a two-word email: "Tempt Me." Rich made a list of 20 rare blues records he recently obtained. They weren't enough to elicit a visit, but John bought half. Since ending his Caesars Palace residency in 2018, most of John's orders have been by mail order. He signs his emails "Exxx."
Though Sunny and Rich don't get to see their favorite customer as much anymore, they continue to hear from him, and they have no doubt that they will for some time.
"A collector is a collector is a collector," she said.