Whale of a Freakout Blackens Eye of Major Las Vegas Strip Casino
Posted on: August 7, 2023, 08:53h.
Last updated on: August 8, 2023, 10:57h.
A tantrum reportedly thrown by a vengeful high roller this weekend has resulted in a very public black eye for a major Las Vegas Strip casino and a probable major rethink of the perks it extends to its VI-ist of its VIPs going forward.
The full story was broken by Casino.org's own Vital Vegas blogger, Scott Roeben, and it's worth checking out.
In brief, the whale, who, according to Roeben's anonymous sources, is an Australian tourist named Ben Ralph, was partying at Encore Beach Club on Saturday, August 5, with his usual huge bankroll and corresponding sense of entitlement.
As day transitioned to into night, he decided to transition to Wynn's XS Nightclub. Unfortunately for all involved, XS didn't open for another hour. Ralph, no doubt used to having his every desire fulfilled following a snooty wave of a couple of Benjamins, demanded that the club open early.
Just for him.
For many obvious reasons, XS couldn't honor this request, news of which was broken to Ralph by nightclub manager Niko Samarxhiu. For equally obvious reasons, Ralph wasn't happy to hear it.
In the argument that ensured, Ralph is alleged to have threatened both Samarxhiu and his family, earning him a lifetime ban from Wynn and a visit from inquisitive Las Vegas police officers to boot.
Should Have Called it a Night
Instead of heading back to his hotel defeated, Ralph headed across the Strip, to Zouk, the nightclub at Wynn's competitor, Resorts World. (Wynn Resorts and Resorts World aren't friendly competitors, either. In 2018, three years before Resorts World opened, Wynn sued it for copying its trademarked exterior design.)
At Resorts World, according to Roeben's sources, Ralph spent more than $200K on booze and table packages. As part of one of the packages, guests get to write text messages that briefly appear on the massive video screen that basically is the side of Resorts World. Ralph's first message was "BEN'S HOUSE," which was a perfectly acceptable way for him to retaliate. Though he had no moral standing to do so, only employees at the Wynn were aware of this at the time.
But Ralph's second message wasn't acceptable at all. Yet Resorts World ran it anyway, revealing that basically the largest billboard on the Las Vegas Strip either has no message-vetting process, or a woefully inadequate one.
It read "FOOD STAMPS FOR NIKO."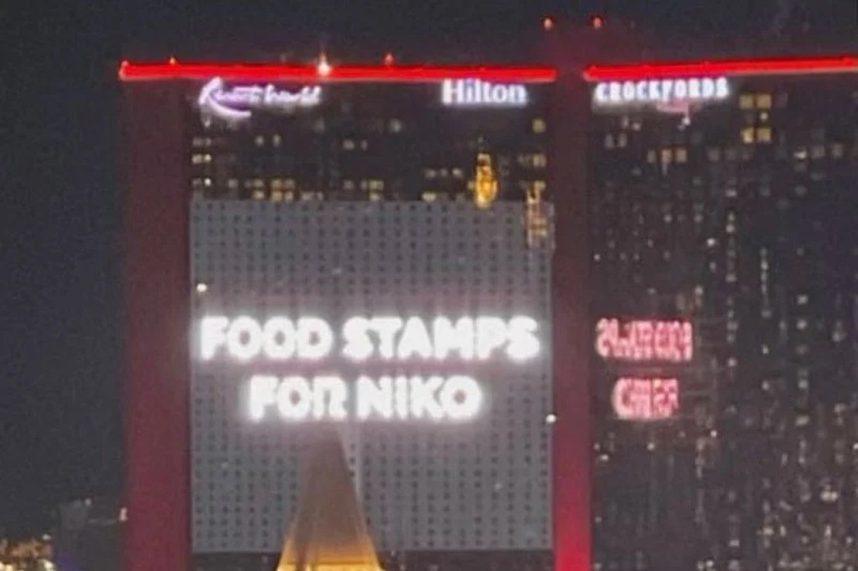 During his fuming stomp across the Strip, it was later discovered, Ralph had been posting offensive messages about Samarxhiu on Instagram. One called him a "broke ass immigrant."
Too Late for Sorry
Jon Opas, Resorts World's executive director of lifestyle marketing, told Roeben that the Zouk team was unaware aware of the events leading up to Ralph's messages. He also said that he apologized to Niko Samarxhiu in person.
While most Las Vegas nightclub drama is able to fly under the radar, this one played out in the most public way possible. Once a snapshot of the offensive second message appeared on social media, the damage was forever done. Roeben's tweets about the incident alone have so far generated more than 1.5 million impressions.
It's too late now for Resorts World to just change its policy or even publicly apologize. At this point, heads are expected to roll.
As for Ralph, according to Roeben's sources, you can probably find him partying soon at the Holiday Inn bar. Roeben's sources say he is now also banned from Zouk, and may also be banned from such Tao Group hotspots as Omnia and Hakkasan.