VIDEO: Adele Halts Vegas Show to Defend Fan Hassled for Standing
Posted on: August 29, 2023, 01:08h.
Last updated on: August 30, 2023, 03:51h.
The internet is breaking with reaction to a controversy sparked by Adele's Las Vegas residency this weekend. The superstar halted her "Weekends With Adele" show at the Colosseum at Caesars Palace on Saturday to defend a fan who was approached by security several times and told to sit down.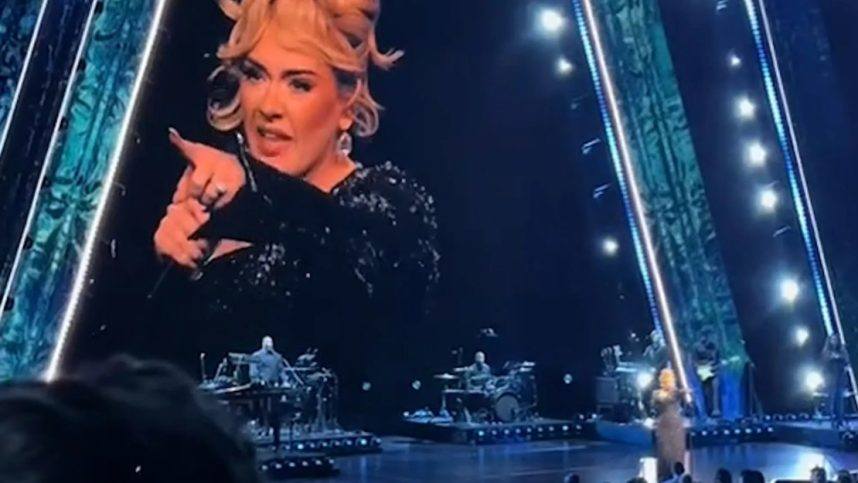 "What is going on there with that young fan who's been bothered so much since I came on for standing up?" Adele said, after halting her performance of "Water Under the Bridge."
Pointing at a security guard from the stage, she continued: "Yes you, with your hand up, yes you! Why are you all bothering him? Can you leave him alone, please? They won't bother you anymore, darling. You enjoy the show. Leave him alone."
The incident was able to spark millions of passionate social media reactions because the fan, identified as Juan Pablo, recorded the show with a 360-degree camera. Thus, his footage captured not only Adele's rant, but everyone approaching and asking him to please take a seat beforehand.
Check out this TMZ highlight reel for yourself.
When he got home, Pablo posted the relevant footage to his TikTok account.
"I did not expect everyone in my section to be mad at me for having the time of my life and wanting to stand up and sing with her but I honestly did not care at all about what anyone was saying to me," he wrote, adding in a subsequent post: "I only had one opportunity to see her and I took it. I'm not really sorry. They could've stood up too."
Worldwide Debate Ignited
The incident is significant because it marks the first worldwide debate over the right to stand during Las Vegas residencies, and at concerts in general.
When does enjoying one's self infringe upon the rights of others? And does paying large amounts of money for a once-in-a-lifetime ticket change that formula?
If the people wishing to remain seated behind Pablo were to purchase a ticket today — for Friday, September 1, for example — the cheapest reseller seat would cost them $485, and that seat would be way up in a balcony, not on the floor, where this weekend's incident occurred.
"Don't freakin go to a concert for someone who has boppable songs if you're gonna complain about people standing & having a good time," wrote Twitter user @Nettey128.
This tweet represents the majority opinion. In fact, in a survey posted Monday night to Twitter, 57.5% of 4,181 respondents indicated that they would stand at an Adele concert, while only 25.5% would sit, and 17% had no opinion. The survey was posted by Casino.org's own Vital Vegas blogger Scott Roeben.
Representing the dissenting opinion was Twitter user @VHbicycles, who wrote: "Have some common courtesy and realize it's assigned seating and the people behind you will probably appreciate the courtesy … Read the room, people."
Would you have been annoyed by Juan Pablo's behavior? Let us know in the comments!