Las Vegas Culinary and Bartenders Union Workers to Vote on Strike
Posted on: September 8, 2023, 01:43h.
Last updated on: September 8, 2023, 03:14h.
The workers who keep Las Vegas humming will vote on whether to strike later this month.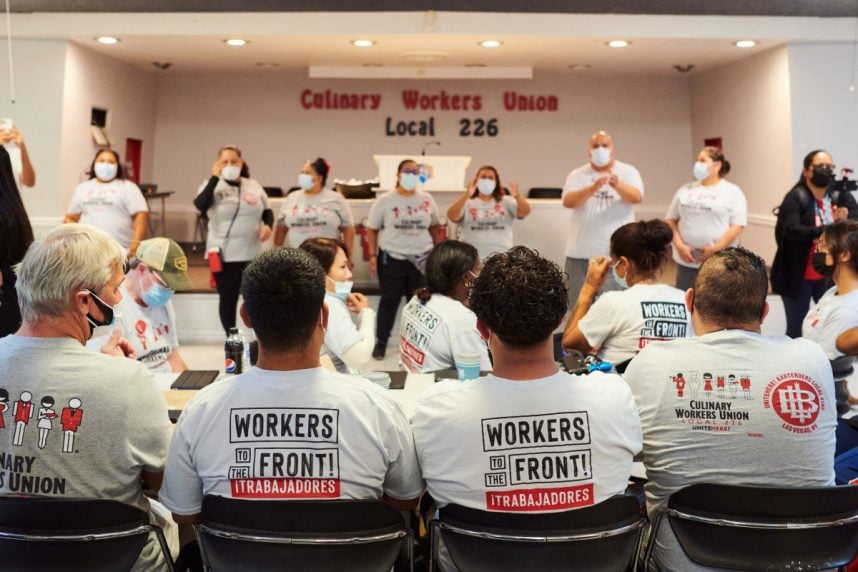 Amid ongoing contract talks with the major hotel and casino chains, the powerful Culinary and Bartenders Unions have announced a strike vote to take place on Sept. 26. The unions represent 53,000 bartenders, guest room attendants, cooks, and other nongaming staff at properties on the Las Vegas Strip and downtown.
The union says it has not set a strike deadline and continues negotiating with the casino chains in good faith, as it has been doing since the previous contract expired on June 1. No agreement has been reached after multiple rounds of negotiation with the top three employers on the Strip, MGM Resorts, Caesars Entertainment and Wynn Resorts.
The unions ' top priorities in the ongoing negotiations are better wages, reduced housekeeping quotas, and enhanced security protections for employees. Workforce reductions implemented during the pandemic have persisted even as more visitors return to Las Vegas, the union says, meaning employees must take on a larger workload to compensate.
"We are negotiating for the best contract ever in the Culinary Union's history to ensure that one job is enough," Ted Pappageorge, Secretary-Treasurer for the Culinary Union, said in a news release. "Companies are generating record profits, and we demand that workers aren't left behind and have a fair share of that success."
Labor On The Rise
A potential Las Vegas strike comes amid a wave of labor actions across the country, including the ongoing strikes in Hollywood by the writers' and actors' unions, rolling strikes by workers at Los Angeles-area hotels, a narrowly averted strike of UPS drivers in June, and the potential for the United Auto Workers Union to strike when their contracts expire next week.
In the gaming sector, workers at Encore Boston Harbor reached a tentative bargaining agreement earlier this summer just before a strike deadline, and 1,700 casino workers in Quebec have been on strike since June at six casinos operated by the Canadian government. The Las Vegas workers want better wages, benefits, workload reductions, technology protections, and safety measures, the union members.
"My job got so much harder since the pandemic and I'm in constant pain at work," said Evangelina Alaniz, a guest room attendant at MGM Resorts International's Bellagio and Culinary Union member for 18 years, in a news release. "When I get home I feel guilty that I don't have energy to spend time with my son, help him with his homework, or even cook dinner some nights."
Potential Travel Disruptions
The unions have launched a website, www.vegastravelalert.org, to keep visitors and conference organizers abreast of any potential labor disputes that could disrupt travel plans.
During the previous round of contract talks in 2018, the Culinary Union voted to authorize a strike but reached a contract agreement without actually having to walk off the job. "Culinary Union won the strongest and most comprehensive immigration, sexual harassment, automation & technology protections, and safety language in the history of any union in the United States," the union said in a press release.
The union has not had to strike recently. But the effects of such a shutdown likely would devastate the city's recovering economy. In 1984, the Culinary Union held a 67-day strike of its 17,000 members, crippling the Las Vegas hospitality industry.