VEGAS MYTHS BUSTED: The 'World's Tallest Thermometer'
Posted on: September 4, 2023, 08:06h.
Last updated on: October 28, 2023, 07:43h.
The "world's tallest thermometer" in Baker, Calif., is a liar.
It's not that there's a taller thermometer somewhere in the world robbed of its rightful title. It's that the spectacle that towers over the Mad Greek Café, a dozen gas stations, and everything else in the Mojave Desert town two-thirds of the drive up Interstate 15 from LA to Vegas isn't a working thermometer.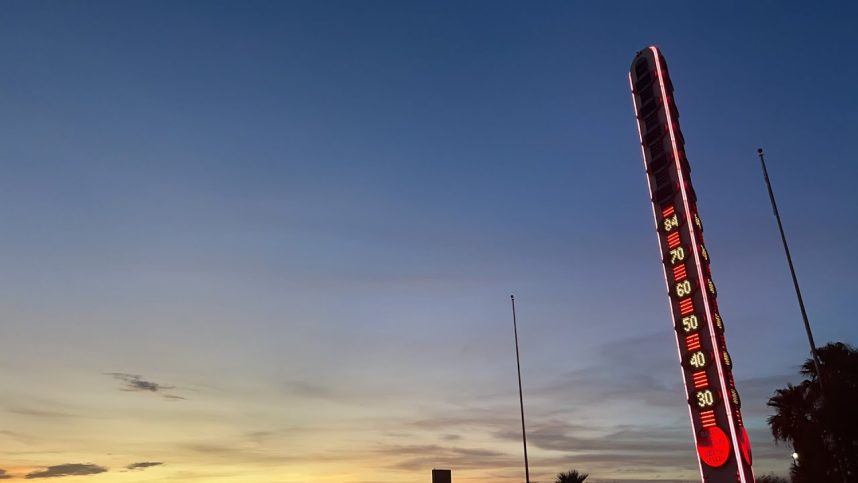 It's just a three-sided digital sign that displays the temperature measured by a thermometer that is real — but much, much smaller — located somewhere inside of it.
And, as far as freestanding digital signs go, the "world's tallest thermometer" doesn't even make the Top 10. The current record holder, located 94 miles north of Baker in Las Vegas, is nearly three times its size. And before the MSG Sphere's 366 foot tall LED outer skin was switched on this July 4th, the record holder was the Aria sign — also in Las Vegas — at twice the size of Baker's digital sign.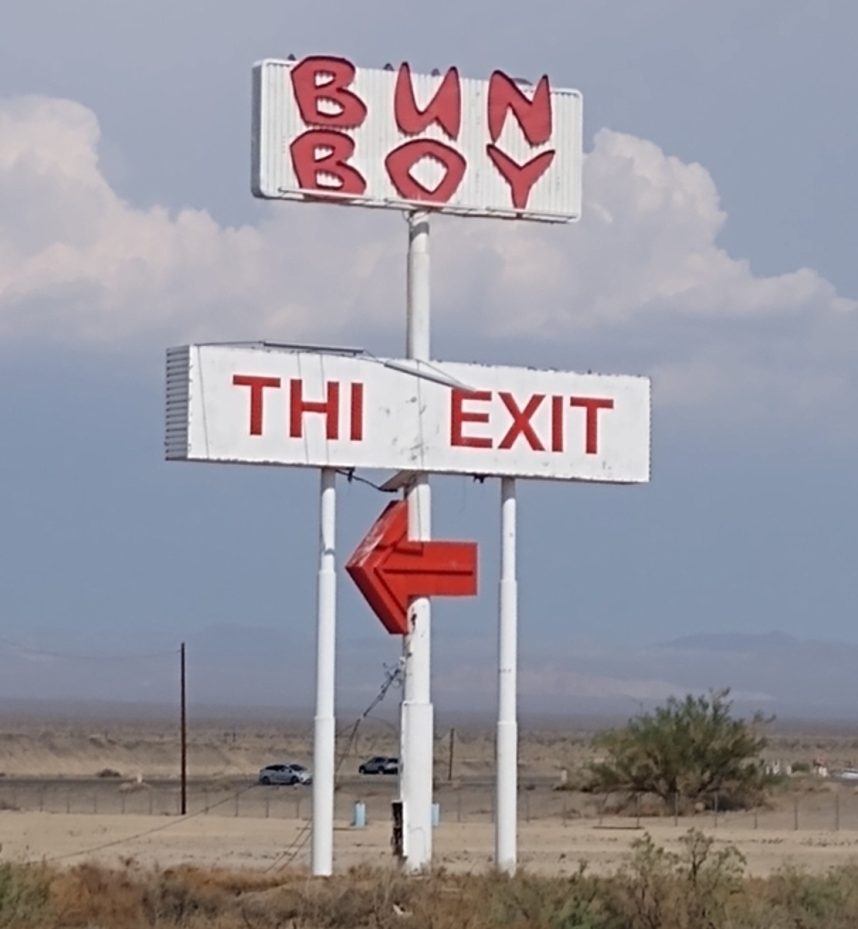 Bun Warmer
In 1956, Willis Herron became a coowner of the Bun Boy on Baker Boulevard. According to its roadside sign, this restaurant was the "home of the best fresh strawberry pie & butter thin pancakes."
A kitchen blaze burned the Bun Boy down in 1990. While Herron rebuilt it with insurance money, he sought to add something more memorable for the public to associate it with than offensive jokes about its name.
At the time, Baker was known to the outside world for only two things — being a rest stop and being hot as blazes. So Herron threw in with the latter, and paid YESCO $700K to do its thing. (The Salt Lake City-based Young Electric Sign Co. built Vegas Vic and owns and operates the Welcome to Fabulous Las Vegas sign.)
The resulting sign featured 5,000 incandescent light bulbs and stood 134 feet tall. That wasn't coincidental. It's because 134 degrees was the highest official temperature ever recorded on Earth — set in neighboring Death Valley on July 10, 1913. (Click here for a trip into the weeds about whether that record may have also been a myth.)
After it was built, but before it was switched on, Herron's sign was snapped in two by 70 mph winds that also trashed a gift shop below it. It was rebuilt and 125 cubic yards of concrete were poured into its steel core as reinforcement. Opening day was Oct. 9, 1992.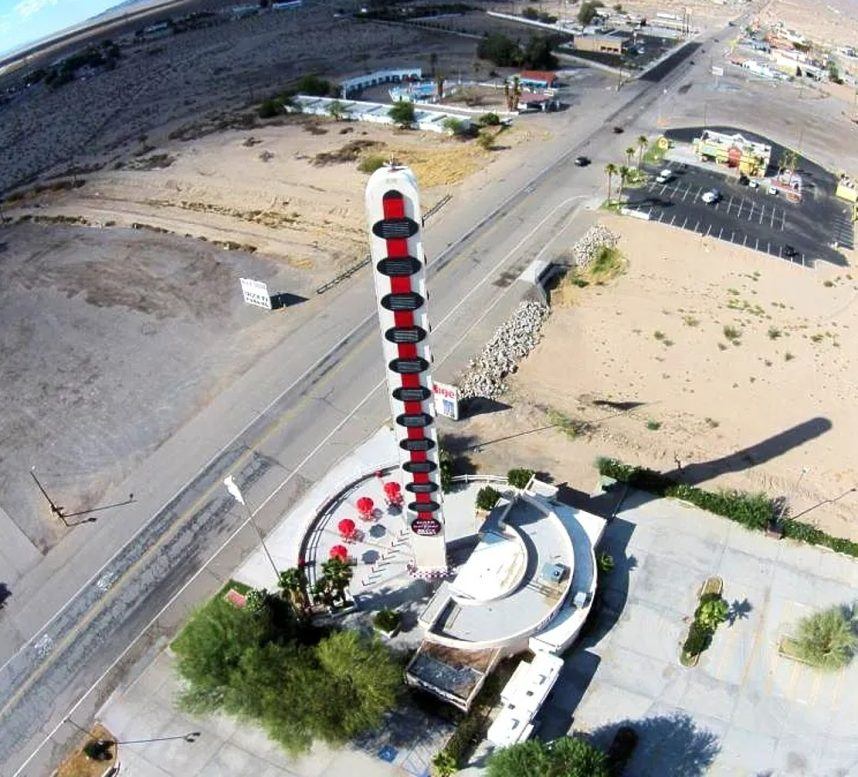 Under the Weather
Eight years later, an ailing Herron sold his thermometer — along with his Bun Boy and an associated motel — to a Burger King franchisee. Five years after that, the franchisee sold them to a local businessman named Matt Pike. Pike turned the Bun Boy into a Bob's Big Boy and, in 2012, switched off the fake giant thermometer to save on its very real giant electric bill: $8K a month.
Yet saddened tourists still stopped to take photos of the darkened sign. So Herron's widow vowed to buy it back.
Though Pike's $1.75 million asking price was too steep, a foreclosure and a court order by a federal judge intervened. In a ceremony attended by all 916 Baker residents two years later, Barbara Herron switched her late husband's crowning achievement back on. Only now, it used energy-saving LEDs.
After Barbara died in 2022, ownership of the sign passed to her children.
Bonus Tall Tale
Because the temperature in Death Valley was never expected to top 134 degrees Fahrenheit, that's supposedly the highest temperature the sign is capable of displaying.
Nope. This is also a myth, because the sign can go up to 139 degrees.
"The digital readout is set up to go up by ten-degree increments between the balls," LaRae Harguess, one of the Herron children, told Casino.org. "The highest ball is 130, so 139 is the highest it will go, since there isn't a 140 ball."
Could a new computer program be written written to accommodate even higher temperatures caused by global warming?
"Not without changing everything," Harguess said.
Look for "Vegas Myths Busted" every Monday at Casino.org. Visit VegasMythsBusted.com to read previously busted Vegas myths. Got a suggestion for a Vegas myth that needs busting? Email corey@casino.org.