VEGAS MYTHS BUSTED: Sin City Has the Most Churches Per Capita
Posted on: May 22, 2023, 06:04h.
Last updated on: October 28, 2023, 07:48h.
The Wikipedia page for Las Vegas used to claim the city had the most houses of worship per capita of any US location. In 2010, that claim was removed after a Wikipedia contributor noted: "The churches consist largely of drive-thru wedding chapels, not actual congregations, and is not an indication of piety to contrast the city's reputation."
Even with the wedding chapels, though, the math never added up. There are about 50 wedding chapels in the greater Las Vegas region, according to the Las Vegas Chamber of Commerce, on top of 600 churches, temples, mosques, and synagogues representing more than 63 faiths.
In 2022, the population of the Las Vegas metropolitan area was 2.8 million. That makes one house of worship — or wedding chapel, let's keep them in to prove a point — for every 4,666 residents.
According to a 2015 study conducted by the real-estate website propertyshark.com, the US city with the most churches was Indianapolis, with 298 residents per church. Seattle was next with 482, then Jacksonville, Fla., with 563, Washington, DC, with 738, and Memphis with 804.
Las Vegas didn't even show up until No. 20, with 2,841 residents per church at the time, which means it's gotten even less churchy since.
Myth Origins 
This myth seems to have gotten started by the Las Vegas Chamber of Commerce, which, to combat the Sin City nickname, stated in its 1996 relocation guide: "Las Vegas has more churches per capita than most major cities."
It didn't state "the most churches," nor did it bother substantiating its claim. Subsequent editions dropped the claim.
It's difficult to get a completely accurate count of religious institutions anywhere. Tax-exempt status means the IRS keeps no tabs on houses of worship, many of which either meet in storefronts and houses, are not registered as nonprofits, or don't have anyone on payroll.
But Las Vegas is definitely not the holder of this title. It is out-pioused by every city in America with fewer than 4,666 residents and more than one church.
Bonus Vegas Church Myth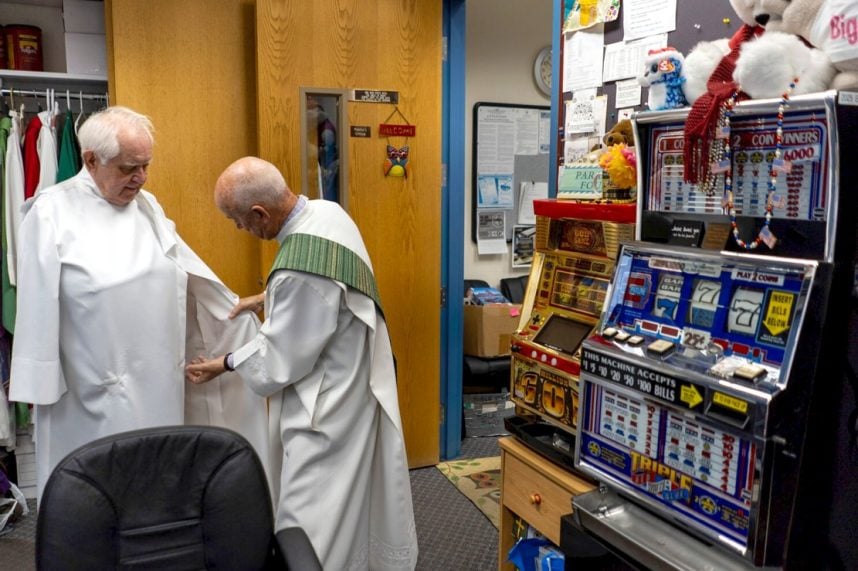 In Vegas, casino chips sometimes get left in church collection plates. So, a Catholic monk makes the rounds every Monday to collect the chips. He cashes them in and donates the profits to the neediest ministries.
Umm, no.
This myth came from a punny old joke with the punchline: "He's called the chip monk."
Apparently, though, not everyone remembered the punchline or got the joke, and this story is still sometimes repeated as fact. In another variation, all Vegas churches send their chips to a Franciscan monastery, where the chip monk sorts them.
Chips do occasionally turn up in Las Vegas collection plates, yes. But churches will sort and store them until there are enough from one casino to justify sending someone there for (the other kind of) redemption.
The employees/volunteers tasked with this duty are commonly referred to as chip monks. But that's only a winking reference to the old joke. Still, it makes for a rare case in which a Las Vegas myth has, in a way, created its own reality.
Look for "Vegas Myths Busted" every Monday on Casino.org. Click here to read previously busted Vegas myths. Got a suggestion for a Vegas myth that needs busting? Email corey@casino.org.