Vegas Legend Bobby Baldwin Severely Injured in Aria Freefall with Multiple Broken Bones
Posted on: July 13, 2017, 04:50h.
Last updated on: July 13, 2017, 04:54h.
Bobby Baldwin, whose career in Las Vegas spans decades with his rise from World Series of Poker Main Event winner to casino executive, was seriously injured when he fell down two flights of stairs at the Aria Resort and Casino in Las Vegas on Saturday. He reportedly broke his shoulders, pelvis, and ribs, and suffered head injuries that required 40 stitches.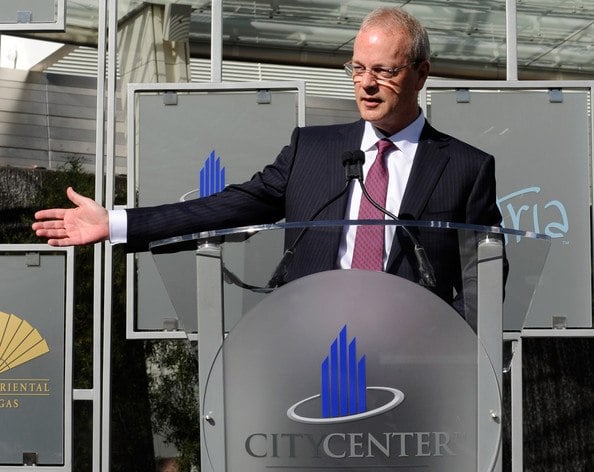 While the 67-year-old is expected to recover, it's probably going to be awhile before he's back at his Project City Center desk. Poker legend and friend Doyle Brunson was the first to announce the accident, putting a tweet out on Saturday shortly after it happened.
Baldwin's son B.J. rushed to the hospital to be with his dad. He detailed the extreme injuries in a video he posted on his Instagram page.
"He's fractured his pelvis in three places, shattered his elbow, fractured five of his ribs and has a massive impact wound on his forehead that has 40 stitches in it," he said. "So he's really messed up, but he's going to make a full recovery."
In Good Spirits
Others followed with updates. Jean-Robert Bellande tweeted out on Saturday that he was rushed to the hospital and underwent surgery on his arm first.
"Just spoke with Bobby Baldwin," Bellande wrote on Twitter. "Elbow surgery went well. No life-threatening injuries. He's in good spirits, no golf for a while."
Baldwin has also managed to keep a sense of humor about his predicament. Brunson talked to his friend and shared this exchange on Twitter, which the patient had with one of his caregivers.
"Nurse … You look good for a 67 year old man … Bobby Baldwin … Thanks, you should have seen me before I fell. Typical Baldwin. He is going to be ok."
Industry Titan
Baldwin is a living legend in poker. As a player, he's won four WSOP bracelets: the 1977 and 1979 $10,000 Deuce-to-Seven Draw, 1977 $5,000 Seven Card Stud, and the 1978 Main Event. At the time, the 28-year-old was the youngest to win the game's biggest tournament. He was inducted into the Poker Hall of Fame in 2003.
Nicknamed "The Owl" for his wisdom in a variety of subjects, Baldwin transitioned from full-time poker to positions of power in the gaming industry. In 1982, he was brought on at the Golden Nugget as a consultant, and two years later, was put in charge of the casino by its creator, Steve Wynn.
In 1987, Wynn made him the top dog at the Mirage, eventually naming him president of the iconic Bellagio in 1998, where over time, the high-limit private cash game poker room came to be called "Bobby' Room." Baldwin then moved on to become the first CEO of City Center when the resort project opened in December 2009.
Along with his $2.3 million in live tournament cashes, Baldwin is well-known as a top-level billiards player. After this accident, however, he likely won't be picking up any cues for a while.
Similar Guides On This Topic