Union Orders Strikes at Five Atlantic City Casino
Posted on: June 17, 2016, 10:40h.
Last updated on: June 17, 2016, 12:24h.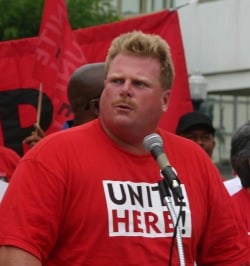 Atlantic City is facing industrial action at five of its eight casinos, as workers voted overwhelmingly to strike on July 1 unless employment contract negotiations can be resolved.
Members of Local 54 of the Unite-HERE union were 96 percent in favor of the walkout at Bally's, Caesars, Harrah's and the Tropicana. The union had already voted to authorize a strike at Carl Icahn's Trump Taj Mahal last month, although it's not clear whether it will be included in the July 1 action.
Meanwhile, Borgata, Golden Nugget, and Resorts have been exempted because negotiations are progressing, the union said.
Sacrifices Made In Atlantic City
"Today thousands of workers from Tropicana, Caesars, Bally's and Harrah's voted to authorize a strike on July 1 if they don't have a fair contract," said Bob McDevitt. "We have told the companies that we are available days, evenings, and weekends to negotiate.
"The ball's in their court, he added. "They need to offer these workers a fair contract. We gave up a lot when times were bad, now that they are making money, they need to give back to us."
The union is aggrieved because it believes workers have agreed to make sacrifices over the past few years while the casino industry has experienced financial difficulties, which it wants reversed. Despite the city's well-publicized economic problems, its casino industry appears to have stabilized.
A quarter of Atlantic City's casinos have closed down over the past few years and the saturation that previously affected the market has eased, with overall profits up 40 percent last year on 2014.
Five-year Wage Freeze
"These five employers clearly are not in touch with what their employees are feeling," McDevitt told the Associated Press. "What is happening at the table is an insult. The day before a strike vote, Tropicana offered a five-year wage freeze. The day before!"
The union's grip with the city's two Icahn-controlled properties is well known. The US Supreme Court recently threw out the union's appeal of a lower court ruling that permitted the Taj to break its contract to secure a bankruptcy deal. Both the Taj and the Tropicana have been the scene of union demonstrations, as a result.
But Tony Rodio, president of Tropicana Entertainment, which runs the Tropicana and the Taj Mahal, told the AP that the company has been doing its best for employees.
"Our employees have benefited from increased hours, increased gratuities and job security while 33 percent of the market's 12 casinos have been forced to close and thousands have lost their jobs," he said.
"It should also be noted that since emerging from bankruptcy in 2010, current ownership has not withdrawn one penny of investment from Tropicana Atlantic City while continuing to risk millions in an uncertain market."