UCLA Suspension of Players Caught in China Shoplifting Alters NCAA Championship Odds
Posted on: November 16, 2017, 03:00h.
Last updated on: November 16, 2017, 04:40h.
UCLA basketball suspended LiAngelo Ball, Cody Riley and Jalen Hill indefinitely after the trio was caught shoplifting at a Chinese mall on Nov. 7.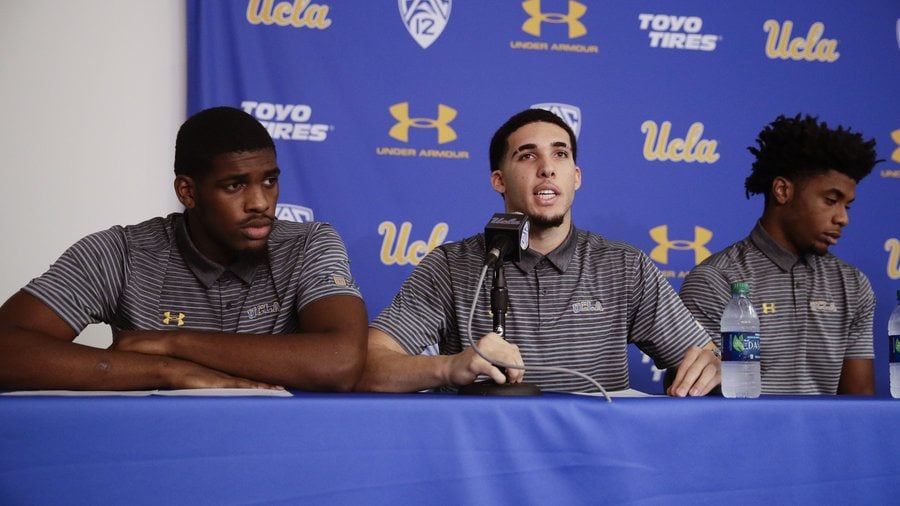 The incident has not only been seen as a national embarrassment, but has affected the team with sportsbooks.
The odds reflect that. The Bruins, who have won 11 NCAA Titles in their storied history, opened as a 25-1 pick to win the NCAA Championship. After the scandal the team has dropped to anywhere from 40-1 to 70-1.
Coach Steve Alford was supportive of his trio of freshman, but also said they will be disciplined.
"These are good young men who have exercised an inexcusable lapse of judgment and now they have to live with that," he said. "They let a lot people down in the process. I'm confident that they have already begun to use this experience as a life lesson."
Petty Crime, Major Repercussions
The trio were with teammates in China playing in their season-opening game against Georgia Tech. A day before that contest they were arrested at a shopping center for shoplifting at three different stores, including sunglasses from a Louis Vuitton store.
They were released on $2,220 bail and confined to their hotel room.
They did not play in the game where UCLA would defeat the Yellow Jackets, 63-60, but fail to cover the 9-point spread. The team flew home, but the three remained to face charges.
Which they would have done if not for President Donald Trump, who was in the midst of a 12-day Asian trip, not interceded with President Xi Jinping of China. The players were released, avoiding a possible 10-year prison sentence.
Trump tweeted early Wednesday saying, "Do you think the three UCLA Basketball Players will say thank you President Trump? They were headed for 10 years in jail!"
A couple of hours later at a press conference on the UCLA campus the players did exactly that.
"I'd like to thank President Trump and the United States government for the help that they provided us as well," Ball read from a statement.
Impact Players
How long they will be off the court has not yet been determined. The office that reviews student conduct has to complete its work about the incident and then the athletic director Dan Guerrero would determine the punishment.
The three were all expected to be an integral part of the Bruins plans this season. Riley was slated to be the starter at power forward. He was the 32nd ranked high school player nationally and was battling senior Gyorgy Goloman. Even if the 6-foot-10-inch 260-pounder didn't start, he would have seen significant time on the court.
Hill, who was a No. 47 ranked player, was projected to be one of the first players off the bench and could play either power forward or center. Alford was planning on using the freshman frequently.
Ball, the younger brother of former UCLA star and current Los Angeles Laker Lonzo Ball, was part of a glut of guards and was probably going to see time off the bench.