NFL National Anthem Protests Continue, But Football Keeps the Bets Coming Nonetheless
Posted on: August 11, 2018, 08:00h.
Last updated on: August 11, 2018, 07:38h.
New season, same national anthem protests from NFL players. Week one of the preseason kicked off this week, and players took to the ground to continue demonstrating what they believe to be racial inequality and police brutality against minorities in the United States.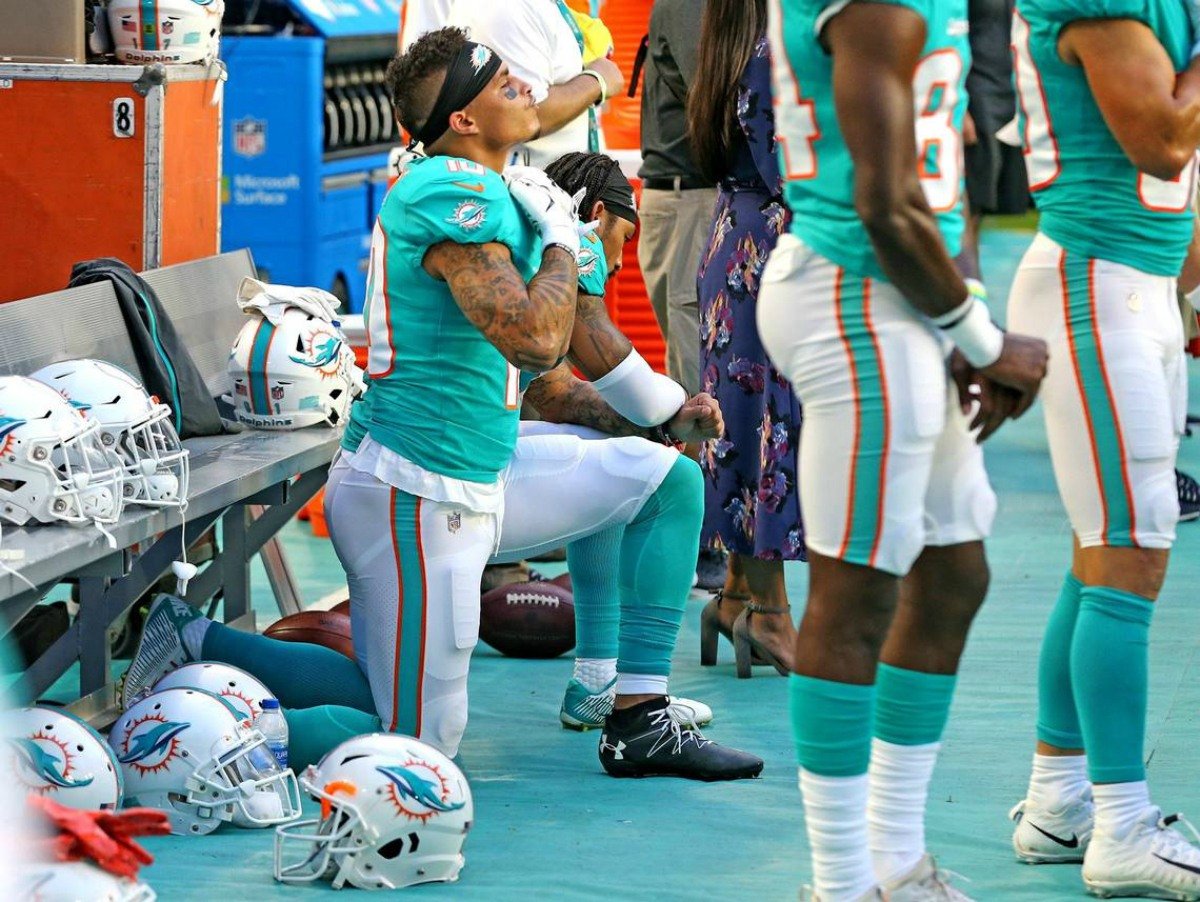 Two Miami Dolphins, wide receivers Kenny Stills and Albert Wilson, kneed during the national anthem Thursday night. Defensive end Robert Quinn stood with his fist raised.
"As a black man in this world, I've got an obligation to raise awareness," Quinn told reporters after his team's 26-24 loss to the Tampa Bay Buccaneers. "If no one wants to live in unity, that's why we're in the situation we're in."
In May, the NFL enacted a new policy that requires players and team personnel to stand during the national anthem. Those who do not want to stand are to remain in the locker room.
The ongoing protests have been cited for declining NFL ratings over the past two years. Regardless, pro football remains the most-bet upon sport in Nevada, and the 2018 Super Bowl generated a record $158.58 million handle at legal Silver State sportsbooks.
Trump Interjects
Former NFL player Colin Kaepernick began the anthem protests two years ago this month. The controversy vastly heightened in 2017 when President Donald Trump said owners should "fire" players who don't respect the singing of the national anthem.
Since then, Trump has waged a war on the NFL protests. He continued his rhetoric this week.
"The NFL players are at it again – taking a knee when they should be standing proudly. Numerous players, from different teams, wanted to show their 'outrage' at something that most of them are unable to define," the president tweeted.
Be happy, be cool! A football game, that fans are paying soooo much money to watch and enjoy, is no place to protest," he continued. "Find another way to protest. Stand proudly for your National Anthem or be Suspended Without Pay!"
NFL spokesman Brian McCarthy said in a statement that "there has been no change in the NFL's policy regarding the national anthem. All player and non-player personnel on the field at that time are expected to stand during the presentation of the flag and performance of the anthem."
2018-19 Odds
Sports betting expanding across the country is expected to grow interest in the NFL. A Nielsen Sports study concluded last fall that those who wager money watch 19 more games than those who do not.
The New England Patriots are the Las Vegas favorites at 6/1. The Green Bay Packers, Pittsburgh Steelers, Minnesota Vikings, and Los Angeles Rams are next at 10/1.
Defending Super Bowl champion Philadelphia Eagles follow at 12/1.
As for the longshots, last year's winless Cleveland Browns are going to improve, should Las Vegas oddsmakers have it right.
The Browns are at 80/1 to go all the way, but that's not the longest line in the NFL. That "honor" goes to the Buccaneers, who the Westgate SuperBook puts at 125/1, or implied odds of 0.79 percent. A $100 wager and Tampa Bay winning the Super Bowl nets $12,500.