Trump Taj Strike Will Last "As Long as it Takes," Says Union
Posted on: July 4, 2016, 02:37h.
Last updated on: July 4, 2016, 02:37h.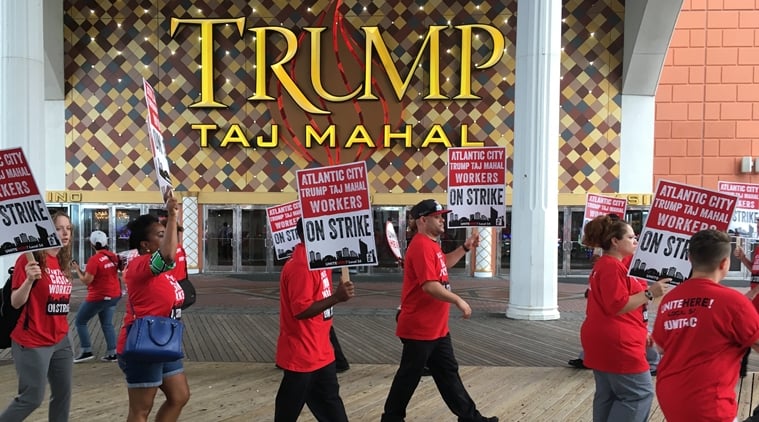 The strike at the Trump Taj Mahal in Atlantic City shows no sign of abating, as union members continued to picket the casino for the duration of the busy 4th July weekend. Workers initially walked out on Friday after negotiations stalled with casino executives to restore healthcare and pension benefits.
The Taj was rescued from chapter 11 bankruptcy in 2014 by billionaire corporate raider Carl Icahn who agreed to take on the majority of its $286 million debt. Icahn promised investment, but only if he were allowed certain concessions by the city and the courts, including the temporary cessation of worker pension and healthcare benefits. These were granted by a bankruptcy judge in October 2014.
But now, Atlantic City casino's industry appears to be recovering, having been right-sized by the closure of a third of its properties over the last few years, and the workers want their benefits back. Industrial action threatened at four of Atlantic City's seven other casinos was called off, including at the Tropicana, also an Icahn-owned property, after contract negotiations reportedly made progress
Workers at "Poverty Level"
"It's telling that workers at the Trop are elated, and their co-workers at the Taj Mahal are on strike today," union president Bob McDdevitt told the Associated Press. "I don't understand why they do this.
"Workers in Atlantic City understand that there was a social compact in 1976 when gaming was first approved for Atlantic City: We will give you a license to make money, but the jobs have to be good, middle-class jobs," he said. "At the Taj Mahal, they're poverty level."
McDevitt says that the Taj management team is working hard to put a package together for its workers but has not been provided with enough funds by Icahn Enterprises. The most recent offer, before talks broke down, he said, represented "a shadow" of the healthcare benefits of other Atlantic City Casino workers.
The strike would continue for "as long as it takes," warned McDevitt.
Taj Remains "On the Brink"
For now, the Taj remains open, minus the 1,000 or so workers who have chosen to take to the picket lines. These include bar staff, chefs, porters and cleaners, but not dealers or security staff.
While the casino industry in Atlantic City is showing signs of a turning itself around, the Taj remains vulnerable. A recent report by Moody's Investment Analysts said that four of the city's casinos could still close in the face of increased competition, and that Caesars, Bally's and the Taj still remain "on the brink."
The Taj ranks next to last of Atlantic City's casinos in terms of gross gaming yield, after Resorts, according to the New Jersey Division of Gaming Enforcement.