During Final Hours as President, Trump Commutes Insider Trading Sentence for Billy Walters
Posted on: January 19, 2021, 10:27h.
Last updated on: July 19, 2021, 02:24h.
President Trump on Tuesday evening, his last in office, commuted the insider trading sentence of noted Las Vegas gambler Billy Walters, who was convicted on insider trading charges almost four years ago.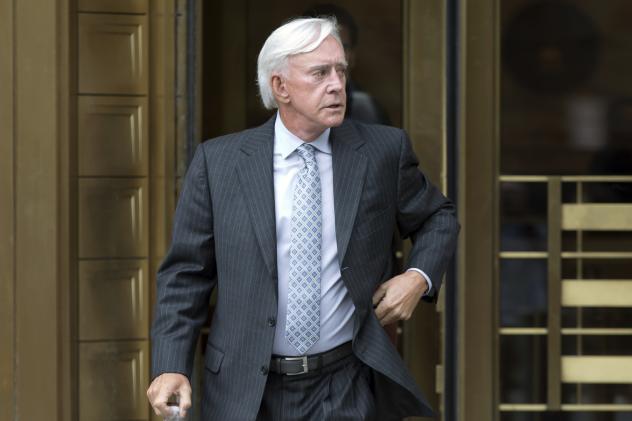 A federal jury convicted Walters in 2017 and sentenced him to five years in prison. Authorities said he used information from a former chairman at dairy giant Dean Foods to buy and sell the company's stock and make millions in ill-gotten gains. Last spring, he was released from a Florida federal prison and was allowed to serve the remainder of his term from his Carlsbad, Calif., home, thanks to a provision in the CARES Act.
A commutation is different from a pardon. According to Black's Law Dictionary, a commutation means a reduction in sentence. Unlike a pardon, it does not remove the conviction from the individual's record.
A statement from the White House indicates that Walters received letters of support from several people, including former Senate Majority Leader Henry Reid (D-Nevada), former Nevada Gov. Jim Gibbons, one-time New York City Police Commissioner Bernie Kerik, and ex-Clark County, Nev. Sheriff William Young. Walters also received support from several professional golfers, including Phil Mickelson.
Since his conviction, Mr. Walters has served nearly 4 years of his prison sentence and has paid $44 million in fines, forfeitures, and restitution," the White House statement read. "In addition to his established reputation in the sports and gaming industry, Mr. Walters is well-known for his philanthropic efforts, and was previously named Las Vegas' Philanthropist of the Year."
The announcement comes after a New York Times article on Sunday reported Walters had retained former Trump attorney John Dowd in an attempt to obtain a pardon.
About Walters' Case
Born in rural central Kentucky, Walters left the Bluegrass State for Las Vegas in the 1980s. There he met with individuals using computers to make sports betting picks. That enabled him to make his fortune and venture into entrepreneurial and philanthropic pursuits.
Among the business ventures he oversees are a number of golf courses and automotive dealerships in several states.
As federal authorities pursued charges against Walters, he claimed prosecutors and investigators leaked grand jury information to reporters in hopes of improving their case against him.
Part of the investigation into the Dean Foods trades centered around trades made by Mickelson, who reportedly owed money to Walters. Authorities alleged Walters gave Mickelson the stock tip and used the proceeds from the sale to pay off the debt.
The SEC never charged Mickelson, but did fine him nearly $1 million. Mickelson also never testified in Walters' case, a contentious issue for Walters after his conviction.
"Here is a guy that all he had to do was come forward and tell the truth," Walters said in an October 2017 interview with ESPN. "That was all he had to do. The guy wouldn't do that because he was concerned about his image. He was concerned about his endorsements."
As Walters began serving his sentence, he appealed the conviction. However, that attempted ended in 2019 after the US Supreme Court chose not to hear the case.
Last year, after he was transferred to home incarceration, Walters filed a lawsuit against ex-US Attorney Preet Bharara and former FBI Supervisory Agent David Chaves, claiming they violated his civil rights. He also asked top Justice Department officials in the Trump White House to investigate the former federal authorities for their alleged actions.
President Pardons Two More with Gaming Charges
Trump, who leaves office at noon ET Wednesday, issued pardons to 73 people and commuted sentences for 70 others. A couple of those pardons involved individuals charged with or convicted for gambling crimes.
In 2014, New York Art Dealer Hillel "Helly" Nahmad received a year and a day in federal prison after admitting he operated an illegal gambling ring involving athletes, Wall Street executives, and Hollywood celebrities.
Nahmad, who occupied the entire 51st floor of the Trump Tower in New York during the investigation, received a pardon. It's uncertain if he still resides at the Manhattan skyscraper.
"Since his conviction, he has lived an exemplary life and has been dedicated to the well-being of his community," the White House statement read.
Trump also issued a pardon for Casey Urlacher, younger brother of former Chicago Bears linebacker extraordinaire Brian Urlacher. He was one of 10 charged by federal prosecutors as part of an illegal offshore sports betting scheme based in Chicago.