Small Rise in Nevada's April Gaming Profits, Despite Wobbly Visitation Numbers
Posted on: June 1, 2017, 12:48h.
Last updated on: June 1, 2017, 12:48h.
Gambling was up a little in Nevada last month, at a time when visitor attendance was down.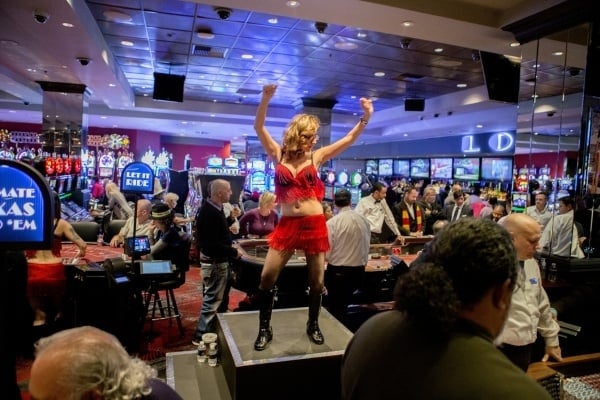 The Nevada Gaming Control Board (GCB) on Wednesday reported casinos won more than $886.5 million in April. The figure was $10.4 million more than what they won in April 2016, representing slight growth of 1.2 percent.
Regulators pointed out, however, that the growth was more impressive than it might seem, as April 2016 was packed full of special events. It was a month that saw the opening of T-Mobile Arena, multiple big concerts (including Rihanna and Billy Joel), and a hotly touted Manny Pacquiao fight among them.
Visitation Fluctuation
April 2017, by comparison, saw a dip in convention attendance, which left total visitor numbers flat. The Las Vegas Convention and Visitors Authority reported Wednesday that the city welcomed 3.5 million tourists.
The non-growth here was attributed to regular fluctuations, caused, for example when the National Auto Dealers Association, a trade show that draws more than 20,000 people, was held in New Orleans this year. (It's scheduled to return to Las Vegas in 2018.) Film industry trade show CinemaCon, meanwhile, stayed in Las Vegas but moved their convention to March in 2017.
These shifts likely help explain a drop in gaming revenue for properties on the Las Vegas Strip. Though responsible for more than half the state's overall gaming revenue, casinos on Las Vegas Boulevard saw a 3 percent decline in gaming revenues, raking in $475.4 million.
Downtown gambling revenues increased 21.9 percent, logging a monthly haul of $52.3 million. Year-over-year figures for downtown seem to be rising consistently in 2017, a fact regulators attribute in part to the opening of the Lucky Dragon casino in November.
Elsewhere around the state, Reno and Lake Tahoe both saw their gaming revenues drop close to 5 percent, to $47.7 million and $13.3 million, respectively.
Will Baccarat Bounce Back?
Statewide, baccarat revenues saw a continued decline of nearly 25 percent year-over-year, to $79.2 million. Although casinos are winning less on this preferred game of high-rolling Asian gamblers, the amount being risked on the game actually increased.
"Our volume was $637.6 million, which was actually up $47.6 million, or 8 percent, compared to last year," Michael Lawton, a senior research analyst with GCB, told the Associated Press. "We've recorded two increases in this calendar year in baccarat volume. We only saw one increase in all of 2016."
Lawton also said that despite the various up-and-down fluctuations on the micro-level, on the macro-level trends are headed in the right direction. For the 2017 calendar year, "revenue is trending up," he said, "3.9 percent statewide. And for the fiscal year we're up 3 percent."
Similar Guides On This Topic