NFL's Week 17 Sunday Games Have Teams Fighting To See The Postseason
Posted on: January 1, 2023, 11:22h.
Last updated on: January 1, 2023, 02:02h.
It's come down to this. The NFL regular season is almost complete, and several of today's Week 17 games will determine whether teams get an extended vacation or keep their postseason hopes alive.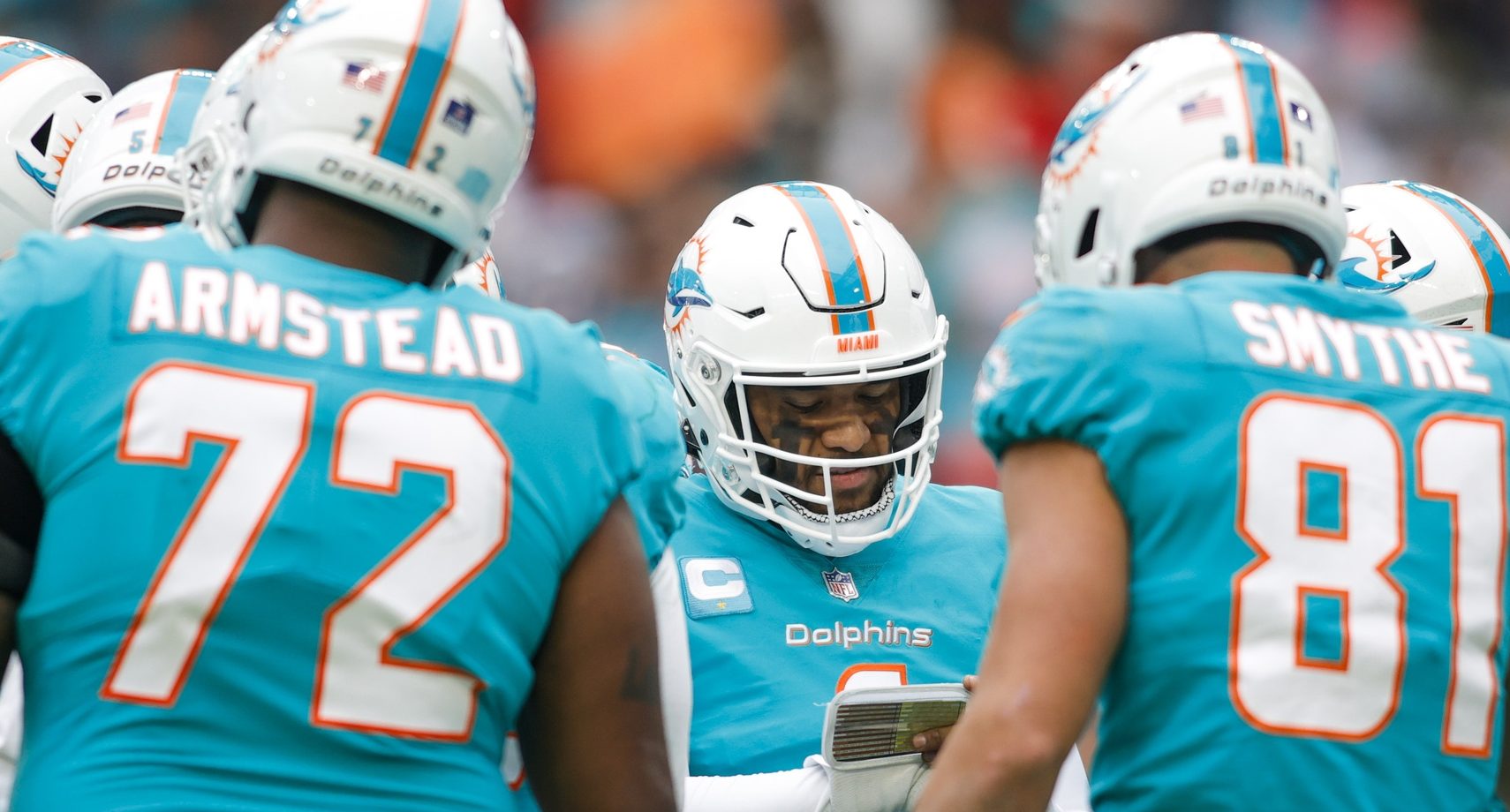 The Philadelphia Eagles are going to take the NFC, even though they had a couple of miscues this season. However, there are still several spots available in the conference, and the New York Giants are hoping a lot goes in their favor today.
In the AFC, the Miami Dolphins (8-7) have a chance to keep their season alive as they face the New England Patriots (7-8) at Gillette Stadium in Massachusetts. They got off to a good start before faltering, and continue to have difficulty as QB Tua Tagovailoa remains in concussion protocol.
Giants In A Multi-Game Race
The Giants (8-6-1) face the Indianapolis Colts (4-10-1), who already ran out of chances to keep their season alive. MetLife Stadium will come alive as New York looks for their ninth victory and a possible postseason spot in front of a home crowd. The Colts only want to be able to wrap up their season with a little dignity.
| | | |
| --- | --- | --- |
|   | Colts | Giants |
| Moneyline | +200 | -240 |
| Spread | +5.5 (-110) | -5.5 (-110) |
| Over/under | O39 (+100) | U39 (-120) |
|   | Courtesy of DraftKings |   |
These two haven't faced each other in a little more than four years, but Indy came away with a close victory in that game. If the Giants find their revenge today, they'll be a step closer to advancing.
They could lose and still move forward, but it would require a few more ingredients. If the Seattle Seahawks and Washington Commanders both lose their games, the Giants stay alive. In addition, a loss by the Commanders, Detroit Lions, and Green Bay Packers would also open a path.
It likely won't come to that. The Colts, whom oddsmakers predicted would take the AFC South before the season started, have taken five straight losses as their season fell apart. Now, they make more money losing and focusing on the NFL Draft than they do securing a win.
New York is generally in better shape physically today as well. The Colts will miss some of their defensive strength because of injuries, which the Giants will capitalize on. Unless Indy comes out swinging, New York will play it cool and only work hard enough to keep control of the game.
Miami Loses Momentum
Miami has four straight losses, all of which have chipped away at the solid performance the team was giving when the season began. However, they only have to survive today and see the New York Jets lose to make it to the postseason. It's going to be harder than it sounds.
| | | |
| --- | --- | --- |
|   | Dolphins | Patriots |
| Moneyline | +130 | -150 |
| Spread | +3 (-115) | -3 (-105) |
| Over/under | O41 (-110) | U41 (-110) |
|   | Courtesy of DraftKings |   |
As many as 16 players from Miami went on the injury report this week, although several are coming back today. The only one who is confirmed out – and perhaps the most important – is Tagovailoa.
He suffered a bruised neck after being tackled during the second quarter of last Sunday's loss to the Green Bay Packers. Despite the blow, Tagovailoa didn't exit the game. It wasn't until Monday that Tua informed his team's medical staff that he had the symptoms of a concussion, and he entered the league's concussion protocol once again.
There were accusations that he should have never been on the field. However, after an investigation by the NFL and the NFL Players Association, the joint decision was that everyone followed established protocols. Still, the physical punishment he has received will likely bring changes to the rules.
Teddy Bridgewater, who hasn't been on the field since Week 6 when the Dolphins lost to the Minnesota Vikings, will take his place. This is one of the major reasons the Patriots, who are also looking to see the postseason, are heavily favored today.
Pats QB Mac Jones is going to be a target in this game. He has a bulls-eye on his jersey for some cheap shots this season, and this is going to impact his performance. However, not enough to give the Dolphins an advantage.