Sweden's Martin Jacobson Sweeps World Series of Poker Main Event
Posted on: November 11, 2014, 11:30h.
Last updated on: November 11, 2014, 11:32h.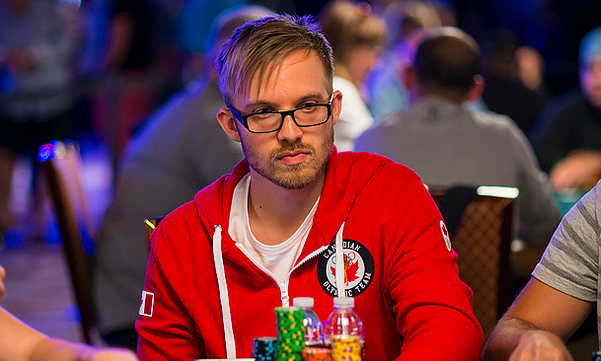 Martin Jacobson of Sweden won the World Series of Poker (WSOP) Main Event on Tuesday night, making a set of tens on the final hand to claim poker's biggest championship. Jacobson's victory marked his first WSOP bracelet win, and also came with $10 million in prize money.
Jacobson's effort was one of the more impressive WSOP Main Event performances in recent history. The Swedish poker pro was the leader at the end of Day 1A, and remained among the chip leaders virtually throughout the entire event until the final table, where he entered only in eighth place with a relatively short stack.
But Jacobson played brilliantly at the final table, seemingly making moves at the perfect times to maintain his stack and chip up whenever possible. By the time play broke after a long Monday session, Jacobson sat in second place with only three players remaining in contention.
Van Hoof Knocked Out in Third Place
It's hard to imagine being disappointed with a third place finish at the WSOP Main Event and a $3,807,753 prize, but Jorryt van Hoof could legitimately feel as though he should have done better. He entered both the final table and the final three with the chip lead, but failed to find any success during his last three hours in the tournament.
On his final hand, van Hoof held A5 of diamonds and moved all in for 46.2 million chips. Jacobson called with AT, setting up a potential elimination. Van Hoof hit a five on the flop, but Jacobson also improved with a ten. The turn and river both came down as queens, giving Jacobson the pot and taking van Hoof out in third place.

"In the end, I finished third in the WSOP Main Event," Van Hoof said. "So, I can't complain."
Jacobson Pulls Away in Heads-Up Battle
That elimination set the stage for a heads-up battle between Jacobson, who now had 142 million in chips, and Norway's Felix Stephensen, who had 58.5 million. Stephensen found some minor success early, but the Swede eventually pulled away, pushing his opponent to under 30 million chips after a little more than an hour of heads-up play.
That left Stephensen in a position where all-in moves were likely the best option to get back into the fight. Both players moved all-in without being called on a few occasions before the final hand that decided the tournament once and for all.
On that hand, Stephensen opened the action by raising to 3.5 million chips on the button. Jacobson almost immediately moved all in, and Stephensen quickly called for his last 28.3 million in chips. Stephensen showed his A9 of hearts, but he was well behind Jacobson's pocket tens.
Jacobson's friends and fans started calling for a ten from the rail, and their request was granted as the flop came 3-9-T. Stephensen had improved as well, but he now needed two cards to overcome Stephensen's three tens. When a king came on the turn, the tournament was over; the four on the river only made it official, as Jacobson was crowned as 2014's World Champion.
Stephensen's run through the field of 6,683 players may have ended in second place, but he will still be well-rewarded for such an impressive result. As the runner-up, Stephensen won $5,147,911.
For Jacobson, the win is a capstone on a career that has already been quite successful. He had already won over $4.8 million in his tournament career before his WSOP victory, and was widely regarded as the most accomplished player at the final table. He is now the first Swedish player to win the WSOP Main Event and the winningest tournament poker player in the nation's history.