Surveillance Rooms at Las Vegas Casinos Often Lightly Staffed
Posted on: December 4, 2017, 04:08h.
Last updated on: December 4, 2017, 04:10h.
For anyone who wants to cheat or steal at a major casino, the biggest deterrent isn't the staff on the gaming floor, but rather the all-seeing eyes of the countless security cameras being monitored by surveillance staff.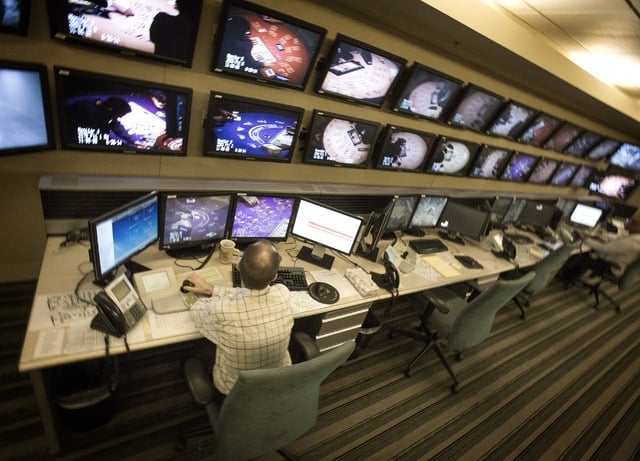 But a new report from the Las Vegas Review-Journal has found that many casinos in Las Vegas have very few people attempting to keep track of everything going on in their resorts.
According to the report, there are rarely more than five people working on a given shift in the surveillance rooms of even the largest properties in the city, and that number is usually even lower, especially when breaks are taken into account.
The Nevada Gaming Control Board does require that casinos have surveillance rooms that are manned by staff that are familiar with both gaming rules and the equipment being used. However, they do not require that more than one person be present at any time. In order to allow for breaks, the room can even be completely unmanned for up to one hour during each eight-hour shift.
Vegas Uses Smaller Surveillance Crews Than Most Jurisdictions
That said, Control Board chief of enforcement Karl Bennison says his team has never seen an unmanned surveillance room during any of their inspections. Casino surveillance specialist Willy Allison says that, typically, most Las Vegas casinos have two to three people working any given shift.
Allison called that "very lean," saying that gaming venues in other jurisdictions typically have about one person on duty for every 25 table games, and that Vegas resorts might want even more staff on hand given the additional foot traffic they attract.
"Considering the volume of people and money in Vegas casinos, their staffing levels are surprising to me and way below worldwide standards," he said.
Some Las Vegas casinos are also behind the times technologically. Operators are still allowed to use analog tapes and VCRs to monitor their gaming floors. When this is the method used, the video resolution must be high enough to identify individuals, cards, and chips, and the tapes must be held for at least seven days before they can be erased or reused.
The report stated that some Las Vegas Strip properties still use VCRs for their security systems, though it did not go into the details of any individual operator's procedures.
Casinos Keep Security Measures Under Wraps
The report comes at a time when Las Vegas casinos are being particularly guarded about their security measures. In the wake of the October 1 mass shooting in the city, few casinos are willing to talk about how many security guards they employ or what training they receive.
There are no regulations in place that specify how many security personnel a casino must employee or what other measures they should take to safeguard patrons. C. David Shepherd, the former head of surveillance at The Venetian, told the Review-Journal that "there are no carbon copies," and that every casino has unique needs when it comes to security.
Las Vegas surveillance systems were once again in the news last week when a robbery took place at the Bellagio Hotel & Casino. The suspect can be clearly seen on video demanding money from the casino's poker cage, though parts of his face were obscured by a mask.
Similar Guides On This Topic