NY Assemblyman J. Gary Pretlow Shares 2023 Vision for State Sports Betting
Posted on: August 8, 2022, 11:59h.
Last updated on: August 8, 2022, 02:12h.
EXCLUSIVE: Casino.org recently sat down with State Assemblyman J. Gary Pretlow, co-chair of the New York Assembly Committee on Racing and Gaming. He talked about a series of changes he wants to make to New York's fledgling sports gambling law.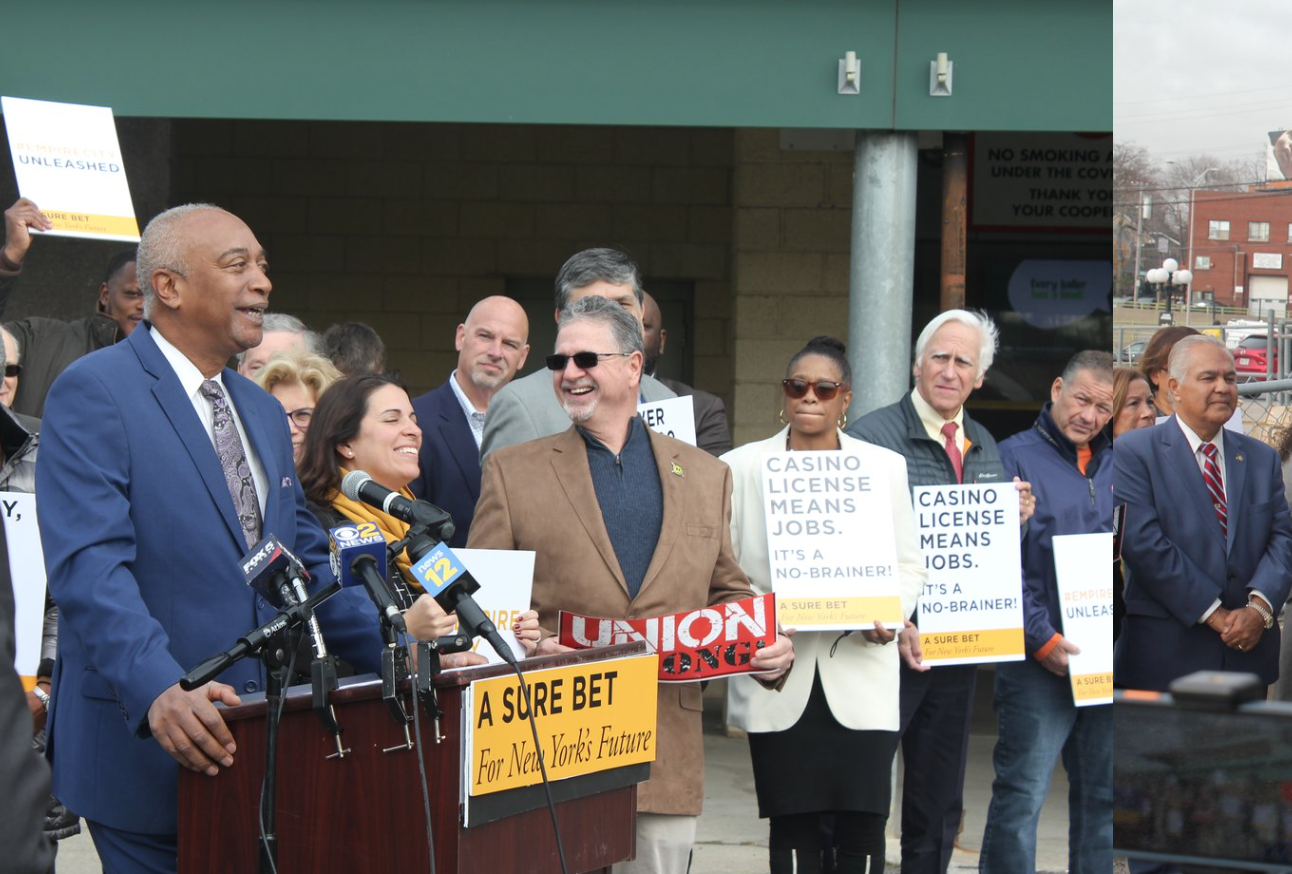 If New Yorkers get lucky, they will be able to reach a sports gambling customer support person on the phone next year. They will also have more than nine sportsbooks to choose from. Plus, they will start getting more of the lucrative bonus offers that were around in January and February but have dried up since.
I am going to do it in January," Pretlow told Casino.org as he discussed the highs and lows of the first six months of legalized sports gambling in the Empire State.
The good news is that the state has brought in massive amounts of revenue. The revenue has surpassed New Jersey, Maryland, and Pennsylvania to become the No. 1 revenue-generating state in America regarding sports gambling, according to Pretlow.
But those gross revenues are taxed at a rate of 51%. This has been costly to many of the nine sportsbooks operating in New York, which may mean New York isn't as attractive of a market as other states.
"If a sportsbook, let's say Caesars, for instance, gave you a $3,000 bonus on top of the $3,000 you deposited, then Caesars has to pay a 51% tax on the full $6,000," Pretlow explained. "The way the law is written, it does not differentiate between bonus funds and actual funds. Everything extra they gave you goes to the state, and they lose more than 3K."
Pretlow: 'Open the New York Market'
The harsh operating conditions have caused a huge drop-off in the number of advertising dollars the sportsbooks are spending in New York. This means a dramatic departure from what New Yorkers were seeing in the winter, when advertisements by sports gambling sites were everywhere, making beer commercials seem obsolete.
You don't see many commercials or offers right now because it's difficult to make money when you give out the incentives that they gave out. The incentives have dried up, and that is one of the driving forces in the industry," Pretlow said. "A few of the books lost several hundred million dollars because they were giving away crazy money."
The solution, Pretlow believes, is to open up the New York market to more gambling companies – "skins," in industry parlance – and to lower the tax rate to 37% or 38%, which would still be among the highest in the nation. But that would give the books some wiggle room to make money, hire more staff, and perhaps open retail sportsbooks at sites other than existing casinos.
Under the current law, it is illegal to open retail sports betting establishments anywhere other than a licensed casino. As a result, New Yorkers are gambling on their phones and laptops. But there are no gambling parlors downstate where fans can watch games on a big-screen television and enjoy a communal experience.
"We're assessing the situation, and I am hopeful for a tax decrease," Pretlow said. "I want to see the best odds available to New York customers, and that would result from more competition."
Flawed Legislation
New York's law was pushed through by former governor Andrew Cuomo, who once believed sports gambling was unconstitutional. He eventually changed his mind and endorsed what Pretlow described as a flawed piece of legislation. That made the gambling experience more difficult for New Yorkers than it could have been.
For example, bettors across the Hudson River in New Jersey can reach a customer service representative on the phone if they have an issue. At the same time, New Yorkers who wager with any book besides WynnBet must get answers to their questions via a chat room or e-mail.
It is impossible to get past the chatbot at DraftKings, while the other seven sportsbooks have humans interfacing with customers as the default customer service standard.
"I'm looking into a component of the law requiring interaction by voice," Pretlow told Casino.org. "I also want New Yorkers to have the option of wagering on individual award player prop bets," such as the Cy Young Award winner in baseball, the Heisman Trophy winner in college football, and Most Valuable Player awards in all of the major sports.
New York's current law prohibits wagering on awards that are decided by panels of human voters.
Changing the Law
Changing the law will not be easy. A majority must approve any amendments of the state legislature (76 of 150 in the State Assembly and 32 of 63 in the State Senate). A two-thirds majority in both houses would be required to override a veto by the governor.
Because the New York legislature typically is in session for only the first five months of the year, Pretlow's proposed changes would not be enacted until late spring of 2023. They would also have to pass muster with several legislative committees overseeing this area.
Still, they have a chance because the changes appear pro-consumer and pro-sportsbook. And since a percentage of the state's revenues are earmarked for high school sports equipment, some of the biggest beneficiaries would be New Yorkers still several years away from legally being eligible to gamble.
But nothing happens easily in New York, especially in an election year and especially with the Gaming Commission currently focused on awarding three downstate casino licenses. But change is inevitable, and New Yorkers who have wagered nearly $9 billion on sports will want pro-consumer changes as they learn how difficult it can be to navigate this industry. That's especially true regarding the cumbersome process of withdrawing their winnings.
"More competition is beneficial to the consumer, and a lower tax rate would be attractive to other companies that would come in," Pretlow said. "I would not want to lower the money that is going to education just for increased profits for the sportsbooks."
Clearly, this story is to be continued. But that will not happen until 2023.