Las Vegas Sphere to Begin Four-Month AI-Generated Art Residency
Posted on: September 1, 2023, 10:23h.
Last updated on: September 1, 2023, 02:18h.
That super blue moon wasn't the only momentous spherical show to light up Las Vegas this week. Refik Anadol, an artist who uses artificial intelligence as a medium, will employ the MSG Sphere's external screen as the canvas for his latest installation beginning Friday, Sept. 1.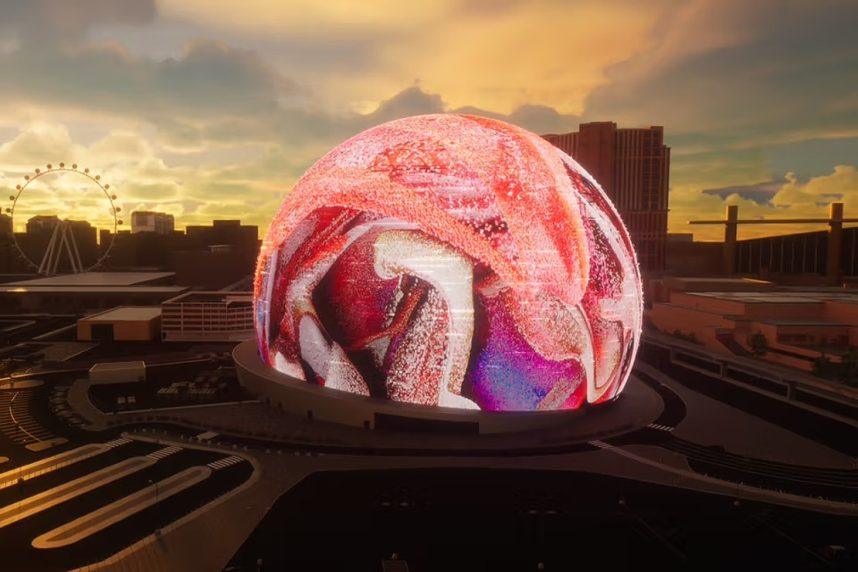 "Machine Hallucinations: Sphere" will appear for what Anadol and the Sphere are calling a four-month "residency" on the "Exosphere," the 580,000 square feet of fully programmable LED paneling that wraps around the entertainment venue.
Anadol's installation features an AI data sculpture that creates abstract imagery of space and nature, featuring vivid shapes and colors all made with vast amounts of data.
"I am extremely honored to be the first artist to utilize the exterior of Sphere," Anadol said in a news release. "It's so exciting to be given such an architectural and engineering marvel as a canvas. This opportunity aligns perfectly with our studio's long-term mission of embedding media arts into architecture to create living architectural pieces that are in constant interaction with their environments."
Previous Installations
A native of Turkey who lives and works in Los Angeles, Anadol, 38, launched his career creating permanent digital data paintings as publicly commissioned art. These included "Virtual Depictions" (2015) in San Francisco and the "Wind of Boston" (2017) in South Boston.
His studio's collaboration inspired his "Machine Hallucination" series with NASA JPL and his long-term research into the photographic history of space exploration. Its first installation, in 2019, was for Artechouse NYC, a digital art space in New York's Chelsea Market.
The $2.3 billion Sphere is scheduled to open to the public on Sept. 29 with a U2 residency through December.