SLS Las Vegas Dropping Money Like It's Hot, But Parent Stockbridge Committed to Keeping Property Afloat
Posted on: August 19, 2015, 01:49h.
Last updated on: August 19, 2015, 01:58h.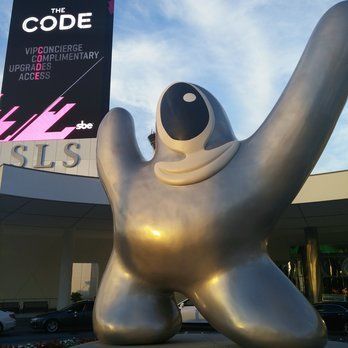 SLS Las Vegas is on the kind of streak you don't want to be on in Sin City: a losing one.
For the sixth straight month, the property that is located on the site of the former "Rat Pack" Sahara Hotel & Casino has lost millions of dollars, totaling $48.6 million in the second quarter and $83.9 million for 2015.
According to Securities and Exchange Commission (SEC) filings by its owner, Stockbridge/SBE Investment Company, LLC, a joint partnership formed to oversee its proprietorship of the Las Vegas property, the hotel and casino "incurred net losses and negative operating cash flows" stemming from "substantial debt," "factors beyond our control," "extensive regulation and licensing," and "general business and competitive conditions."
Though the company says it's invested over $40 million this year on top of the $415 million renovation it took to turn the former Sahara into the SLS, Stockbridge, the arm of the partnership that owns 90 percent, says it's in for the "long haul."
Blob Not So Happy
Adding insult to injury, public opinion on the SLS reboot hasn't been met with much praise, with many visitors befuddled before they even enter the hotel doors thanks to the so-called Happy Blob, a metallic statue that is said to be an ode to Sam Nazarian, chairman of SBE.
Aiming to bring a "playful, yet approachable sophistication" to the north end of the Strip, initial reviews of the vintage-meets-modern décor looked like a highlight of the revamp, but as the hotel has continued to struggle financially, even leading to layoffs last fall, service and upkeep at SLS appears to be headed in the wrong direction.
Of more than 1,000 reviews on Yelp, the average is 3/5 stars, roughly the same as ratings from Google critics. But the actual comments, both online and to news sites, have been somewhat more direct in their assessment of the property.
"Where's the attraction to compel people to visit the SLS? All they have besides basic gambling is some goofy-assed statue," wrote one visitor on the Las Vegas Review-Journal site.
Google pundits were no friendlier.

"Hey SLS: 1965 clashing with 2014 doesn't mix. You can't put lipstick on a pig."

"This hotel was terrible. The room they gave me was like a prison cell. The walls were concrete and painted gray."

"As I entered the non-smoking room a huge burst of cigarette smell entered my nose."
Of course, not all have found SLS to be inadequate, but the majority of recent reviews seem to point to a struggling venue that is failing to meet expectations.
Holding Firm
"Location, location, location" is an old adage that is proving true for SLS as well. Despite what should be a prime Strip location right at Sahara and Las Vegas Boulevard, the resort is the north neighbor to the now-defunct Riviera, the legendary casino that closed its doors May 4th, and the Fontainebleau, a bankrupt resort that has sat unfinished since 2009. Across the street sits a vacant lot that will be the future home to Resorts World Las Vegas, though construction still hasn't begun.
Needless to say, foot traffic is sparse.
SLS has plenty of challenges ahead, but its corporate leadership remains steadfast. "We continue to invest in marketing and advertising to increase awareness of the SLS brand and attract new customers," its SEC filing stated.
Could be what is called in the gambling world "chasing," but sometimes, even a chaser's luck can change. Of course, more often it doesn't, but depending on how deep into its pockets Stockbridge/SBE is willing to search for loose change, the future of SLS is now anybody's guess.