Sheldon Adelson and Wife Miriam Open Their Checkbooks Again for GOP Candidates as November Nears
Posted on: August 22, 2018, 05:00h.
Last updated on: August 22, 2018, 03:39h.
It's election season, which means Las Vegas Sands CEO Sheldon Adelson and his wife Miriam are cutting checks. Campaign finance data released by the Federal Election Commission (FEC) shows that each donated $12.5 million to the Senate Leadership Fund, a Super PAC aimed at ensuring Republican control of the US Senate.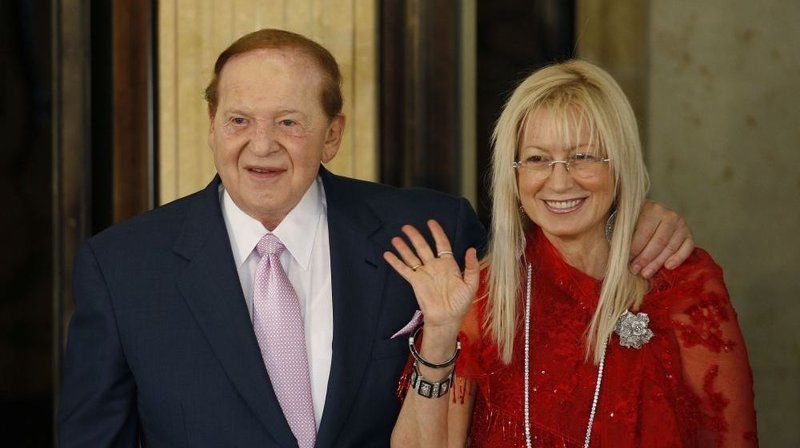 FEC records show that the $25 million political contribution was made on July 26. The Super PAC raised just over $26 million in total contributions during July.
The LVS gaming mogul is one of the richest people in the world, with an estimated net worth of around $38 billion, according to Forbes. Miriam Adelson is the publisher of the Israeli newspaper Israel Hayom (Israel Today).
It's the second time this year that the power couple — the biggest donors to the Republican party during the 2016 election cycle — have dumped massive amounts of cash into the GOP midterm cause.
Brick House
In May, the two gave a combined $30 million to the Congressional Leadership Fund: a Super PAC supporting Republican candidates for the US House of Representatives.
During the 2016 cycle, the Adelsons poured $82.5 million to GOP hopefuls, according to OpenSecrets.org. That total included a $25 million donation to a Super PAC supporting then-candidate Donald Trump for president. Trump was adamantly pro-Israel — one of two key issues for Adelson in the campaign — and the leader has made good on his promise to unabashedly support the controversial country as president.
Before the most recent campaign finance data was published, the two donated given a combined $30.4 million to Republicans during the 2018 cycle.
The $25 million donation in July, combined with other donations, put the Adelsons at around $60 million in total contributions this cycle.
Other significant contributions, according to FEC data, are a max contribution of $237,000 from Sheldon Adelson to the National Republican Congressional Committee (NRCC) and $371,500 to the PAC Protect the House in late June.
Both have also given $43,900 to Nevada Senator Dean Heller's reelection campaign, as well as $2,700 to a large number of other Republican candidates in more states.
Governing Donations
The Adelsons have also been active in Nevada's upcoming governor's race, supporting outgoing Nevada Attorney General and Republican gubernatorial candidate Adam Laxalt.
The couple each individually donated $10,000 to Laxalt in 2017, and the state AG received an additional $30,000 from Adelson's companies in 2018. According to Laxalt's contributions and expenses report filed with the Nevada Secretary of State, he received $10,000 each from the Las Vegas Sands Corporation, the Sands Expo & Convention Center, and the Venetian Resort Casino in May: all Adelson companies.
Laxalt represents not only the general GOP stance, but more specifically, a cause near-and-dear to Sheldon's heart: he is against legalized internet gambling.
A poll commissioned by the Reno Gazette Journal and Suffolk University, published in July, showed Laxalt with a 0.6 percent lead with 41.6 percent of the voters behind him, over Democratic candidate Steve Sisolak, who polled at 40 percent.
This year's midterm election will be held on November 6.