Seven Confirmed for New York State Casino Applications So Far
Posted on: April 24, 2014, 03:03h.
Last updated on: April 24, 2014, 03:05h.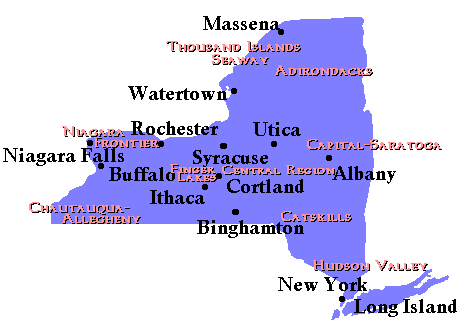 The deadline for $1 million application for a New York State casino license passed on Wednesday this week and, in the absence, at the time of writing, of any official statement from the newly inaugurated New York State Gaming Commission on the full list, we can report that seven companies have officially announced their applications.
Yesterday we reported that Caesars Entertainment had applied for a license to build a $750 million entertainment complex in the town of Woodbury, in Orange County, about 50 miles north of Manhattan. Now joining them in the fight for one of the four licenses available will be Genting Casinos, it was announced today.
Genting in the Game
The Genting Group is headed by Malaysian billionaire Lim Kok Thay and has recently been expanded around the world, with casinos in the UK, Hong Kong, Singapore, the Philippines and the US. It is currently the largest operator of land-based casinos in the UK, with 47 operations, and already runs a video slot-machine parlor at the Aqueduct Racetrack in the New York City borough of Queens. Genting Group Looking for a Site Genting said it is still looking to acquire a suitable site.
"We are excited to work with local municipalities and the state of New York to acquire a site where we can build a facility that will further bolster the Empire State's thriving tourism economy," said senior vice president for Genting Americas Christian Goode.
Alsp joining the fray will also be Rochester-based Wilmorite Inc, which hopes to build the Wilmot Casino and Resort, a $350 million casino, hotel, resort, and spa, in the town of Tyr in Seneca County. Chairman Thomas Wilmot, Sr. declared that Wilmorite is "definitely in it to win it" and that the project was "full speed ahead."
"Our proposal will also generate more money for New York state and local governments throughout the region than will any of our competitors.  And the Wilmot Casino and Resort will spur by far the greatest increase in tourism throughout the beautiful wine country Finger Lakes region," he added.
Meanwhile, the owners of the Saratoga Casino and Raceway are looking to directly challenge Caesars with an Orange County proposal, for the town of Newburgh, as well as pursuing a license for a full-scale casino in the Rensselaer, the County town of East Greenbush.
"It's an offensive move," explained president and spokesperson Rita Cox."When you've got two properties working together you can offer that many more opportunities for team members and guests and be more successful for your localities and for the state. This is about growing our business."
Howes Cavern Casino
Perhaps most intriguingly, the owners of Howe Caverns in Schoharie County have also paid the applications fee and have announced they are looking to partner with a casino operator in order to offer gaming at the popular tourist resort. The proposed casino would not be located within the cave, which lies 156 feet below ground, but merely on that site.
"When the smoke clears we are confident that operators will recognize the tremendous potential of our shovel-ready site, uniquely suited to be a destination location for families throughout the region," said Emil Galasso, president of Howe Caves Development Corp.
The caves attract 150,000 visitors each year and are located off Interstate 88, half an hour west of Albany.
Greenetrack in the Race
Earlier in the week Greenetrack announced it had submitted the application fee for a casino license, again in Orange County. Greenetrack wants to build a 140-acre casino with 80,000 square feet of gaming space, a high-end hotel with 350 guest rooms, a convention center and two restaurants. The company also said it would invest about $400 million and create more than 2,500 jobs.
Also getting its money in early was Empire Resorts, the company that owns the Monticello Raceway racino in the Catskill Mountains, 90 miles from New York City. Empire wants to build a $750 million complex at the former Concord Resort in Monticello.
So far, then, we have seven confirmed applicants of an expected 15 or 16. A full list is expected soon. We'll to keep you up to date with more news as it breaks.