SciPlay Stock Offering Considered Attractive Bet Among Wall Street Analysts
Posted on: May 29, 2019, 09:09h.
Last updated on: May 29, 2019, 09:24h.
SciPlay Corp, the maker of mobile and online casino games which is a unit Scientific Games, launched an initial public offering (IPO) earlier this month and is already drawing bullish commentary from Wall Street analysts.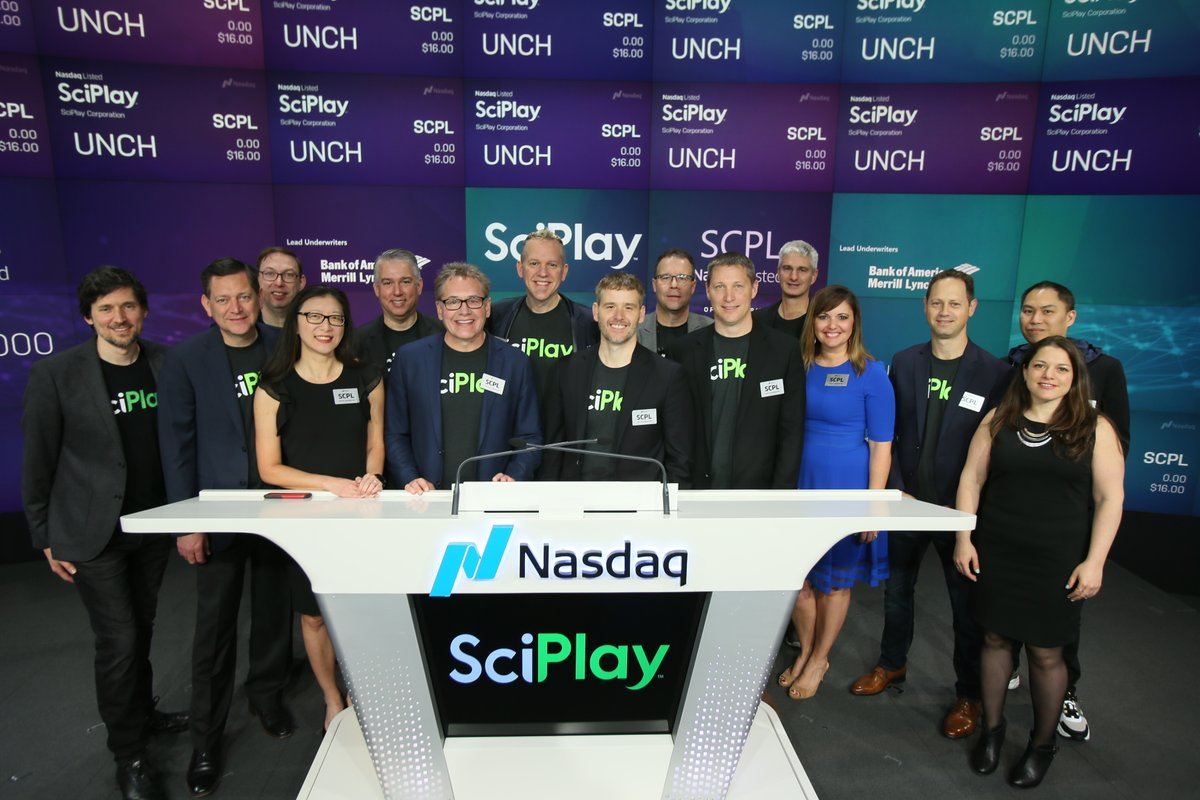 Over the past five days, 10 analysts initiated coverage of SciPlay, nine doing so with the equivalent of "Buy" ratings. Morgan Stanley, which started coverage of the stock Tuesday, is the exception, placing an "Equal-Weight" rating on the shares.
Las Vegas-based SciPlay went public on May 3, selling 22 million shares priced at $16, raising $352 million. The stock trades on the NASDAQ under the ticker symbol "SCPL." Scientific Games, which retains a 17.4 percent stake in SciPlay, received $301 million from the IPO.
"Buy" Ratings
On Tuesday, May 28, eight analysts commenced coverage of SciPlay, seven doing so with "Buy" ratings or something comparable to that. The aforementioned "Equal-Weight" rating from Morgan Stanley was the exception. Even with that tepid rating, Morgan Stanley has a $17 price forecast on the stock, which is well above where the shares closed Tuesday.
Deutsche Bank analyst Bryan Kraft initiated coverage of SciPlay with a "Buy" rating and a $20 price target.
SciPlay is positively leveraged to continued growth in mobile gaming due to its strong position in the attractive social-casino segment, but with a stronger economic model that is much less hit-driven than are most mobile-video-game companies," said Kraft in a note.
SciPlay's mobile casino games include Jackpot Party Casino, Gold Fish Casino, Hot Shot Casino, and Quick Hit Slots. The company also offers what it calls "casual games," including 88 Fortune Slots, Bingo Showdown, and Monopoly Slots.
Other "Buy" ratings announced Tuesday on shares of SciPlay came courtesy of Bank of America/Merrill Lynch, Goldman Sachs, and Stifel. JPMorgan Securities and Wedbush Securities initiated coverage with "Outperform" ratings on the stock.
Bank of America/Merrill Lynch, Deutsche Bank, and JPMorgan Securities were the lead book-running managers for SciPlay's IPO while Goldman Sachs and Morgan Stanley were among several other book-running firms involved in the IPO.
Reasons for the Enthusiasm
Global appetite for mobile games is massive and that could be one reason why analysts are bullish on SciPlay. By some estimates, games played on mobile devices will account for half of the global gaming market in revenue terms. The segment is also growing at a faster rate than the console and PC game markets.
By 2021, revenue generated by mobile gaming companies could approach $80 billion on a global basis. That figure could swell to almost $130 billion by 2025, according to GlobalData research.
SciPlay had a market capitalization of $1.96 billion as of the close of US markets Tuesday, putting the stock in small-cap territory, but the company's revenue is growing.
"Our total revenue has grown from $168.8 million in 2015 to $416.2 million in 2018, representing a compound annual growth rate, or CAGR, of 35 percent," said the company. Reflecting the growth opportunity associated with mobile gaming, SciPlay's mobile revenue is surging.
"The mobile portion of our revenue has grown from $109.4 million in 2015 to $323.3 million in 2018, representing a CAGR of 44 percent," according to SciPlay.