Sands Regency Renamed J Resort as Jacobs Entertainment Continues Reno Makeover
Posted on: March 8, 2023, 09:11h.
Last updated on: March 8, 2023, 09:38h.
The Sands Regency casino hotel in downtown Reno is now known as J Resort. The property's rebranding comes nearly six years after Jacobs Entertainment acquired the then-deteriorating resort for just $30 million.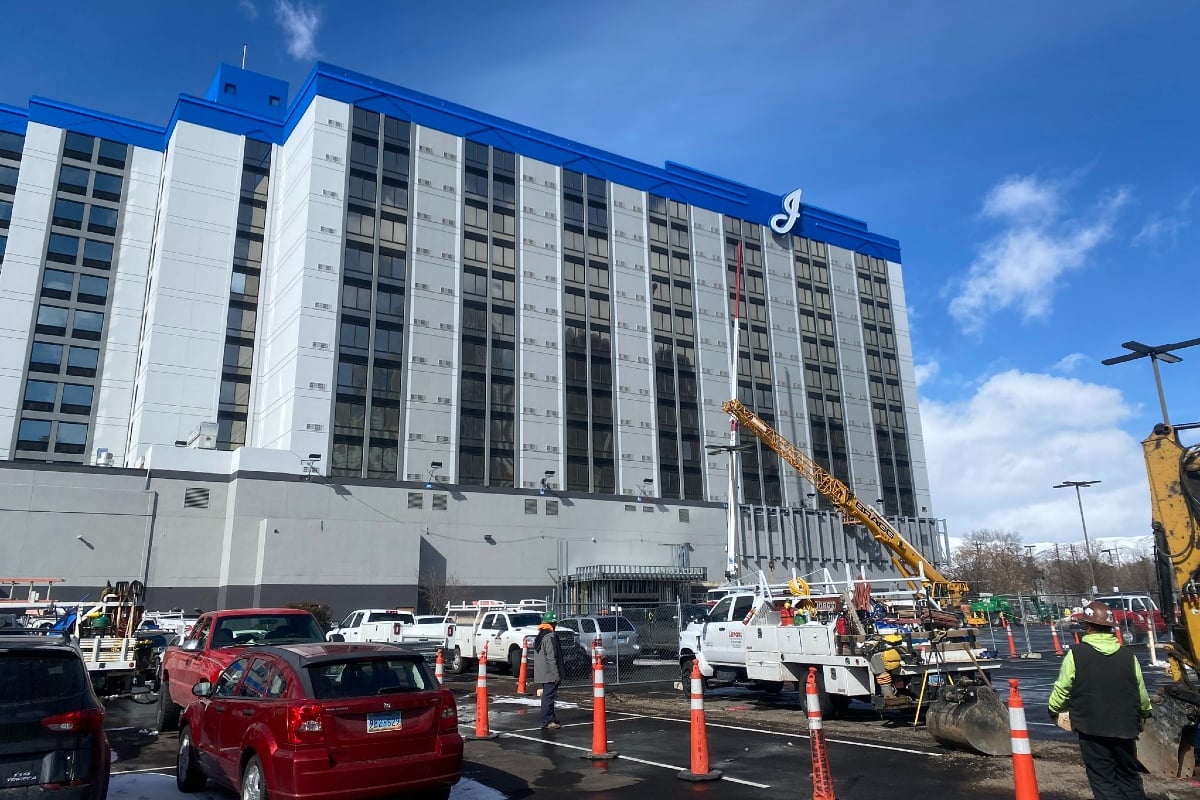 Jeffrey Jacobs, the namesake of the gaming and hospitality firm based in Golden, Colo., announced an extensive development of the area surrounding Sands Regency soon after his Jacobs Entertainment acquired the casino in July 2017. Two years later, Jacobs revealed a more than $1 billion blueprint to develop a mixed-use corridor called the Reno Neon Line District.
The residential and entertainment district is to run roughly from Keystone Ave. between W. 3rd and 4th streets east to West St. The progress of the downtown overhaul has been greatly impeded by the COVID-19 pandemic and subsequent economic concerns.
Despite the Reno Neon Line project interruption, Jacobs Entertainment has upheld its pledge to renovate the Sands into a first-class casino destination.
During a rebranding announcement ceremony at the casino on Tuesday, Jacobs announced that the Sands is now officially known as J Resort. The news wasn't exactly shocking, as speculation regarding the new name has been circulating since a "J" letter went up recently on the exterior of the hotel.
"After five years of land assemblage, design, and construction we are pleased today to announce J Resort, Jacobs Entertainment's flagship property and Nevada's first art and entertainment-themed resort property," Jacobs said, as reported by the Reno Gazette-Journal.
First Phase Complete
Jacobs revealed Tuesday that only the first of his company's anticipated three development phases in Reno is ready. The initial overhaul included renovating J Resort's 750 guestrooms, remodeling the casino floor with new slots and table games, and adding more than 1,000 surface parking spaces.
J Resort also now features two new restaurants — Hannah's Table and J Paul's Italian Steakhouse — and a nightclub called the Afterglow Lounge. An exterior digital wall spanning 65 feet will also display digital art curated from artists around the world.
The initial overhaul, Jacobs Entertainment officials said, cost about $300 million. The budget for the second phase is $100 million and is to include an expansion of the gaming floor, a rooftop swimming pool and spa, a sportsbook, and Asian-focused eateries.
A third and final expansion phase is to include a new hotel tower with 1,200 guestrooms, 100,000 square feet of convention space, and a dinner theater capable of accommodating 400 guests. No budget was provided for the third phase.
Lights Go Down on Neon District
Jacobs has faced much criticism locally for buying up and demolishing budget motels and low-income housing units that surrounded his casino to make way for his Reno Neon Line District. Jacobs said the blighted buildings were deterring investments in the downtown area.
The current economy, he adds, has stalled the progress of the Neon Line. But the company is unapologetic for evicting residents from their former digs.
Jonathan Boulware, the regional vice president for Jacobs Entertainment, said those tenants were residing "in the most horrific conditions." Officials with the casino company said they helped those displaced find new, superior housing. The firm said about 95% of those displaced found new homes with assistance from the casino operator.
If that's the definition of displacement, then you're damn right we'll be displacing people all night long," said Boulware. "We take care of people."
Jacobs Entertainment is willing to work with the City of Reno to develop some of its now-vacant parcels of land after it demolished the former seedy motels. But Jacobs has little interest in bankrolling the housing projects himself.