Rodrigo Duterte Backtracks US Comments, Country Continues Illegal Gambling Crackdown
Posted on: September 6, 2016, 08:44h.
Last updated on: September 6, 2016, 10:40h.
Philippines President Rodrigo Duterte is walking back comments directed at US President Barack Obama. Just hours after Duterte said he doesn't answer to anyone "except the Filipino people" and called Obama a "son of a bitch" in his native Tagalog, the Philippines leader issued a quasi-apology through his spokesman.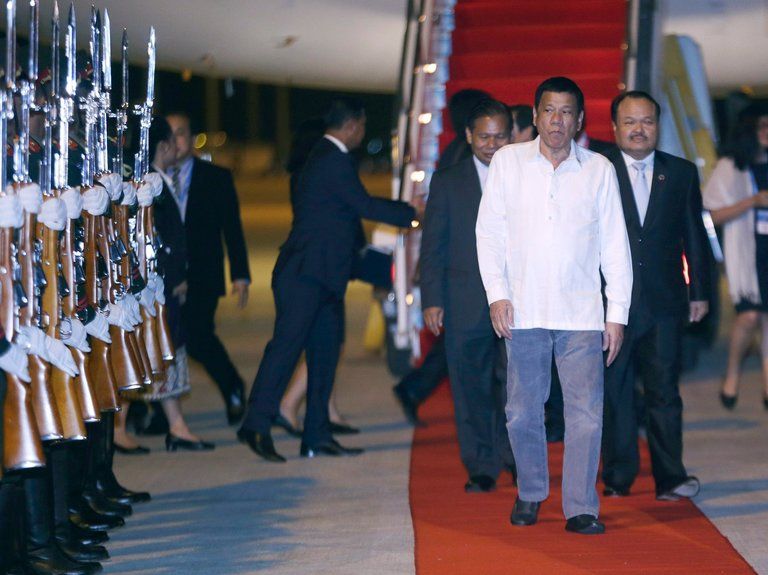 "We look forward to ironing out our differences arising out of national priorities and perceptions," the more calculated and civil statement read. "While the immediate cause was my strong comments to certain press questions that elicited concern and distress, we also regret it came across as a personal attack on the US president."
Obama's team canceled the meeting upon hearing Duterte's initial remarks, but now say they are rearranging the engagement.
Obama has indicated he wants to meet with the new Filipino president to confront the latter's handling of illegal drug dealers and extrajudicial killings. Duterte has given law enforcement the right to kill suspected drug operators and break up cartels, and nearly 2,000 killings have taken place since the 71-year-old took office on June 30, 2016.
Duterte recently did an about-face on a previous stance on internet gambling. After forcing the country's gambling arm PAGCOR not to renew the operating license for PhilWeb, he announced in late August that he was willing to allow online gambling, if taxes were paid and if the gaming parlors that house them are situated far enough away from schools and churches.
Some 299 internet gaming cafes throughout the country have provided multimillions in tax revenue to the government. But for PhilWeb Corp and its owner Roberto Ongpin, the party appears to be over. PhilWeb had claimed an exclusive license to operate the cafes that offer eGames, prior to the Duterte dictum.
But with so many millions in potentially lost gaming tax revenue at stake, Duterte's strong moral convictions appear to have, um, disappeared.
"Pay the correct taxes . . . gamble until you die. I do not really care," the Filipino president said about the online gaming reinstatement.
Gaming Operators Enemy #2
Duterte has made no secret about his wishes to eradicate drug dealers from the Philippines. But close behind the narcotics trade are those involved in running illegal lotteries and gambling.
On September 6, the head police chief in Cagayan de Oro City announced that his agency would be increasing its efforts to restrict non-regulated gambling. The 10th-most populated city in the Philippines, the Cagayan de Oro chief said he will resign if his department cannot eliminate illegal gambling rings from the city within two months.
Local officials say underground gaming is hampering sales of the town's regulated lotto.
Duterte's lead law enforcement official Ronald Dela Rosa, chief director of the Philippine National Police, says his force will go after illegal gambling once the present war on drugs concludes in six months.
No Love from China
Duterte wasn't the only international diplomat failing to show respect to Obama this week, either.
Like Duterte, President Obama is in China now for the G20 Summit. But when the American president arrived, the typical red carpet staircase almost exclusively used to welcome international leaders was mysteriously absent.
In fact, China didn't even provide a staircase lift to Air Force One. Instead, Mr. Obama exited the plane from a seldom-used staircase that comes out from underneath the belly of the aircraft.
"They won't even give him stairs, proper stairs, to get out of the airplane," Republican 2016 nominee Donald Trump said. "If that were me, I would say, 'You know what, folks, I respect you a lot but close the doors, let's get out of here.'"
Trump made the remarks at an event in Ohio, and his Democratic challenger wasn't far away. With both candidates recognizing the importance of winning Ohio, Clinton and Trump's airplanes passed each other while taxiing on the tarmac at Cleveland's Hopkins International Airport this week.
A new CNN poll shows Trump leading Clinton by two percent, but the Real Clear Politics polling average still has the former secretary of state ahead by 3.3 points in what's turning out to be one of the most dramatic presidential campaigns of the past 100 years.