'Friends' of Robert Durst Do Him No Favors in Early Witness Testimony, First-Degree Murder Trial Likely for 2018 in Vegas Mob Boss' Daughter's 2000 Killing
Posted on: July 26, 2017, 10:00h.
Last updated on: July 26, 2017, 11:24h.
Millionaire real estate heir Robert Durst, charged with first-degree murder in the killing of Susan Berman, isn't expected to stand trial until sometime in 2018, but this week in a Los Angeles courtroom, prosecutors and defense attorneys began taking early testimony from several elderly witnesses.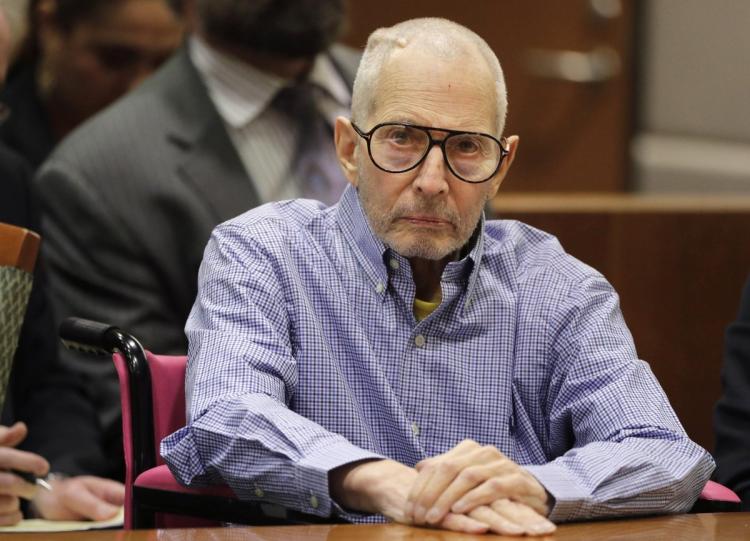 So far, their statements don't bode well for the 74-year-old Durst's "not guilty" plea.
Berman, the daughter of notorious Las Vegas mobster David "Davie the Jew" Berman, was found dead inside her Benedict Canyon, California rental in 2000. Durst is accused of carrying out the execution-style shooting of his longtime friend in order to cover up his past. Her death came just months after New York State Police announced they were reopening an investigation into the 1982 disappearance of Durst's first wife, Kathleen, and it's thought that Durst was worried that Berman might sing like a canary.
In court this week, former friends and acquaintances provided character testimony.
Emily Altman, who described herself as one of Durst's "closest, dearest friends," was asked by the prosecution if she had known him to lie when it was to his advantage. She answered, "Yes," and added that Durst and his first wife were "both seeing other people, so it's not like one person was completely honest."
Acquaintance Peter Schwartz, a therapist, said Durst assaulted him on two occasions, including one incident where the defendant allegedly kicked him in the eye while wearing cowboy boots, breaking his orbital bone.
Jinxed
At the end of 2015 HBO documentary miniseries The Jinx: The Life and Deaths of Robert Durst, which ironically aired its final episode the day after he was arrested on first-degree murder charges, a hot mic recorded him saying, "What the hell did I do? Killed them all, of course."
The filmmakers behind what became popularly known as simply The Jinx followed Durst for a decade and may have unwittingly helped investigators make their move. Among his various self-declarations in the film, all recorded when he apparently assumed his mic had been turned off, was Durst looking at himself in a bathroom mirror and telling his reflection: "There it is, you're caught."
But even before the self-damning quotes, Durst was long considered a suspect in several cases. Three people close to him have been murdered or gone missing throughout his life, and he's been at the center of all three investigations.
His wife Kathleen's body was never found. Berman's was, and he's the prosecution's only suspect.
Durst's neighbor, Morris Black, was also killed. His dismembered body was discovered floating in Texas' Galveston Bay in 2001. Durst later admitted he had a confrontation with the "cranky loner," and during a physical struggle, a gun was accidentally fired, striking Morris in the face and killing him instantly.
Durst admitted to dismembering the body, but a jury acquitted him on murder charges. He was sentenced to five years in prison.
The eccentric millionaire's behavior has been known to be quirky at best. When a warrant for his arrest was issued in relation to the Black investigation, he was caught inside a Pennsylvania Wegmans, shoplifting a chicken salad sandwich despite having $37,000 in cash in his car.  
Susan Berman's Vegas-Style Murder
It was ironic that Berman died much as her own father's former associate Bugsy Siegel had.
Davie "The Jew" Berman was a fellow mobster along with Siegel, who was one of the most infamous creators of modern-day Sin City. But after the man who helped developed the Las Vegas Strip was shot and killed by a spray of bullets while on his sofa from outside his own home, Berman walked into the Flamingo and announced that he and Moe Sedway, another organized crime czar, were now in charge.
Susan Berman led a much quieter life. She didn't run from her father's illicit past, but celebrated it when she authored Easy Street: The True Story of a Mob Family, a book that received critical acclaim. The movie rights to the non-fiction memoir were sold for $350,000, but a film was never made.
At the time of her death, Berman was working on a Showtime pilot titled Sin City, featuring a mob-themed plotline that the network hoped could compete with the then-massive HBO hit The Sopranos.