RAWA Hearing Scheduled For March 5th, As Sheldon Adelson Continues Crusade
Posted on: February 20, 2015, 11:44h.
Last updated on: February 20, 2015, 11:50h.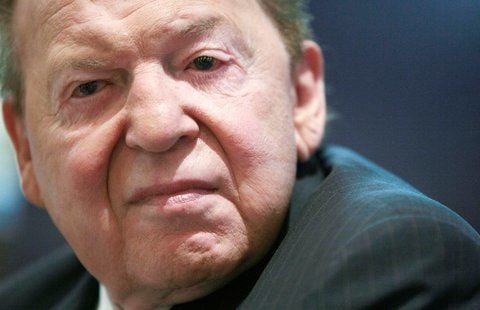 The Restoration of America's Wire Act, the Sheldon Adelson-backed bill that wants to ban online gaming at a federal level will receive a hearing in the House Subcommittee on Crime, Terrorism, Homeland Security, and Investigations, March 5.
Jason Chaffetz (R-Utah), who reintroduced the bill to the House in January after it floundered the previous year, is a member of the Subcommittee.
While in 2014 RAWA failed to get a hearing at all, its progress here should not be of huge concern to America's fledgling regulated online gambling industry.
The most recent House hearing on online gambling was December 2013 where Adelson's LVS representative Andy Abboud got a grilling from members who were quick to pick apart his argument and emphasize its inherent hypocrisy.
Wide-ranging Opposition
RAWA remains a deeply unpopular piece of legislation on both sides of the political spectrum. In 2014 it was decried as cronyism by Republicans and Democrats alike, while its proposal to interfere with state's rights at a federal level alienates many of Adelson's traditional political allies in the Republican Party.
Meanwhile,even though many Democrats may dislike the idea of online gambling, they probably dislike Republican mega-donor Adelson even more, and are deeply uncomfortable about taking his side on such a controversial issue.
As RAWA's prohibition of online gambling extends to online lotteries, it faces opposition not just from Nevada, New Jersey and Delaware, but from states spanning the length and breadth of the country. Currently over 12 states offer some form internet lottery sales, and at least one, possibly Kentucky, is expected to come on board this year. Meanwhile a dozen more are debating the issue.
The states' rights issue is one that Republicans in particular are finding hard to swallow, with many high profile politicians and organizations publicly stating their opposition.
Even Republicans Hate It
"Conservatives don't have to agree on the value of gambling," said the American Conservative Union earlier this month, "but we should agree that it is unwise to use the brute force of the federal government to try to stop states from making their own decisions on this activity, especially if the reason for this action is to support gambling entrepreneurs in Las Vegas.
"Unfortunately for them," it added, "what happens in Vegas doesn't stay in Vegas; it should be up to the states to determine if they want to reject or accept Vegas."
"It is an open secret, at least inside the Beltway, that this legislation is being considered as a favor to billionaire casino owner Sheldon Adelson," wrote arch-conservative Ron Paul recently. "Mr Adelson, who is perhaps best known for using his enormous wealth to advance a pro-war foreign policy, is now using his political influence to turn his online competitors into criminals."
It seems that RAWA has about as much chance of passing as we do of winning the Michigan online lottery, which means at least we'll always have a chance.