Raiders' Mark Davis Pledges "Lifetime Commitment" and $500 Million to Las Vegas
Posted on: April 29, 2016, 12:50h.
Last updated on: June 22, 2016, 04:44h.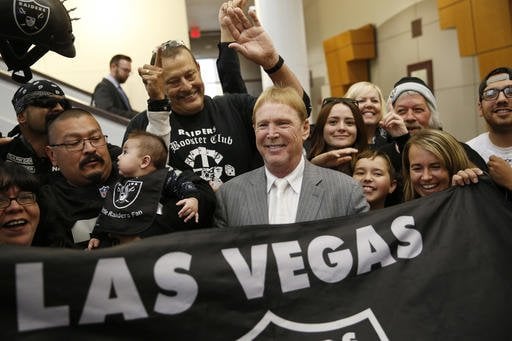 "Las Vegas Raiders" has a certain ring to it, does it? Raider's boss Mark Davis was in town this week to offer the most concrete assurance yet that Vegas could be about to get its first major league sports team.
"We need a home. We need a stadium," Davis told a meeting of the Southern Nevada Tourism Infrastructure Committee (SNTIC) at UNLV Thursday. "That's what Las Vegas is going to provide us and it's going to be a great marriage.
"If Las Vegas can come through with what we've been talking about, and we can do a deal here, then we're going to become the Las Vegas Raiders," he added.
In short: build it, and we will come. And to show he was serious, Davis pledged $500 million towards the construction of a new stadium.
"We're not using Las Vegas as a bargaining chip," he said. "This is real."
Momentum Builds
For an idea that began just a few months ago, it's is gaining some serious steam. The proposal began at Las Vegas Sands, which wants build a $1.4 billion, 65,000-seat domed stadium on a 42-acre plot north of McCarran International airport, owned by the UNLV.
The casino giant, which has partnered with the Majestic Reality Company on the project, has indicated it will go ahead with or without the Raiders, provided it gets sign-off from SNTIC.
Davis assurances certainly won't hurt matters when the SNTIC comes to make a decision next month, and his $500 million pledge may ease concerns about the amount of public money that would be plowed into the project.
LVS and Majestic Realty would contribute around $150 million towards construction while the remaining $750 million would come from taxes on tourists, according to the Las Vegas Review-Journal.
Sports Betting Not an Impediment
Davis said that he was confident that the NFL's longstanding anti-sport betting stance would not be an impediment to bringing the Raiders to Vegas.
A recent memo, circulated by the NFL shortly after Davis first met with LVS boss Sheldon Adelson to discuss the project, would appear to add weight to that assertion. "There is no prohibition under league rules on a team moving to any particular city," it said.
"Let's give them [the NFL] an offer they can't refuse," said Davis. "They're going to approve it based on that."
The Raiders lease expired on the O.co Coliseum in Oakland this year, but Davis has been able to secure a temporary extension. The team is likely to stay at there for the next few seasons until the new Vegas arena is built, should it get the go-ahead. It would be unlikely to be ready before 2020.