RACE TO THE BOTTOM: Vegas Room Rates Plummet for F1 Grand Prix
Posted on: October 27, 2023, 01:19h.
Last updated on: October 30, 2023, 02:13h.
A comparison of room rates for the inaugural Formula 1 Las Vegas Grand Prix showed that at 13 major Strip resorts, prices have plummeted an average of 58% since they were first announced a year ago.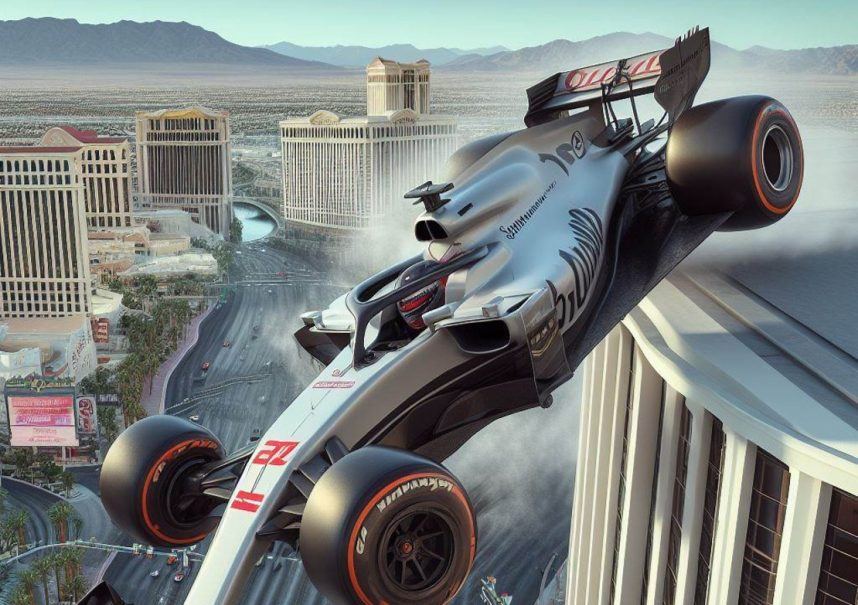 In Casino.org's survey, prices were compared from Nov. 2, 2022, when most were first announced, to a snapshot taken on 9 a.m. Oct. 27, 2023. These prices were all obtained directly through resort websites and didn't include taxes and resort fees, which Casino.org could not ascertain for every resort.
Room rates change daily, as can resort fees. And these charges can add up. At the Sahara, for instance, taxes and fees amounted to $203.46 per night — more than its lowest-priced room costs per night!
Third-party websites may produce cheaper results than resort sites. Also, nearly every resort website advertised up to a 15% discount for joining its loyalty club, which these results didn't factor in.
We've ordered the resorts from the highest percentage price decrease to the lowest. As you can see, this places budget resorts up top, with luxury resorts, where most people who can afford a Las Vegas Grand Prix ticket are likely to want to stay, at the bottom.
How They Finished
1. Rio
Decrease: 83%
$566 to $99

2. Circus Circus
Decrease: 82%
$649 to $116
3. Sahara
Decrease: 79%
$711 to $147
4. Excalibur
Decrease: 72%
$700 to $199
5. MGM Grand
Decrease: 66%
$1,000 to $342
6. (tie) New York-New York
Decrease: 65%
$800 to $284

6. (tie) Mandalay Bay
Decrease: 65%
$933 to $322
7. Luxor
Decrease: 63%
$653 to $242
8. Resorts World
Decrease: 58%
$1,199 to $499
9. Venetian
Decrease: 52%
$1,499 to $719
10. Vdara
Decrease: 51%
$1,400 to $692

11. Bellagio
Decrease: 10%
$1,995 to $1,799
12. Aria
Decrease: 4%
$1,633 to $1,567
Wynn Las Vegas wasn't included in our survey because it didn't publish rates for F1 race weekend a year ago.
Where are Caesars' Rates?
You might have noticed the lack of any of the nine properties Caesars Entertainment operates on the Las Vegas Strip. We couldn't include them because at the random time, we chose to conduct our survey, multiple attempts to book reservations via caesars.com hung the website indefinitely, rendering Casino.org unable to obtain any current prices for race weekend.
However, the Las Vegas Review-Journal newspaper recently conducted a similar survey of race weekend prices that also found steep drops all around. By sheer coincidence, its survey of the lowest average room rates for Nov. 16-19, 2023, compared prices at four Caesars properties on Nov. 2, 2022, and Oct. 16, 2023.
Its results were as follows, which we also ordered according to the decrease percentage. Since it wasn't our survey, however, we didn't factor these decreases into our average percentage.

1. Linq
Decrease: 70%
$2,695 to $811
2. Planet Hollywood
Decrease: 65%
$4,337 to $1,524
3. Paris
Decrease: 57%
$3,498 to $1,513
4. Caesars Palace
Decrease: 55%
$5,323 to $2,420
So What Happened?
According to the R-J's story, the F1 price free-fall doesn't indicate lower interest in the event—instead, an initial optimism fed by a lack of previous data suggesting a reasonable base price.
It is not unusual to be overly optimistic about the optimal room rates for such first-time events, especially when comparative predictive analytics data is limited," Mehmet Erdem, professor of hotel operations and technology at UNLV's William F. Harrah College of Hospitality, told the R-J.
Other factors possibly contributing to the price plummet include:
Heavy competition.
A reported 105K Las Vegas Grand Prix tickets were made available by Formula 1 for fans to watch from grandstands and other venues along the track. However, there are more than 150K hotel rooms in Las Vegas. Assuming an occupancy of two race fans per room, a surplus of 30K rooms may be applying downward pressure on room rates.
Nonrace-fan avoidance.
No one wants to come to Las Vegas for the experience of being inconvenienced by a race they don't care about.
Fans with other accommodations.
Many tickets and passes are distributed to celebrities and VIPs who wouldn't stay in ordinary hotel rooms anyway. In addition, some ticketed fans maybe Las Vegas locals, and some may have secured alternate accommodations through services like Airbnb.