PredictIt Adds New Markets Following Legal Wins 
Posted on: August 30, 2023, 12:38h.
Last updated on: August 30, 2023, 08:49h.
Political betting market PredictIt has added several new markets in recent weeks following a recent legal win in its ongoing showdown with federal regulators.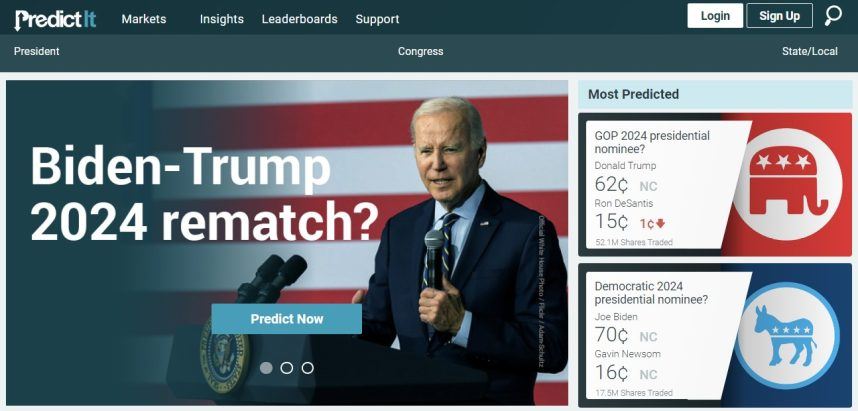 In late July, a federal court allowed PredictIt to remain online while the site appealed a move by the Commodities Futures Trading Commission (CFTC) to shut it down. In a 2-1 decision, the US Fifth Circuit Court of Appeals panel determined that PredictIt and its users were likely to win in the end.
The site's future will, however, ultimately be up to the United States District Court for the Western District of Texas, which has not yet set a schedule to proceed.
Prior to the July ruling, PredictIt largely avoided taking new wagers, aside from a handful of existing markets related to the 2024 presidential election. That began to change this month, with the launch of eight new markets related to the Republican primaries and a handful of other statewide contests.
Presidential, Statewide Contests
The first new PredictIt contract to resolve will come this November with the outcome of the Kentucky governor's race. Incumbent Gov. Andy Beshear (D) is seen as a strong favorite by traders, with shares in a Democratic victory going for 68 cents as of Wednesday.
PredictIt traders also see former President Donald Trump (R) as the likely winner of the first two Republican nominating contests next year. Shares of a Trump victory in the Iowa caucus were going for 70 cents, while a contract for a Trump win in the New Hampshire primary was at 72 cents as of Wednesday.
Florida Gov. Ron DeSantis (R) is seen as the most likely second-place finisher in Iowa, with his shares at 36 cents in a separate market tied to that question.
PredictIt users also can bet on who will become the Republican nominee for vice president, and opinions are more closely divided there. Entrepreneur Vivek Ramaswamy is trading at 17 cents in that market, compared to 14 cents for South Dakota Gov. Kristi Noem, 13 cents for South Carolina Sen. Tim Scott, and 10 cents for former South Carolina Gov. Nikki Haley.
2024 General Election Markets Available
Looking ahead to the general election, bets are being accepted on two state's presidential ballots and one Senate race so far.
PredictIt users expect the Democratic presidential nominee will win both Wisconsin and Georgia in 2024, with shares in each trading at 58 cents on Wednesday.
The unusual Arizona Senate race is the first 2024 congressional contest open for wagering on PredictIt. Incumbent Sen. Kyrsten Sinema (I) left the Democratic party last year and has not yet said if she will seek reelection as an independent. Democratic Rep. Ruben Gallego has thrown his hat into the ring and is seen as the favorite to win his party's nomination, while Trump-aligned former Gov. Kari Lake is "seriously considering" a bid for the GOP nod.
PredictIt users are giving Democrats an edge in Arizona, with shares trading at 53 cents on Wednesday, compared to 34 cents for a Republican win and 12 cents for an Independent victory.