PokerStars and Brazilian eSports Team Furia to Launch Exclusive Products
Posted on: October 11, 2023, 06:53h.
Last updated on: October 11, 2023, 12:20h.
PokerStars has announced the upcoming launch of exclusive products in collaboration with the Brazilian eSports team, Furia. Building on a sponsorship deal initiated last year, the partnership aims to bring together the realms of poker and competitive gaming. It's being done as a strategic move to solidify its presence in the world of eSports and Brazil's growing gambling industry,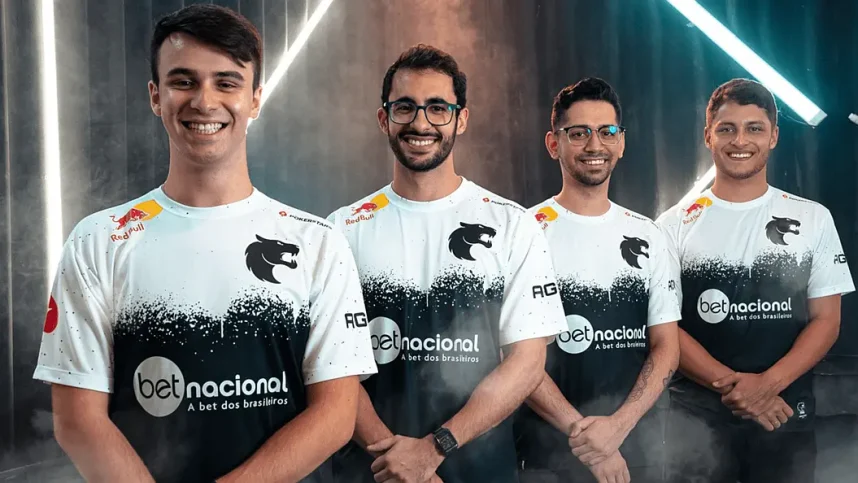 PokerStars entered into a sponsorship agreement with Furia in 2022. This alliance marked the convergence of two diverse yet dynamic communities, uniting poker enthusiasts and eSports fans under a common banner.
The first product in line, according to a PokerStars announcement, is a specially designed hoodie, tailored for poker players who achieve victories in specific events on the PokerStars platform. This initiative not only adds a layer of exclusivity to the gaming experience, but also serves as a tangible token of achievement for players in the world of online poker.
Sporting the Swag
These limited-edition hoodies will carry the branding of PokerStars and Furia, reflecting the synergy between the two entities. The collaborative effort is a testament to the increasing overlap between traditional poker and the burgeoning eSports industry in Brazil.
PokerStars plans to unveil additional products in the partnership pipeline over the next year, expanding the range of exclusive offerings available to the gaming community.
In anticipation of the upcoming product launches, PokerStars and Furia enthusiasts alike are eagerly awaiting the chance to buy the items. The merchandise will not only showcase their skills at the virtual poker tables, but also allow players to wear their achievements with pride through these exclusive, limited-edition items.
Furia has emerged as a formidable force in the competitive gaming arena, transcending boundaries with its exceptional performance across various titles. The team has made its mark in popular games such as Counter-Strike: Global Offensive (CS:GO) and League of Legends, where their roster has consistently demonstrated top-tier skills and tactical prowess.
Known for their aggressive playstyle and strategic ingenuity, Furia has become a household name among eSports enthusiasts. Its journey to prominence includes a string of impressive accomplishments that have solidified its status as one of the leading eSports organizations in the world.
Furia, which spent $700K to buy CS:GO player Gabriel "Fallen" Toledo de Alcântara Sguario several months ago, has secured notable victories in several tournaments. It has also begun to expand into the North American eSports market after beginning to form teams in 2021.
eSports a Huge Draw for Brazilians
eSports may not have the betting appeal of the NFL or NBA, but it's getting there, especially in Brazil. A new report by Pesquisa Game Brasil (Brazilian Game Survey) shows that 63.8% of Brazilian gamers follow eSports competitions.
This translates into greater participation in betting, as Brazil continues to mold its gambling legislation. The founder of sports trade data analysis company Full Trader Sports, Ricardo Santos, attributes this to the consistency of the teams.
As opposed to most sports, where the results can vary greatly from one game to the next, eSports teams often show relatively identical levels of performance. This makes it easier for bettors to analyze the potential for success and increase their returns.
Studies have shown that Brazil is the largest eSports market in Latin America. With regulated sports betting coming to the country, eSports participation and wagers will likely gain significantly more ground.