Poker's Top Female Pro Vanessa Selbst Steps Back from PokerStars Endorsement Deal and the Game Itself
Posted on: January 3, 2018, 03:00h.
Last updated on: January 3, 2018, 02:42h.
Vanessa Selbst, who's won three World Series of Poker (WSOP) bracelets and made nearly $12 million as one of the top poker tournament players in the world, surprised fans and fellow players by announcing on New Year's Eve that she's retiring from the game.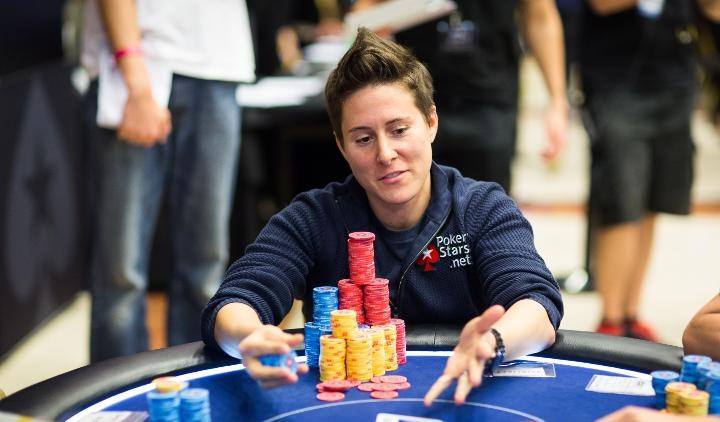 The most successful women's player gave several reasons on an in-depth Facebook post on her own page as to why she is leaving the game and moving on from her PokerStars endorsement deal. One key reason was noted was that she doesn't think amateurs really have a fair shot to beat the pros, particularly online.
"I don't feel good about promoting poker as an ambassador anymore," she wrote. "I can't tell amateurs they should come play online and it's beatable for them when I don't feel like it's true."
The 33-year-old native of Brooklyn, New York had been a brand ambassador for PokerStars since 2010, but said she was ending that relationship as of the first of this year.
The internet poker giant didn't elaborate with any specifics on her statement that amateurs were at a disadvantage when they play online. Many online sites, including PokerStars, have come under fire by pros in recent years for, in fact, making the game less intimidating for amateurs, with the hope of luring a larger pool of the same back to their ranks.
Shifting Player Pools
The companies that provide the game online are not tone-deaf regarding the criticism and have moved to make the game friendlier for amateur and recreational players. PokerStars and partypoker, two of the top operators, have instituted changes, such as random seat assignments, that give pros less of an edge in cherrypicking their "victims," in an attempt to lure more non-pros to their sites.
Mike Sexton, who took over as partypoker chairman in May, said the site was getting rid of fees for inactivity and withdrawals, and promoting fair and ethical play in order to protect both professional and recreational players.
PokerStars has been even more aggressive in trying to level the playing field since Canadian company The Stars Group Inc. (formerly Amaya) purchased the operator for $4.9 billion in 2014.
Stars Group CEO Rafi Ashkenazi ended or limited perks to high-volume players in July that he said were to the detriment of part-time enthusiasts, including multitabling.
Although Stars has signed numerous very high-profile celebrities and athletes as brand ambassadors, those alliances have, for the most part, not done the job in pulling amateurs back to their ranks. Actor Kevin Hart and Olympic gold medal track star Usain Bolt were added more recently to the roster that had previously included tennis player Rafael Nadal and soccer icon Cristiano Ronaldo.
A perusal of Ronaldo's Facebook page today shows no mention of PokerStars whatsoever, now replaced by plugs for Herbalife, a shoe line, and a men's shampoo.
What's Next for Selbst
Selbst also hinted at burnout after 11 years of full-time play. Long hours and constant travel for live tournament events apparently have lost allure for her as she approaches middle age, although Selbst did say she wasn't leaving the game entirely.
"The shift in the nature of poker and what it requires put me at a crossroads and asked the question of me whether I would rather change my relationship to the game or move on," she opined. "To me, the opportunity to work hard and learn something totally new and get to keep poker in my arsenal of fun go-to hobbies feels like the right approach."
Most recently, she has moved to working at a hedge fund, though she declined to name for which company. Selbst will be working in trading research and strategy and has been there for four months.
She also holds a law degree and has recently worked with a law firm specializing in police misconduct cases. She's well-known in the poker community for her alliances with several progressive causes, including The Innocence Project and the American Civil Liberties Union (ACLU). Selbst also has her own nonprofit group called Justice Is Blinds, but whether this will continue in light of her career focus shift is unclear.