PointsBet Unveils Its First-Ever Retail Sportsbook, Plans Grand Opening Friday at Catfish Bend in Iowa
Posted on: August 19, 2019, 11:12h.
Last updated on: August 20, 2019, 02:18h.
Another sportsbook has opened in Iowa, as PointsBet is now taking wagers at the Catfish Bend Casino in Burlington.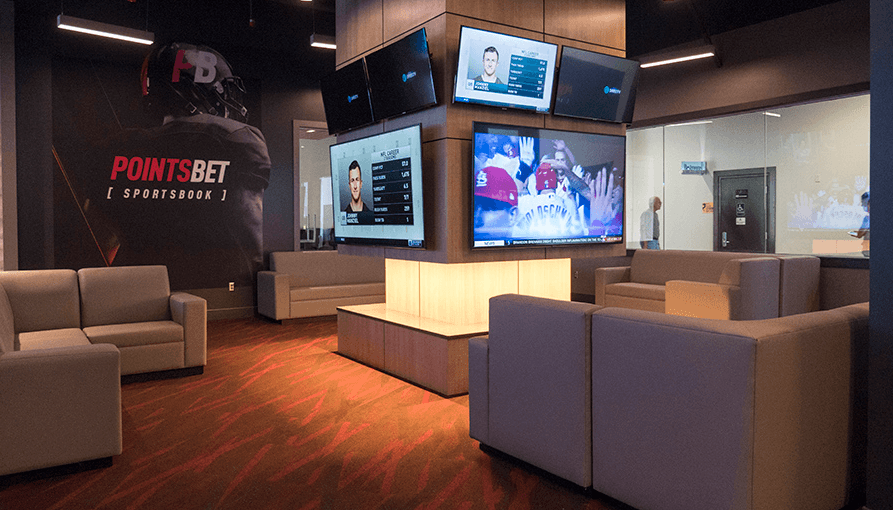 While the book opened Monday, a PointsBet spokesperson told Casino.org it's currently a "soft-launch period." A formal grand opening will take place on Friday.
Iowa now stands as the second US market for the Australian-based oddsmaker, as PointsBet started a mobile app in New Jersey earlier this year. However, Catfish Bend, located in the far southeastern tip of the state, marks PointsBet's first foray into retail sportsbooks.
The sportsbook includes rows of theater-style seating, with several large-screen televisions. It also includes a bar and a lounge seating area. Besides sports betting, Catfish Bend has added slots and blackjack tables in the book, which is a non-smoking area.
The goal is to give fans the sportsbook they have waited for, one that takes it to the next level for the sports that matter most to fans," the casino claimed on its website.
According to the website, the book's hours during the soft opening will run from Noon-8 pm CT on Tuesday and Noon-Midnight on Wednesday and Thursday. Starting Friday, PointsBet will run its normal hours of 9 am to 1 am CT.
Seeking Additional Markets
PointsBet officials have made no qualms about their intention to expand rapidly in the US.
In addition to Illinois, where the company has an agreement in place with Hawthorne Racecourse, PointsBet also is in line to serve as the retail and mobile sportsbook for the Double Eagle Casino in Cripple Creek, Colo., pending the passage of a statewide referendum in Colorado later this year.
Late last month, Penn National Gaming announced it reached a 20-year equity deal with PointsBet to serve as a possible skin, or mobile application, in five states. That includes Indiana, which is planning to start sports betting next month, and West Virginia, which has retail sportsbooks, but currently offers nothing online. Louisiana, Missouri, and Ohio, the other states in the deal, have yet to legalize sports betting.
Under terms of the agreement, Penn National will take a nearly 5.3 percent stake in PointsBet, with an option to purchase another 10.4 million shares over the next two years. Penn National also will get a share of the revenue PointsBet's skins generate.
In West Virginia, PointsBet would operate one of the skins for Hollywood Casino at Charles Town Races. DraftKings would operate the other.
A PointsBet spokesperson said the company had no comment on the time frame or location of its next opening. However, company leaders "look forward to continuing to grow PointsBet throughout the country."
Stock on the Rise
In June, PointsBet went public with a listing on the Australian Stock Exchange. The company, trading under the symbol PBH, set its initial public offering at AU$2 (US$1.36) per share. The company plans to offer up to 37.5 million shares for trading.
On Tuesday afternoon in Australia, the stock was trading at AU$3.04 (US$2.06), up nine cents from Monday's closing price.
Since the stock started trading, it has not dipped below AU$2.17 (US$1.47).