Phoenix Suns Add Bradley Beal in Trade, See Instant Title Odds Boost
Posted on: June 18, 2023, 05:37h.
Last updated on: June 18, 2023, 05:37h.
The Washington Wizards will send All-Star guard Bradley Beal to the Phoenix Suns in a trade that includes point guard Chris Paul, shooting guard Landry Shamet, and multiple second-round draft picks in addition to a pick swap.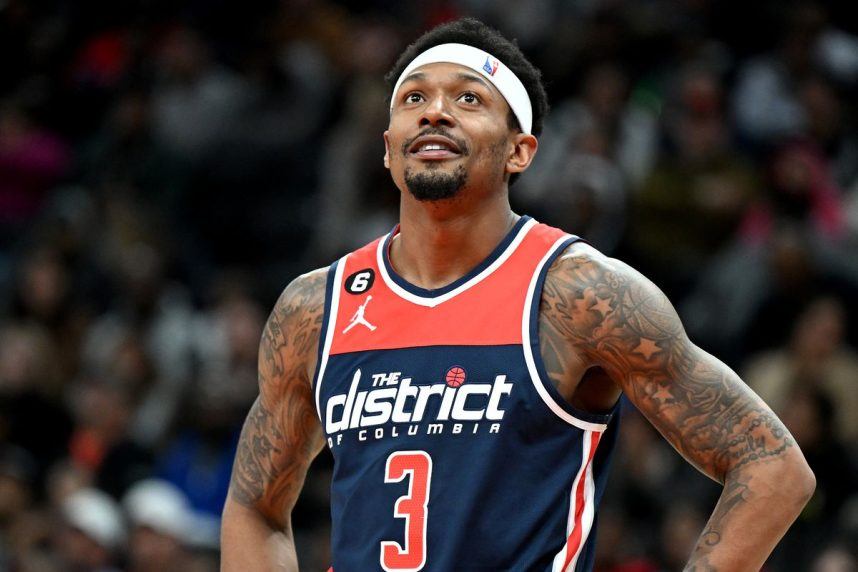 Beal will waive his no-trade clause to join the Suns, who now have a "Big 4" after Beal joins guard Devin Booker, forward Kevin Durant, and center Deandre Ayton.
This was an extremely complicated process with so many different hurdles to get through, and Ted Leonsis and Michael Winger were unbelievable partners in making this happen," Mark Bartelstein, Beal's agent, told ESPN. "From the day that Ted drafted Brad, they've always had Brad's back in every way and now we have experienced the exact same thing with Ted and Michael Winger. We are extremely grateful."
Shams Charania from The Athletic reported that the Miami Heat and Suns were the top two finalists to acquire Beal in a trade, but the Milwaukee Bucks and Sacramento Kings were also interested.
The Heat had been courting Beal the last two seasons to upgrade their offense. They offered the Wizards three veteran guards — Duncan Robinson, Kyle Lowry, and Victor Oladipo — in addition to rookie forward Nikola Jovic and multiple draft picks.
Beal had the ability to pick his next team, due to the no-trade clause in his contract, and ultimately selected the Suns over the Heat.
Hello Beal, Goodbye CP3 in Phoenix
The Suns recently met with Paul and told him they would waive him if they couldn't find a trade partner. If the Suns cut Paul, then he would become a free agent if he cleared waivers. The Los Angeles Lakers and Dallas Mavs were favorites to add Paul if that scenario happened.
The Wizards have not indicated if they intend to retain Paul, or if they will buy out his contract so he can become a free agent.
The Suns also considered trading Ayton, but did not field any juicy offers. They could still move Ayton to bolster their bench with veteran role players and defensive-minded players. The Chicago Bulls, Dallas Mavs, and Atlanta Hawks are the betting favorites to land Ayton in a trade.
Beal, who turns 30 at the end of June, has four more years remaining on a super-max contract worth $251 million. He will earn $46.7 million this upcoming season, but becomes a $50 million man in the 2024-25 season. He'll earn $53.6 million in 2025-26, and has a player option worth $57.1 million in the 2026-27 season when he turns 33-years old.
Beal is a three-time NBA All-Star, and the former #3 pick in the 2012 NBA Draft. In 11 seasons with the Wizards, Beal averaged 22.1 points, 4.3 assists, and 4.1 rebounds per game while shooing 37.2% from 3-point range.
Beal averaged 30-plus points per game in the regular season twice in his career. He exploded for 40-plus points 30 times in his career. Only nine other players posted more 40-point games since Beal's rookie season in 2012-13.
Beal struggled with injuries in the last two seasons, and only appeared in 90 games. He missed 32 games this season, and 42 games in 2021-22 while recovering from wrist surgery.
Suns See Beal Bump in NBA Futures Market
On Friday at DraftKings, the Suns were +850 odds to win the 2023-24 NBA championship. They were the fourth-highest team on the board.
After the news broke about the Beal trade on Sunday, the Suns saw an instant bump in their championship odds. They are currently +650 odds and moved into third-overall on DraftKings' futures board.
The Denver Nuggets are +475 odds to win consecutive titles and repeat as NBA champions. The Boston Celtics are second overall at +550 odds. The Milwaukee Bucks slipped to fourth on the board at +700 odds after the Suns jumped ahead of them.
With Beal joining the Suns, they're now +330 odds to win the Western Conference championship. The Nuggets are the betting favorite at +250 odds to clinch the conference crown in consecutive seasons.
After parting ways with Beal, the Wizards are +30000 odds to win the  championship.